Brand: Meade
Meade #126 2X SHORT-FOCUS BARLOW LENS (1.25") (07273)
07273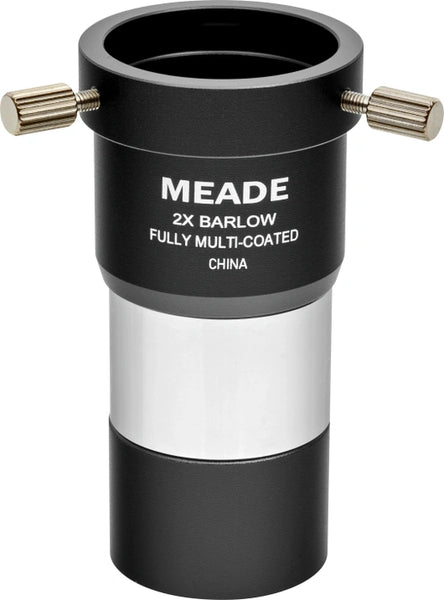 Brand: Meade
Meade #126 2X SHORT-FOCUS BARLOW LENS (1.25") (07273)
07273
Free Expert Support
Why Purchase from All-Star Telescope?
Stress Free, Secure Shopping
Product Description
The Meade Series 4000 2x Short-Focus Barlow Lens is a compact "shorty" style 1.25" 2x lens. This means it doubles the magnification of your 1.25" eyepieces while providing high quality images. Meade's most popular Barlow due to its excellent quality, value, and usefulness on nearly every model telescope sold.
It features a 26mm lens aperture, 1.25" diameter barrel, multi-coated optics, and will doubles the power of any 1.25" eyepiece without adding a very long length between the telescope and the eyepiece like some longer Barlow lenses would. Insert this into the telescope's eyepiece holder first, and then insert your eyepiece into the Barlow.
May also be used in a diagonal mirror either between the diagonal and eyepiece for a 2x magnification factor or between the eyepiece holder and diagonal for a magnification of approximately 3x. Note that in the 3x configuration an extension tube may be necessary between the telescope and the diagonal in order to reach focus. Compatible with nearly any telescope which uses 1.25" eyepieces.
Warranty note: Limited Warranty against defects in materials or workmanship for two years from date of purchase. This warranty is provided by Meade for the benefit of the original retail purchaser only. For complete warranty details contact Meade at 800-626-3233.
Specifications
| | |
| --- | --- |
| User level | Beginner |
| Barrel size | 1.25" |
| Magnification factor | 2 |
| Coatings | Multi-coated |
| Number of elements | 2 |
| Filter threads | Yes |
| Clear aperture | 26mm |
| Compression ring | No |
| Weight (oz.) | 3 |
| Warranty | Two year |
Why Should You Trust All Star Telescope?
We've Made All The Mistakes
So You Don't Have To
Learn More