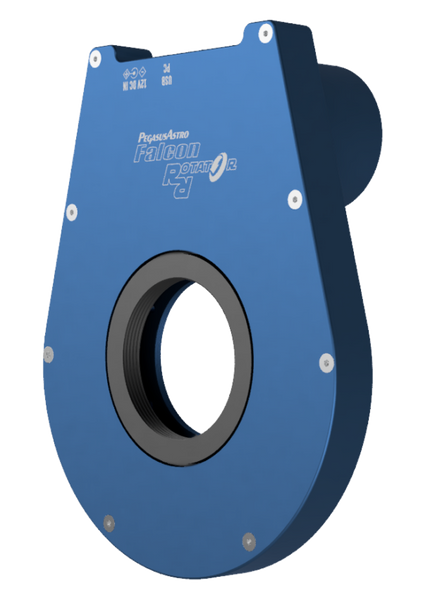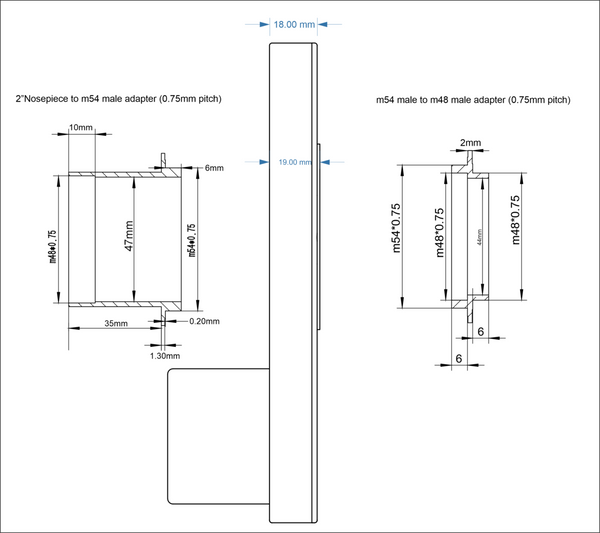 Free Expert Support
Why Purchase from All-Star Telescope?
Stress Free, Secure Shopping
Product Description
Falcon Rotator is a lightweight, low-profile camera field rotator. Do not be fooled by its thin size! It can lift and handle heavy image trains – dead accurate!
Very easy to operate via ASCOM drivers or Unity Platform software, will make your life easier to automatically orient, with precision, your camera field.
Precise rotation
A powerful geared / low backlash, quiet stepper motor ensures that the rotator will precisely lock to the designated degrees. Mechanics inside the focuser guarantee zero flex at any point during a full circle rotation.
Low profile
Thickness of the rotator is 18mm / 0.7"
When you use the M54 to M48 adapter the backfocus is +1mm (18+1 = 19mm)
Weight is 700grams. Both openings of the rotator are M54 threaded (pitch 0.75mm)
Rated load
Falcon Rotator has been tested at 6Kg / 13.2lbs of imaging setup.
The sophisticated mechanical design that uses 6 stainless steel bearings can easily handle high payloads with zero flexure.
Other Key Features
Cable Wrap Prevention
Rotator does not allow a clockwise turn above 220 degrees. It will turn anti-clickwise when it has to be moved above 220 degrees.
A nice cable wrap/snag prevention feature out of the box.
Adapters for both sides (included)
We provide (in the box) two different adapters for both sides:
Telescope Side: M54 male to 2" Nosepiece (1.5mm thickness)
Camera Side: M54 Male to M48 Male Adapter (2.0mm thickness)
The M54 adapter black ring on the camera side of the Falcon Rotator sticks out by almost 1mm (so actual back-focus is 18+1 =19mm)
De-Rotation support for Alt/Az mounts
Rotator has the mechanical precision to achieve field de-rotation. Supplied software calculates Rate of Rotation (RoR) based on the site latitude, target altitude and azimuth position.
What's in the Box
Specifications
Physical Size
180mm x 140mm x 56mm
Material
Blue Anodized Aluminum
Clear Aperture
54mm / 2.13"
Steps per degree
86.6 steps per degree (31.192 steps per full revolution)
(full step drive - can be increased with microstepping)
Payload
6Kg / 13.2lbs
Telescope Adapter
M54 male to 2" Nosepiece (included) (0.75mm pitch)
Camera Adapter
M54 Male to M48 Male Adapter (included) (0.75mm pitch)
Back Focus
18mm / 0.7" (+1mm if you place M54 adapter)
Weight
0.7Kg / 1.54 lbs
Connectivity
USB 2.0
Operating Power
12V / 1Amp
Excellent Rotator
I bought the Pegasus Falcon from All-Star Telescope to provide more automation for my 5" refractor and imaging setup. The Falcon is lightweight and consumes just 19mm of back focus which makes it attractive for use with lighter telescope mounts where it may be necessary to keep the overall instrument load as light as possible. It is also more than strong and rigid enough to carry a substantial instrument load. My camera and filter wheel assembly comes in at about 4 kg and the Falcon handles this with no issues. The Pegasus Unity software package is fully ASCOM-compliant and provides an intuitive interface for setting up and controlling the rotator, and allows for custom mechanical rotation limits. The Falcon is quiet and precise in its operation, and works perfectly with NINA, the only image capture I have tested it with. Once installed and set up, the Pegasus takes care of camera angles reliably, and delivers perfectly aligned mosaics and framing of astronomical objects. I highly recommend the Falcon for hands-free if not fully automated astrophotography.
Why Should You Trust All Star Telescope?
We've Made All The Mistakes
So You Don't Have To
Learn More