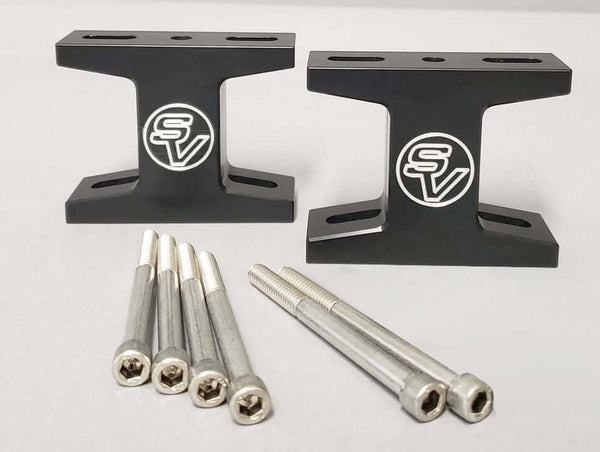 Free Expert Support
Why Purchase from All-Star Telescope?
Stress Free, Secure Shopping
Product Description
Riser blocks are used when mounting telescopes to rails when more room is needed between the rail and the telescope. This is particularly important with our smaer telescopes (SV70T, SV80ST) when a camera is mounted to the rear and it cannot be balanced on the mount. Using Stearvue Riser Blocks, a longer rail may be used that extends to the rear and aows adjustable travel to attain balancing over the focuser.
These riser blocks move the telescope 2.5" above the rail to provide plenty of extra needed clearance.
Stearvue riser blocks are 1" wide, 2.5" high and work with rings and rails that have ether a 1/4" center hole or have two holes that are between 1.5" and 2" apart.
Bolt Length Warning: Some telescope rings have attachment holes that go completely through the ring. If too long a bolt is used it could damage the telescope tube so measure this before using. Put the bolt through the rail and the riser block and measure the length of the bolt coming out of the top of the riser block. Make sure your ring is at least this thick.
We recommend the Celestron Vixen Mounting Plate for the most versatility for balancing with the riser blocks.
Why Should You Trust All Star Telescope?
We've Made All The Mistakes
So You Don't Have To
Learn More