Brand: Unistellar
Unistellar eVscope 2 w/ Backpack - Open Box (UNI-EVSCOPE2-OB)
UNI-EVSCOPE2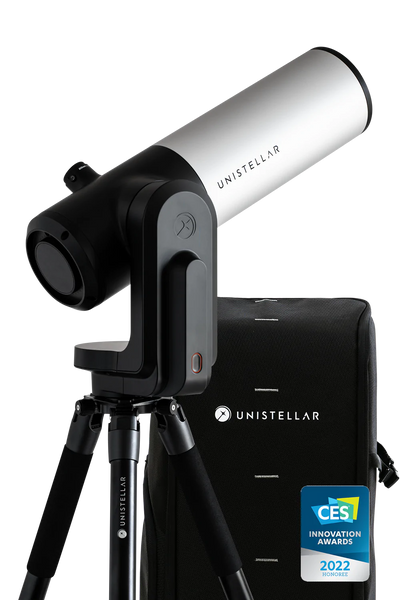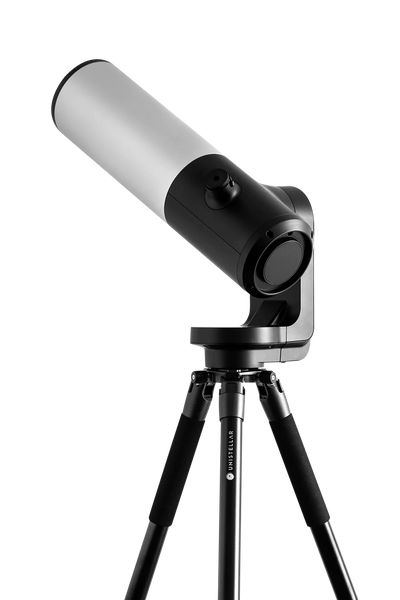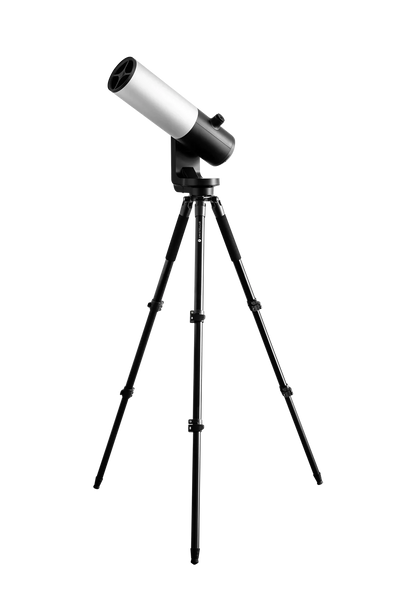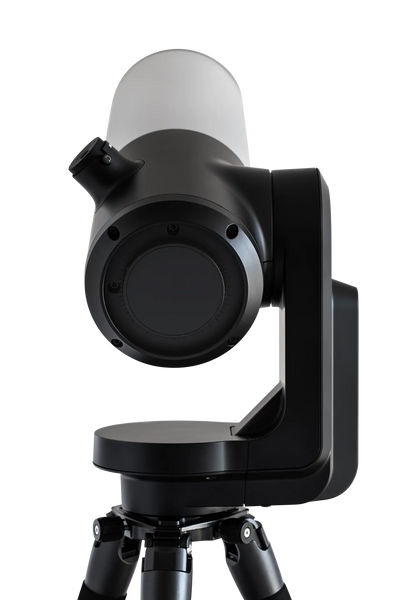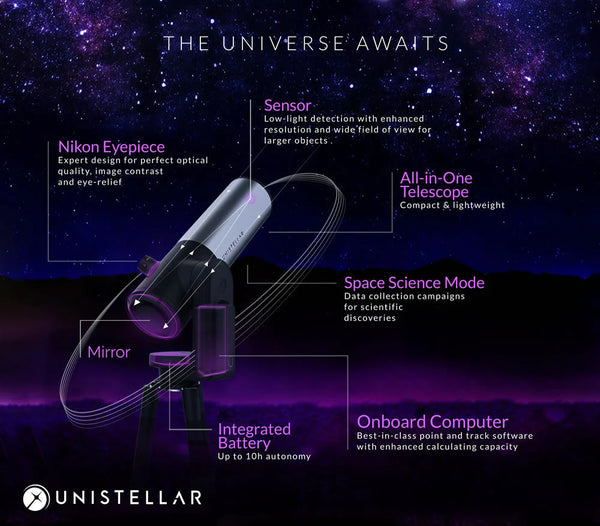 Brand: Unistellar
Unistellar eVscope 2 w/ Backpack - Open Box (UNI-EVSCOPE2-OB)
UNI-EVSCOPE2
$5,249.95 CAD
Save: $2,209.05
Free Shipping Available
Free Shipping
On Special Products
At All-Star Telescope we try to make it as easy as possible to get the products you love! Sometimes that means we can offer free shipping for select products in our store.
Any product labelled with 'Free Shipping Available' means that when ordered by iteself or with other 'Free Shipping Available' products we are proud to ship it to you free of charge.
When you checkout you should see an option for free shipping available to you. If not please don't hesitate to reach out.
587-336-6621
info@all-startelescope.com
Free Shipping Minimum Purchase
Often free shipping requires a minimum purchase of $500 or more, but this can change from offer to offer. Also note, that free shipping usually does not apply to oversize items like telescopes.
Free Expert Support
Why Purchase from All-Star Telescope?
Stress Free, Secure Shopping
Product Description
Open Box Comes With Full Warranty
We've opened them up to display them - these are new, unused, un-sold scopes. 
The eVscope 2 brings power and speed together with optical expertise to deliver the most immersive space exploration experience.
Leveraging Nikon's pioneer expertise in electronic eyepiece, and with a 7.7Mpx enhanced image resolution, the eVscope 2 delivers the most stunning visual experience ever seen in a consumer telescope, with state of the art observing comfort, and an incredible amount of details, definition and zoom ability.
Field Detection
The eVscope 2 ensures more time exploring space and less time setting up or calibrating. Our system instantly recognizes the objects in its field of view by comparing what it sees with a coordinates database of tens of millions of stars.
This allows the eVscope 2 automated tracking and pointing system to be extremely accurate and easy to use, making it by far the most user-friendly telescope on the market.
Autonomous Field Detection also allows it to inform you about what you are observing (distance from the Earth, etc.).
Enhanced Vision
Enhanced Vision is patented proprietary technology that allows a live observation of faint objects thanks to the live accumulation of the light we receive from them. Galaxies, nebulae and comets finally become visible, colourful and detailed.
Depending on observing conditions (light pollution, moon phase, weather, etc…) and the objects you are pointing, it only takes a few seconds for you to start seeing the beautiful colours and shapes of galaxies and nebulae normally invisible, even through the eyepiece of a large conventional telescope.
Smart Light Pollution Reduction
Light pollution, the presence of excessive and unwanted artifical lighting, renders celestial objects invisible to the human eye. Even cameras and computers are challenged by it as it blurs objects, distorts shapes and adds "noise" to pictures.
Unistellar's proprietary software swiftly mitigates the impact of light pollution and allows for distant objects to be observed in crisp detail, even from bright inner-city environments, delivering the best possible image parameters and results. Users benefit from more precise images with better contrasts and colors, regardless of the level of brightness of the sky.
Powerful Scientific Device with a Global Community
By partnering up with astronomers from the SETI Institute and other institutions, Unistellar Explorers can conduct valuable space science such as protecting Earth by detecting a hazardous asteroid, discovering and confirming the existence of a hot Jupiter around a distant star, or even uncovering the mysteries of a comet or supernova.
As part of the Unistellar Network - the first global community of 5000+ connected telescope users - they get to exchange with professional astronomers and learn from their observations.
Dedicated App
With the push of a button and tap of the app, your eVscope 2 recommends the most spectacular targets and launches into deep-space observations, in minutes.
With a catalogue of over 5000 objects to choose from, use the app to learn about and identify cosmic objects, including which objects are ideal for viewing from your location. Save and share your experience with others – in person or virtually – with your connected tech.
The Unistellar app provides captivating educational content and automates your observing experience, so that novices can enjoy their device right away. The app also offers manual controls for advanced users.
Nikon Eyepiece Technology
Out-of-this-world observing experience in partnership with Nikon
A defining feature of the eVscope 2 is the electronic eyepiece, developed by Nikon: the combination of a best-in-class micro OLED screen, designed to enhance contrast and deliver a perfect black image, and a sophisticated array of lenses, sourced from Nikon's expert optical labs. The new eyepiece delivers a captivating, immersive observation with rich contrast, with better observing comfort and eye-relief.
What can I see with a Unistellar eVscope 2 w/ Backpack - Open Box (UNI-EVSCOPE2-OB)?
Here are some simulated views of common objects. Results with your telescope will vary with viewing conditions, obrits, equipment and more.
Jupiter with
25mm Eyepiece - 18x Magnification
(Sold Separately)
Jupiter with
10mm Eyepiece - 45x Magnification
Sold Separately
Jupiter with
5mm Eyepiece - 90x Magnification
Sold Separately
Moon with 25mm Eyepiece
18x Magnification
(Sold Separately)
Moon with 10mm Eyepiece
45x Magnification
Sold Separately
Moon with 5mm Eyepiece
90x Magnification
Sold Separately
Andromeda with 36mm Eyepiece
13x Magnification
Sold Separately
Andromeda with 25mm Eyepiece
18x Magnification
(Sold Separately)
Andromeda with 10mm Eyepiece
45x Magnification
Sold Separately
Specifications
| | |
| --- | --- |
| Optical Magnification | 50x |
| Digital Magnification | up to 400x (150x recommended maximum) |
| Max Magnitude | <16 in medium quality night sky |
| Resolving Power | 1.33 arcsecond |
| Field of View | 34 arcmin x 47 arcmin |
| Image Resolution | 7.7 Mpx |
| Mirror Diameter | 114mm |
| Focal Length | 450 mm |
| Mount | Motorized Alt-Az Mount with extreme tracking accuracy thanks to Automated Celestial Tracking with Feedback |
| Weight | 9kg (19.8lbs) including tripod |
| Sensor Model | IMX 347 |
| Storage Capacity | 64GB |
Unistellar eVscope 2
An amazing telescope. You can see things a conventional telescope can't see. The telescope stacks images and brings out difficult to see phenomenon like nebulae, galaxies and planets. It will also remove light pollution making images more clearly defined. I can control the telescope on my iphone and see images on my iphone and ipad. A very unique telescope. Highly recommended for those that can afford it.
Unistellar Evscope 2 operating review
After hearing all the good things and marketing pitch of how great the scope is and its smart computerized scope, I decided to go for the purchase. The Item arrived in good condition as its packing was well done and arrived in good condition.
The scope was easy to install. WIFI was easy to connect. The Unistellar app was user friendly and easy to operate. However, the function in the app was lagging. There are a few bugs needed to be dealt with. I.E. Object name appeared in the frame image did not change to reflect the new selected object. Issue with data upload was not being looked at. I have reported a couple of time and still did not get any response from the tech support team over a week. The storage is now up to 87% and still waiting for support team to provide solution. The slewing to object is slow and sometime just stuck. The Joystick function is not working intermittently, sometime it just not moving the scope, have to try a few times for it to move. It is very frustrating. User guide did not provide enough detail, it's too general. Collimation instruction was not clear enough. Also Unistellar app was unable to complete installation because it kept asking the user to turn on GPS when all location was given permission. This is because Unistellar app requires celluar GPS and this information was not clearly stated on the App info. I had a Lenovo Yoga tab 11 tablet that comes with WIFI but the Unistellar app can not complete the installation because it kept asking to activate gps when all location had been activate and permission was enable. This was very frustrating for a new user. The response time from Tech Support is non existing. I have to look to the user community group to get help. Just hope all these issues can be addressed by the Unistellar and resolve all the bugs in the app as soon as possible.
Why Should You Trust All Star Telescope?
We've Made All The Mistakes
So You Don't Have To
Learn More