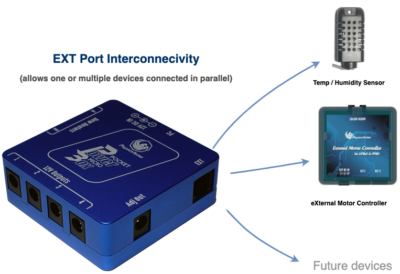 Free Expert Support
Why Purchase from All-Star Telescope?
Stress Free, Secure Shopping
Product Description
This small-sized device (in short PPB Micro) is suitable for the "grab and go" astrophotographer. It can provide up to 10Amps of power and has a sufficient number (4) of 12V Outputs, Two Dew Heater Channels, an adjustable voltage power output, and an environmental sensor to monitor humidity/temperature (dew point).
4 x 12V DC Power Outlets
A powerful mosfet transistor provides "electric juice" to your precious equipment. It supply of electricity 4 outputs. Can switch ON/OFF all four ports (* together – single channel).

Built in Voltmeter
A precise voltmeter measures and displays in real time your input voltage. If the input is more than 14.5V, the power is instantly cut off to protect your equipment from overvoltage.
Adjustable Regulated Output
An adjustable output is suitable to provide power to your DSLR / Mirrorless camera / or your RPI3/4. You can tune the voltage to different levels (3,5,7,8,9,12 Volts). Please note that we provide a wide range of battery couplers for Canon, Nikon, Sony, FUJI DSLR and Mirrorless Cameras
Expansion Port (EXT)
EXT (expansion) port is available for device expansion. This RJ12 socket allows the connectivity of current and future Pegasus Astro products. Plugged devices can be controlled from Pocket Powerbox Unity Platform or a dedicated ASCOM driver.
The device supports the eXternal Motor Controller
Built in Amp-meter
An Amp-meter which is installed right after the DC input, reports the total electric current.
Moreover, there are three additional amp-meters: One for the 12V quad outputs and two for the Dew Heater Channels. This allows you to easily monitor the detailed and overall power consumption of your equipment.
Additional Key Features
Standalone Operation "out of the box": Pocket Powerbox Micro can work "out of the box" as a standalone device. Just plug the cables, setup the "autodew" functionality and every time you boot the device, it will retrieve your settings. So, If you don't like to connect to a PC every time, you don't have to. Simple as that!
Two channel duty cycle PWM outputs: Two Pulse width modulation (PWM) outlets are capable to provide power to your "thirsty" Dew Heaters. No more moisture fuzzing your equipment and destroying your clear nights. These outlets can be remote-controlled from your laptop using the supplied software.
Auto Adjustment of PWM (Dew Outputs): The controller can auto adjust the heater power levels by consulting the environmental sensor Dew Point reading. Just click "Auto" and leave to Pocket Powerbox Micro to decide if it is time to turn on and precise tune the level of your dew heaters.
More than 10A of total power: The powerbox has been designed to support up to 10 Amps of total current.
Led Indications for power and failure states: Led can blink in patterns to warn you about important power issues (e.g over or under voltage). Also, light can be turned off by using the software. Our LED is very dim but in case you don't like it on you can switch it off
Reverse Polarity Protection: Pocket Powerbox Micro has been design with a reverse voltage polarity protection. It will definitely save your night if you accidentally connect the main power supply in reverse polarity!
A hardware watchdog: A hardware watchdog resets the device if for any reason there is no response from the controller for two seconds. A neat feature in the unlikely event of a controller freeze – when you have a remote observatory and you need to be certain that everything works as expected.
Upgradable Firmware: Device is firmware upgradable to support future features and bug fixes.
What's in the Box
Specifications
Supply Voltage
12V - 13.8V DC
Power Input Connector
DC 2.1mm (up to 10Amps)
Connectivity
USB2 - Type B USB Connector
4 x 12 Outputs

Maximum Current 10 Amps in total.

2.1mm Center Positive
Software: ON/OFF all ports

2 Channel x 12 PWM Outputs

Maximum Current 5A Each, Black Colored RCA Connector, Pulse Width Modulated (Suitable for Dew Heaters or Flatbox)

Software: Duty Cycle % / OFF

1x Sensor Input

RJ12 Socket, Connectivity with Environmental Sensor

0-100% humidity readings with 2-5% accuracy
-40 to 80°C temperature readings ±0.5°C accuracy

Camera / DSLR Output
Max 3Amps, 3,5,7,8,9,12 Volt (Adjustable from software)
2.1mm Center Positive
Voltmeter
Measures 5 - 15V
Dimensions
66mm x 66mm x 24mm
Weight
115 grams
Why Should You Trust All Star Telescope?
We've Made All The Mistakes
So You Don't Have To
Learn More