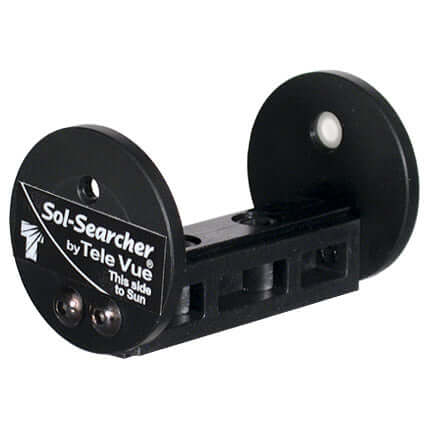 Free Expert Support
Why Purchase from All-Star Telescope?
Stress Free, Secure Shopping
Product Description
"I can't find the Sun!" Sounds funny. However, the Sun is tricky to find in a properly filtered telescope, and you don't ever want to chance a direct gaze, let alone a magnified image of it.
The Sol-Searcher attaches to the mount ring slot of every TeleVue telescope (or to the rear cell slot in the TeleVue Ranger). For use with telescopes other than TeleVue, mount the Sol-Searcher using #10-32 screws, or if necessary, attach with Velcro (not supplied).
The aperture acts as a "pinhole" which projects an image of the Sun on to the ¼" translucent "screen." This screen can be viewed from either side. Simply move your scope until the Sun's image is centered on the screen and the Sun will be in the eyepiece's field of view.
TeleVue Sol Searcher
Small unit fits perfectly on all my solar imaging equipment: white light, hydrogen alpha and ionized Calcium light.
Indispensable for safe solar viewing
Easy and safe to use. Whitout this device, it's not easy to find the sun in the eyepiece. I recommand it.
Why Should You Trust All Star Telescope?
We've Made All The Mistakes
So You Don't Have To
Learn More