Brand: Celestron
Celestron 11" Rowe-Ackermann Schmidt Astrograph (RASA11) V2 Optical Tube Assembly (91076)
050234910767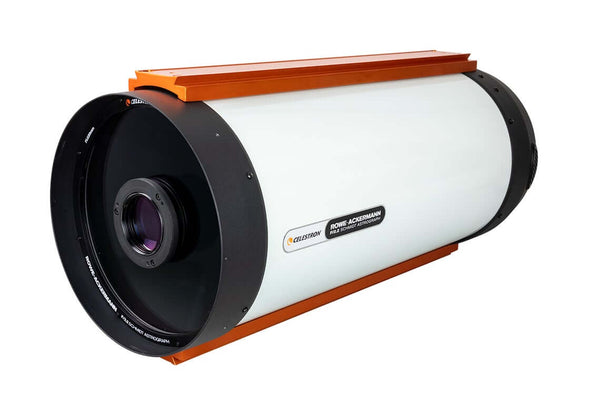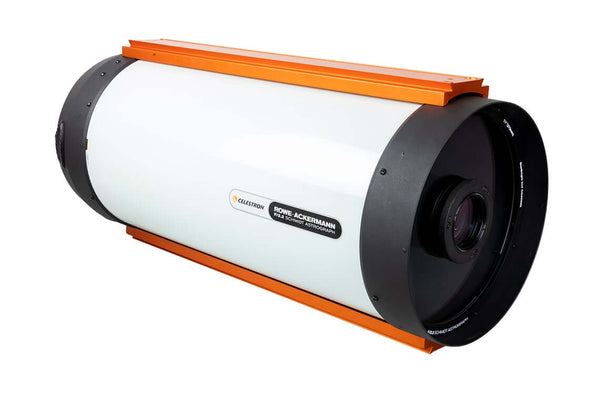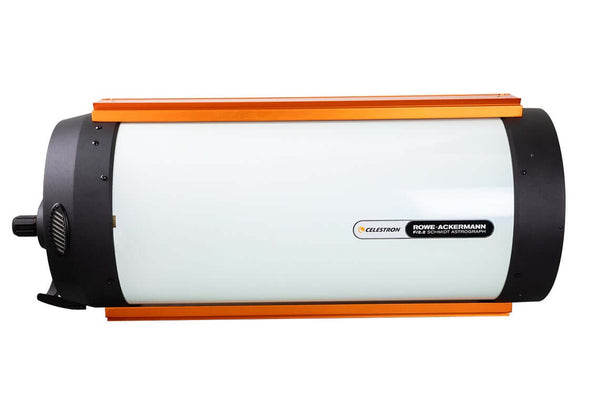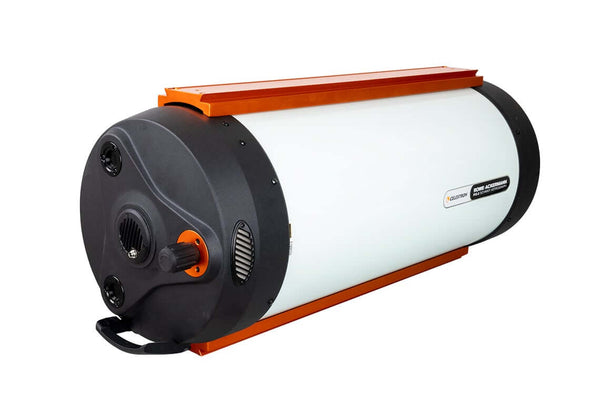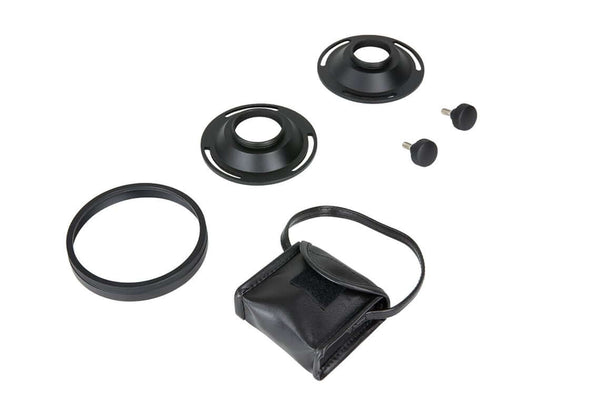 Brand: Celestron
Celestron 11" Rowe-Ackermann Schmidt Astrograph (RASA11) V2 Optical Tube Assembly (91076)
050234910767
Products in the Same Family
Free Expert Support
Why Purchase from All-Star Telescope?
Stress Free, Secure Shopping
Product Description
Capturing impressive deep-sky astroimages is easier than ever with Celestron's Rowe-Ackermann Schmidt Astrograph (RASA) V2, the perfect companion to today's top DSLR or astronomical CCD cameras. This fast, wide-field f/2.2 system allows for shorter exposure times compared to traditional f/10 astroimaging, without sacrificing resolution. Because shorter sub-exposure times are possible, your equatorial mount won't need to accurately track over extended periods. The short focal length also lessens equatorial tracking demands. In many cases, autoguiding will not be required.
RASA 11 V2 builds on the legacy of Celestron's Schmidt Cameras, which allowed astrophotographers to produce images with much shorter exposure times on film in the 1970s.

Today, with CCD sensor sizes as large as film or larger, the RASA 11 V2 offers a 43.3mm optimized image circle to capture pinpoint stars on the largest imaging chips. Optical performance for huge sensors with diagonals of up to 52mm wide is still excellent.

Combine this large image circle with a focal length of just 620mm and you have an instrument suitable for wide-field imaging, creating huge mosaics of the night sky, surveying, and even comet hunting.

Optical Performance
The RASA 11 V2 features optics with 4-element rare-earth glass for images free of false color and aberrations like coma and field curvature. The optical quality and spot size across the entire image circle are unprecedented for an astrograph in this price range-or even that of a much more expensive instrument. The design also provides minimal vignetting.

Advanced Features
RASA 11 V2 utilizes the new Ultra-Stable Focus System (USFS). At the heart of this system is a precision linear ball bearing. The bearing serves to minimize focus shift (unwanted lateral motion of the primary mirror during focusing which causes shifting of the image) and mirror flop (movement of the primary mirror when the telescope is pointing to different positions in the sky). The USFS is also compatible with the optional Celestron Focus Motor (#94155-A). The integrated 12V DC MagLev fan reduces cooldown time and provides optimal airflow through the dust filtered optical tube.

Engineered as a complete astroimaging system, every component of the RASA 11 V2 is optimized for peak performance with DSLR and astronomical CCD cameras. Down to the thickness of the glass used in the included fully-multicoated optical window or optional imaging filter, every component of the system has been taken into careful consideration to work together seamlessly. The Dovetail CGE bars on the top of the optical tube provides a connection for use of optional accessories like a guidescope.
What can I see with a Celestron 11" Rowe-Ackermann Schmidt Astrograph (RASA11) V2 Optical Tube Assembly (91076)?
Here are some simulated views of common objects. Results with your telescope will vary with viewing conditions, obrits, equipment and more.
Jupiter with
25mm Eyepiece - 25x Magnification
(Sold Separately)
Jupiter with
10mm Eyepiece - 62x Magnification
Sold Separately
Jupiter with
5mm Eyepiece - 124x Magnification
Sold Separately
Moon with 25mm Eyepiece
25x Magnification
(Sold Separately)
Moon with 10mm Eyepiece
62x Magnification
Sold Separately
Moon with 5mm Eyepiece
124x Magnification
Sold Separately
Andromeda with 36mm Eyepiece
17x Magnification
Sold Separately
Andromeda with 25mm Eyepiece
25x Magnification
(Sold Separately)
Andromeda with 10mm Eyepiece
62x Magnification
Sold Separately
What's in the Box
Specifications
OPTICAL TUBE INFO:
Optical Design:
Rowe-Ackermann Schmidt Astrograph
Aperture:
279mm (11")
Focal Length:
620mm (24.4")
Focal Ratio:
f/2.2
Central obstruction diameter:
114mm (4.48") (41% of aperture diameter)
Light Gathering Power (Compared to human eye):
1588x
Resolution (Rayleigh):
0.49 arc seconds
Resolution (Dawes):
0.41 arc seconds
Image Circle:
43.3mm (1.7") Ø , 4.0°
Useable field:
52mm (2.04") Ø , 4.8° only minimal performance loss at edge of FOV
Wavelength range:
400 - 700 nm
Spot size:
< 4.4 μm RMS across FOV
Optical Coatings:
StarBright XLT
Off-axis Illumination:
83% at 21mm (0.82") off-axis
Optical Window:
68mm (2.67") Ø
Back focus with included camera adapter:
55mm (2.16")
Back focus from top of threaded collar:
72.8mm (2.86")
Optical Tube:
Aluminum
Optical Tube Length:
838.2mm (33")
Optical Tube Diameter:
330.2mm (13")
Focuser:
Ultra-Stable Focus System
Finderscope:
Not included
Optical Tube Weight:
43 lbs (19.5 kg)
Other Features:
Ventilation fan, dual dovetail mounting bars
Dovetail:
CGE Dovetail Bar
Solar Warning
Never look directly at the Sun with the naked eye or with an optic (unless you have the proper solar filter). Permanent and irreversible eye damage may result.
Never use your optic to project an image of the Sun onto any surface. Internal heat build-up can damage the optic and any accessories attached to it.
Never leave your optic unsupervised. Make sure an adult who is familiar with the correct operating procedures is with your optic at all times, especially when children are present.

Why Should You Trust All Star Telescope?
We've Made All The Mistakes
So You Don't Have To
Learn More