Brand: Celestron
Celestron 8" Rowe-Ackermann Schmidt Astrograph (RASA) OTA (91073)
91073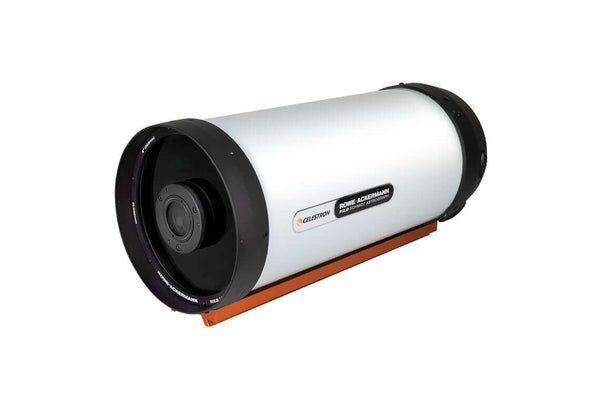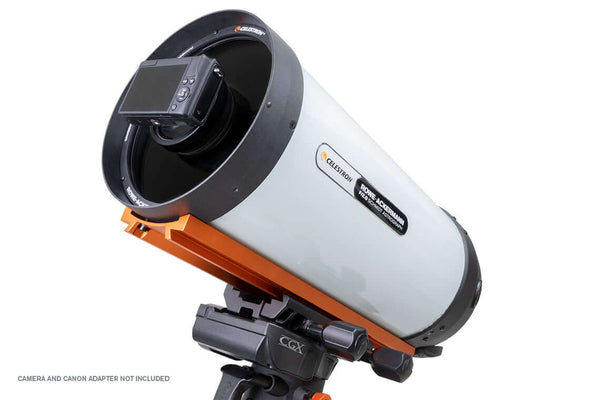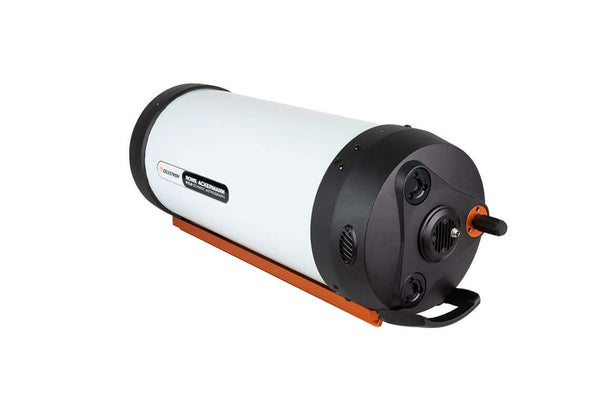 Brand: Celestron
Celestron 8" Rowe-Ackermann Schmidt Astrograph (RASA) OTA (91073)
91073
Products in the Same Family
Free Expert Support
Why Purchase from All-Star Telescope?
Stress Free, Secure Shopping
Product Description
Capture spectacular wide-field deep sky images in seconds with Celestron's portable astrograph, the 8" Rowe-Ackermann Schmidt Astrograph (RASA). This incredibly fast f/2.0 system is the perfect companion to today's colour astronomical CMOS cameras, smaller CCD cameras, and mirrorless cameras. Thanks to its fast focal ratio and patented optical design, you can produce sharp, detailed images and, in many cases, skip the autoguider completely. Weighing in at just 17 pounds, it's easy to transport your 8" RASA to the most remote dark sky locations.
RASA Performance Made for Everyone
The 8" RASA is an imaging telescope that delivers a flat field without optical aberrations for razor sharp stars across a wide field of view. It can capture stunning deep-sky astronomical images without the challenges typically presented by longer focal length instruments at a fraction of the cost of those systems.
The latest addition to the RASA family, this 8" version is a much more portable and affordable version of the heralded RASA 11, which was introduced to much acclaim in 2014. With the 8" RASA joining the lineup, a wider range of astroimagers can enjoy the benefits of the RASA design. It has many of the same thoughtfully designed features as its "big brother" RASA 11, including the integrated air-cooling system, internal filter mount, and sturdy CGE dovetail mounting bar.
Purely designed for imaging, the 8" RASA cannot be used visually. The prime focus focal plane is located at the front of the optical system, so it cannot accommodate a traditional eyepiece.
Shorter Exposure Times and Virtual "Real-Time" Observing
Since it is an F/2.0 optical system, imagers can use shorter exposure times to capture detail in faint objects. When combined with sensitive cameras and the proper "live stacking" software, the 8" RASA can provide an almost real-time observing experience. View images on a computer instantly that are brighter and more detailed than can be seen in much bigger telescopes with the naked eye.
Because shorter exposure times are possible, your equatorial mount won't need to accurately track over extended periods. The 8" RASA's relatively short 400mm focal length also lessens equatorial tracking demands. In many cases, autoguiding will not be required. Weighing only 17 lb, this optical tube pairs perfectly with a wide variety of mounts.
Ultra-Stable Focus System
With the launch of the 8" RASA, Celestron is unveiled a focuser design that mitigates lateral movement of the primary mirror when focusing, slewing, or tracking with the astrograph. Focusing is easier, more accurate, and more stable than ever. The key to the Ultra-Stable Focus System is a precision linear ball bearing, which is tested during assembly to ensure optimal results.
Built for Today's Latest Cameras
Unlike the larger RASAs that work with DSLR and large CCD cameras, the 8" model was designed with colour astronomical CMOS cameras, smaller CCD cameras, and mirrorless cameras in mind. The telescope does not work with standard DSLR cameras. It is optimized for sensors with up to a 22mm diagonal, but performs well with sensors up to 32mm diagonal. The APS-C sized sensors used in many mirrorless cameras are a good choice. 42mm full frame sensors will also work, but performance will be poor at the edges of the sensor and field illumination will be reduced. Additionally, we do not recommend pairing RASA 8 with any camera body more than 4" in diameter. See the chart below to determine if your camera is compatible with RASA 8.
What can I see with a Celestron 8" Rowe-Ackermann Schmidt Astrograph (RASA) OTA (91073)?
Here are some simulated views of common objects. Results with your telescope will vary with viewing conditions, obrits, equipment and more.
Jupiter with
25mm Eyepiece - 16x Magnification
(Sold Separately)
Jupiter with
10mm Eyepiece - 40x Magnification
Sold Separately
Jupiter with
5mm Eyepiece - 80x Magnification
Sold Separately
Moon with 25mm Eyepiece
16x Magnification
(Sold Separately)
Moon with 10mm Eyepiece
40x Magnification
Sold Separately
Moon with 5mm Eyepiece
80x Magnification
Sold Separately
Andromeda with 36mm Eyepiece
11x Magnification
Sold Separately
Andromeda with 25mm Eyepiece
16x Magnification
(Sold Separately)
Andromeda with 10mm Eyepiece
40x Magnification
Sold Separately
What's in the Box
Specifications
OPTICAL TUBE INFO:
Optical Design:
Rowe-Ackermann Schmidt Astrograph
Aperture:
203mm (8")
Focal Length:
400mm (15.74")
Focal Ratio:
f/2.0
Central obstruction diameter:
93mm (3.66") (46% of aperture diameter)
Light Gathering Power (Compared to human eye):
843x
Resolution (Rayleigh):
0.68 arc seconds
Resolution (Dawes):
0.57 arc seconds
Image Circle:
22mm (0.86") Ø, 3.15°
Useable field:
32mm (1.26") Ø, 4.6°, only minimal performance loss at edge of FOV
Wavelength range:
400nm - 800nm
Spot size:
< 4.6 μm RMS across image circle
Optical Coatings:
StarBright XLT
Off-axis Illumination:
93% at 11mm (.43") off-axis
Optical Window:
46mm (1.81") Ø
Back focus with included camera adapter:
25mm (.98")
Back focus from top of threaded collar:
29mm (1.14")
Optical Tube:
Aluminum
Optical Tube Length:
628mm (24.7")
Optical Tube Diameter:
235mm (9.3")
Focuser:
Ultra-Stable Focusing System
Finderscope:
Not included
Optical Tube Weight:
17 lbs (7.7 kg)
Other Features:
Air-cooling system, integrated filter mount
Dovetail:
CGE Dovetail Bar
Solar Warning
Never look directly at the Sun with the naked eye or with an optic (unless you have the proper solar filter). Permanent and irreversible eye damage may result.
Never use your optic to project an image of the Sun onto any surface. Internal heat build-up can damage the optic and any accessories attached to it.
Never leave your optic unsupervised. Make sure an adult who is familiar with the correct operating procedures is with your optic at all times, especially when children are present.

Astrophotographers will be hard pressed to beat this 'scope.
Not only is this one fine looking 'scope it's F2 optics gobbles photons like there is no tomorrow .
My Rasa 8 from All-Star arrived a day earlier than expected ,a very welcome surprise. I fitted it with a full ZWO imaging package and coupled it to my Celestron CGEM II mount which easily handled the load.
The 'scope arrived perfectly collimated and the focus held perfectly. It was very easy to add the Celestron LP filter for F@ which is actually made by AstroDon.
The big test was at our clubs darks sky site. Another photographer had been working on the Horsehead for hours livestacking his image, I also turned to the Horsehead and took one single 5 minute expose in live mode and the image knocked my sox right off. That rig at F2 gathered so many photons so fast that it actually felt like I was cheating. 5 minutes vs several hours!!! The other fellow by the way had a really nice rig that many would be envious of but no match for the RASA, not by a long shot.
Oh....the 'scope looks sexy as heck too!
Why Should You Trust All Star Telescope?
We've Made All The Mistakes
So You Don't Have To
Learn More