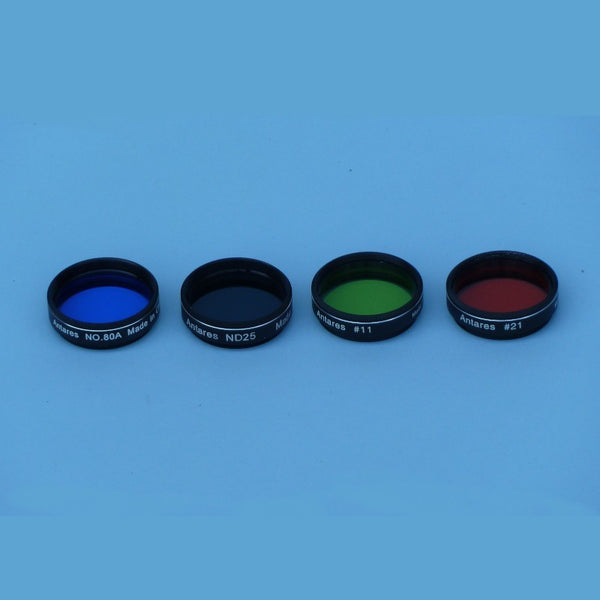 Free Expert Support
Why Purchase from All-Star Telescope?
Stress Free, Secure Shopping
Product Description
Set of 4 1.25" color filters (#11, #21, #80A, ND25), to enhance planetary imaging.
Every refractive system, (lenses, correctors, eyepieces, etc.) produce Chromatic Focal Shift: The different colors focus on different planes. By isolating one color more detail will become apparent.
Always use a contrasting color to what you are observing.
Fun.
I've had great fun getting myself into this hobby. The website is great to use and my questions were answered quickly. Thank you.
The filters are very good for viewing the celestial objects. Until now I saw the star clusters with it and it was amazing to look at. Can't wait to view the planets in the planetary viewing season.
Works great for the view of the moon
Not too bad
I've tried this set on a few nights. It's not a bad set. I am new to the use of filters in visual astronomy. I find it works very subtley. Not as much as I had hoped but maybe that's filters in general. The neutral density filter works on something bright like the moon but you will still be seeing black for a bit when you take your eye from the eyepiece after viewing a full moon.
Why Should You Trust All Star Telescope?
We've Made All The Mistakes
So You Don't Have To
Learn More