Brand: Antlia
Antlia Main Body/Base Filter Drawer (B-001)
ANT-B-001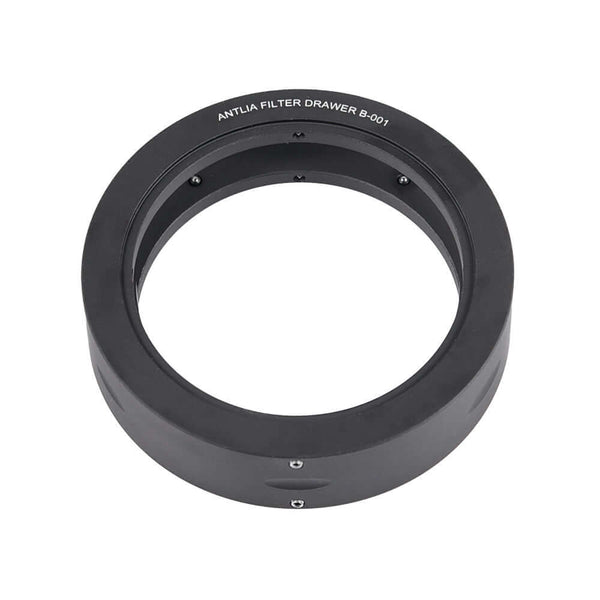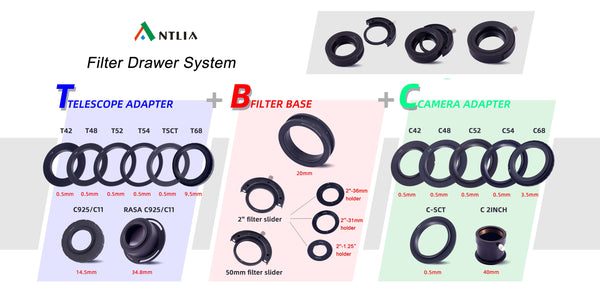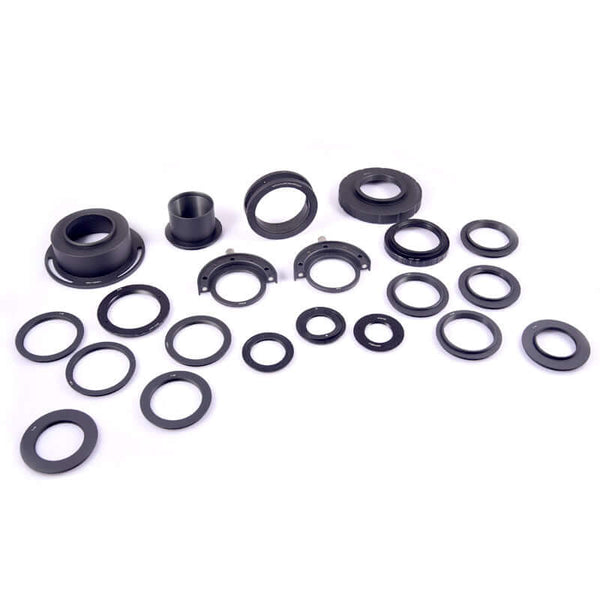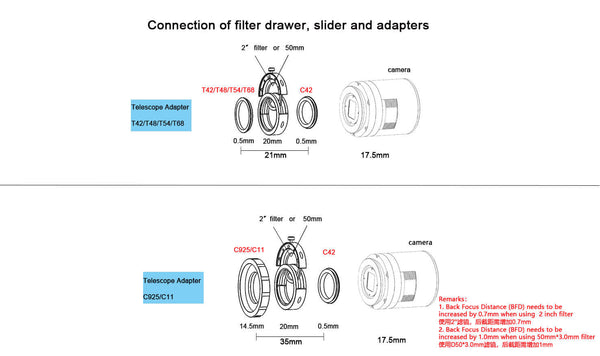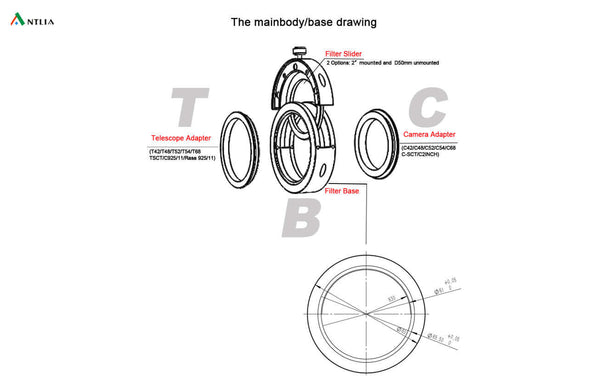 Brand: Antlia
Antlia Main Body/Base Filter Drawer (B-001)
ANT-B-001
Free Expert Support
Why Purchase from All-Star Telescope?
Stress Free, Secure Shopping
Product Description
The filter drawer system is a very convenient and inexpensive alternative to the filter wheel for simple changing of filters and connection of camera and telescope. In the drawer system, the main body are abbreviated with (B) for base, the adapters are abbreviated with (T) for telescope side and (C) for camera side. 
Note: each component of the Antlia Filter Drawer System is sold separately.
Antlia drawer system is composed of three parts, mainbody base with an optical depth of 20mm, telescope adapter and camera adapter, three parts are connected and fixed by screws. All parts of the Antlia filter drawer system are made of aviation aluminum CNN.
Due to optical depth of 20mm, it can be used also with scopes with a high focal ratio.
Specifications
Two specifications of filter sliders are provided. Double strong magnets create stronger adsorption and easier installing.
2inch M48*0.75 thread can be used with the 2'' mounted filters. (B-2INCH)
D50mm thread can be used with the round 50mm unmounted filters. (B-50)
Three filter holders allow you to use the filter with a smaller filter thread size. No need to buy another set of filter drawer or slider when you buy new cameras or telescopes.
B-4836 filter holder mounted into B-2INCH slider can help you directly fit the 36mm unmounted filter onto 2" filter drawer.
B-4831 filter holder mounted into B-2INCH slider can help you directly fit the 31mm unmounted filter onto 2" filter drawer.
B-48125 filter holder mounted into B-2INCH slider can help you directly fit the 1.25'' mounted filter onto 2" filter drawer.
The screws are used to connect base and adapters. Four pieces of Hexagon socket  screws are equipped and also installation tools are provided. The system is  designed in a such convenient way, that it is possible to mount all popular equipments found on the world. You can also adjust the position of the camera and telescope very well.
Antlia Main Body/Base Filter Drawer (B-001)
I decided to go with Antlia instead of ZWO because it can be configured the adapters for both sides of the drawers directly with rings. I figured it should cut down the number of adapter rings required overall in the imaging train. It can also be used as a make shift "rotator" as the adapter rings are held by 2 small screws, and it can be turned independently on both sides.
I am only giving it 4 stars because
1. The holding screws for the rings are very small, and since I am using a mirrorless camera on one end, sometimes it moves when I bumped against the camera. (I taped it down once finalize my framing) Perhaps add another ****? (there are 2 screws to lock the adaptor ring down)
2. I wish the unit has degree markings/engraving on the main body and a marking on the rings (even just a painted line), so it can be used as a rotator for reframing with multiple imaging sessions.
Why Should You Trust All Star Telescope?
We've Made All The Mistakes
So You Don't Have To
Learn More