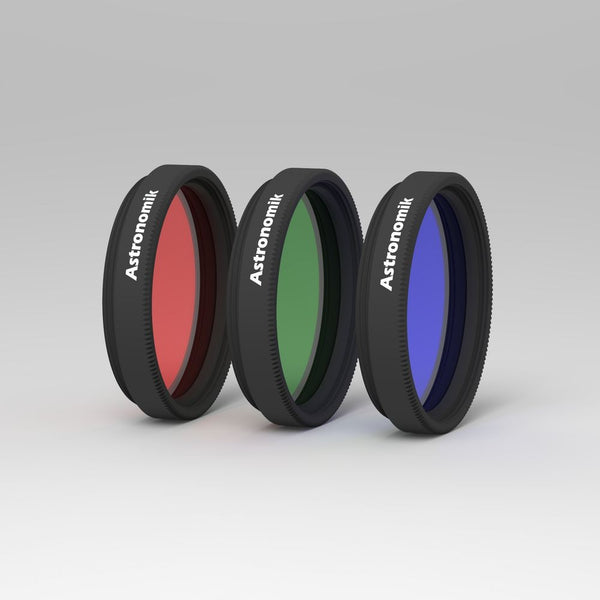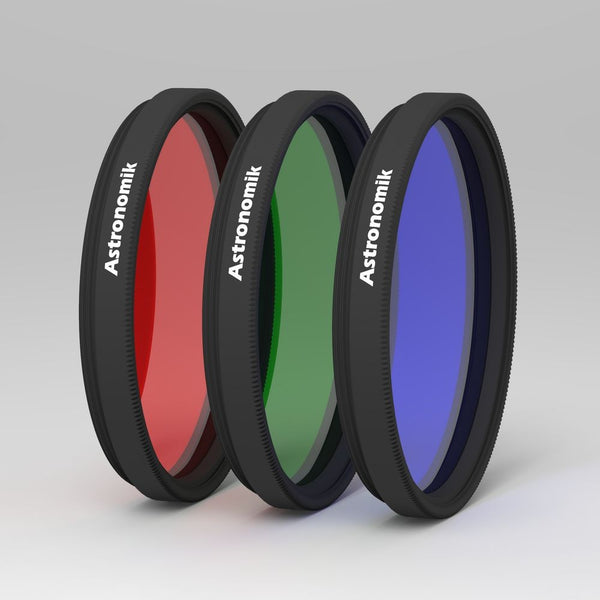 Free Expert Support
Why Purchase from All-Star Telescope?
Stress Free, Secure Shopping
Product Description
The new Astronomik Deep-Sky RGB filters are the result of a long and detailed process of research and development. We have created the most advanced set of RGB filters for Deep-Sky imaging available today.
The transmission curves of the three filters are designed to give you strong and vivid colors with a strong reinforcement of the most important emission lines. Data taken with the new Astronomik Deep-Sky RGB filters is easier to process into a beautiful final masterpiece.
Additional to the Deep-Sky RGB filters Astronomik now offers you three different Luminance filters. The different spectral window of each new Luminance filters is designed to tune your setup to get the sharpest image from any optical design and any camera, even with instruments with less-than-perfect color correction.
Like all Astronomik Filters, the new Deep-Sky RGB filters are made using an extremely durable and scratch resistant coating, deposited on the finest polished optical substrate, which is free of any striate or internal strains. All substrates are made to exactly the same thickness, so all of our filters are parfocal.
How we Got Here
During the design of the Deep-Sky RGB filters we took a close look at the sensitivity curves of today's popular CCD cameras. The result was we found a way to make one set of filters for all kind of sensors ranging from KAF- and KAI-sensors, to the chips made by Sony, meaning you can do 1:1:1 ratio RGB exposures with all sensors, with only minimal tweaking necessary during processing to achieve perfect colors in your image!
The transmission curve characteristics and coatings on the new Deep Sky RGB filters have been designed and engineered in such a way that no halos or reflections will be visible. Even with bright stars in the field of view you will be able to reveal the faintest structures in nebulas or galaxies
Specifications
Maximum transmission of up to 95%
Ultra-Sharp, pinpoint star images
High contrast
Easy to process data for vivid colors in the final image
Optimized spectral windows for max photon counts on the sensor
Made on finest, optically polished glass
Extremely durable, scratch resistant coating
MFR Coating technique for a wide range of focal ratios
Why Should You Trust All Star Telescope?
We've Made All The Mistakes
So You Don't Have To
Learn More