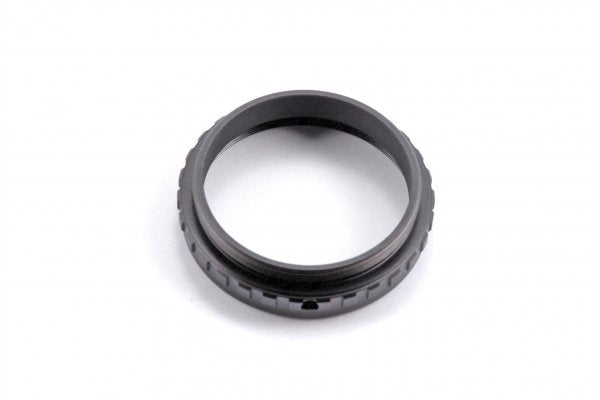 Free Expert Support
Why Purchase from All-Star Telescope?
Stress Free, Secure Shopping
Product Description
T-2 Extension Tubes enable you to securely set or vary the spacing between T-2 components. The tubes are available in three lengths, 7.5mm, 15mm, and 40mm, and are provided with an internal T-2 thread at one end and an external T-2 thread at the opposite end. Full internal threading and blackening kills any stray light reflections.
T-2 Extension Tubes are used throughout the ASTRO T-2 System™ to provide proper spacing of system components. The Alan Gee Mark II Telecompressor may be configured in various ways that benefit from the ability to vary the spacing of the lens relative to camera or eyepiece. The extension tubes provide a secure way of varying projection ratios (eyepiece to camera separation), for the OPFA System (afocal and ocular projection), and the MPCC makes use of the T-2 Extension tubes to accurately locate and couple the coma corrector to eyepieces. You can use the extension tubes anywhere you need to precisely space and couple any of the T-2 components, in configurations of your own design.
Specifications
MANUFACTURER
Baader Planetarium
SKU (#)
1508155
1508154
1508153
OPTICAL LENGTH (MM)
7.5mm
15mm
40mm
WEIGHT (G)
14
31
59
T-2 Part Number

25C
25A
25B
USAGE
for eyepiece projection with sliding focuser
INNER DIAMETER / CLEAR APERTURE
38mm
38mm
38mm
OUTER DIAMETER (MM)
46mm
46mm
46mm
INNER CONNECTION (LENS SIDED)
Thread, T-2 (M42 x 0.75)
INNER CONNECTION (EYEPIECE/-CAMERA-SIDED)
Thread, T-2 (M42 x 0.75)
COMPATIBLE BRANDS
Astro T-2, Baader Planetarium
TYPE OF ADAPTER
Extension
Extension
Extension
Baader extension tube 40mm
Work as expected. Typical Baader quality
Why Should You Trust All Star Telescope?
We've Made All The Mistakes
So You Don't Have To
Learn More