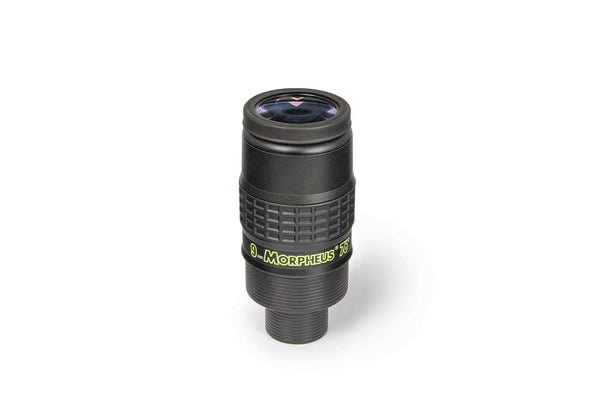 Free Expert Support
Why Purchase from All-Star Telescope?
Stress Free, Secure Shopping
Product Description
The eyepiece is half the optics of a telescope - and when trying to use the optical system to its limits even good middle class eyepieces are becoming the limiting factor. Morpheus® eyepieces provide a sharp image right to the edge of the (true) 76° field of view. The brightness and richness of contrast offers a new dimension in eyepiece design. These eight-lens eyepieces with Phantom Coating® Group excel at planetary observation as well as deep-sky objects - especially when serving as photographic projection eyepieces due to their flat field design.
All Morpheus® wide-field eyepieces with 4.5 to 17.5 mm focal length form the perfect complement to your low magnification eyepieces. Even at highest magnification, each Morpheus® eyepiece does provide a larger field of view than what is claimed for by many eyepieces with over 80 degrees of apparent field of view. The absence of distortion in the eyepiece enables you to oversee the full field at once and to easily find the best viewing position, while enjoying a spacewalk feeling unmatched by others. You will see deep sky objects wonderfully embedded into their stellar surroundings. In addition, the large, sharp field of view gives you much more viewing time on non-motorized (Dobsonian) telescopes without touching the telescope and w/o changing the eyepiece.
All Morpheus® eyepieces feature both 1.25" and 2" nosepieces without the much hated undercuts. Still all Morpheus® eyepieces are perfectly safe against slipping due to their multitude of individual Safety-Kerfs cut into the barrels. The 2" nosepiece is integrated into the eyepiece body which saves about 21 mm in focus travel. This becomes especially useful with ultra low focal plane (visual Newtonian) telescopes. And for many other scopes it does eliminate the need for a 2 "/ 1¼" reducer adapter.
Due to their shape, design and low weight, the Morpheus® eyepieces are the best eyepieces to use in a binoviewer. No other eyepiece series has been designed consistently for this use, while offering the same (true) field angle, minimized vignetting and providing a 55 mm outer housing diameter throughout, to allow binoviewing even for children with just 55 mm interpupillary distance. The slim outer body has been made as small as possible, without any metal added simply for look or feel.
The "eye-lens-group" is sized so very large, to make the viewing behaviour totally stress-less. Even at too large a viewing distance the object remains visible - a feature very appreciated by public observatories with lots of untrained visitors. You will not find an eyepiece that gives a better "space-float effect". Especially when using both eyes, the edge of the field of view virtually disappears, creating that famous spacewalk-feeling - like "floating in space".
Just like the modular Hyperion® eyepiece series with 68° field of view, the 76° Morpheus® eyepiece series is also especially suitable for photography. The distortion is even lower than in the Hyperion® eyepieces, despite the larger field of view. The M43/T-2 Photo/Video adapter ring(# 2958080) fits onto all Morpheus® eyepieces. With this optional M43/T-2 connector, you can use virtually any DSLR or system camera for classic eyepiece projection through the established system of T-2 bayonet rings and attach the eyepiece instead of a lens at the correct projection distance in front of the camera.
For the so-called afocal eyepiece projection, an M43/SP54 extension ring (# 2954251) is also available, opening up to a world of SP54 camera-lens step up/step-down rings (Hyperion® DT-rings) . With this system of rings any Morpheus® eyepiece can be mounted so closely onto the front lens of a large photo-objective that the eyelens of the eyepiece and the camera front lens almost make contact - but just almost! Exactly this precise distance control allows for good illumination of the camera sensor during afocal projection.
Features
Metal / Rubber eyecup: The folding rubber eyecup now comes with an integral M43 threaded metal ring (this accounts for the complete line of Morpheus-eyepieces). The threaded attachment enables the eyecup to stay soft and compliant, while keeping the eyecup securely attached to the eyepiece while folding it up or down.
M43/M43 extension: all Morpheus eyepieces now include the M43 extension #2954250. It is used for optimizing the position of the eyecup in setting the personal viewing position as well as for adapting a camera with M43-thread (eg. Sony / Panasonic). In addition this extension serves also as clamping surface for smartphone holders
Eyepiece-Holster: Not enough space at the telescope? The pouch does not only protect the eyepiece – you can even use it as a belt pouch or attach it to your tripod.
Focal-Length Indicator-Clips: these stainless steel clips can be attached e.g. to the eyepiece holster and one or more of the little indicator fingers is bent upward - according to the focal length used. In this way the user experiences a taktile ("braille"-equivalent) sensation, being able to identify each eyepiece without looking and without using a flashlight
Winged Eyecup: Soft and compliant rubber-eyecap with foldable side shield. Provides the ultimate comfort and exclusion of stray light necessary for binoviewing with eyeglasses
What's in the Box
Specifications
MANUFACTURER
Baader Planetarium

SKU (#)

2954209
NET WEIGHT (KG)

0.40
EYEPIECE SERIES

Morpheus
SPECIFICATIONS
FOCAL LENGTH
9 mm
APPARENT FIELD OF VIEW
76°
EYE RELIEF (MM)
21 mm
AR-COATING
Phantom Coating® Group
PARFOCAL EYEPIECES
Yes
SPECIAL FEATURES
Photo-luminescent engraving: lets you find the correct eyepiece at all times
BARREL SIZE (IN)
1.25", 2"
OPTICAL DESIGN
Wide Angle
SPECIALITY
Eyepiece projection: classical
EYEPIECE DESIGN
FIELD STOP DIAMETER
12.1 mm
FIELD STOP DISPLACEMENT TO REFERENCE PLANE
+/- 0mm
NUMBER OF LENS ELEMENTS
8
NUMBER OF GROUPS
5
BACKFOCUS GAIN W. 2" BARREL (MM)
21 mm
SLIP PROTECT SAFETY
Safety Kerfs
EYEPIECE BODY ABOVE REFERENCE PLANE (MM)
95 mm
LENGTH OF 1¼" BARREL (MM)
24 mm
LENGTH OF 2" BARREL (MM)
21 mm
OUTER DIAMETER
55 mm
CONNECTIONS
OUTER CONNECTION (EYEPIECE/-CAMERA-SIDED)
Thread, M43
INNER CONNECTION (LENS SIDED)
Thread, M28.5
OUTER CONNECTION (LENS SIDED)
Barrel, 1.25", 2" (50.8mm)
CAMERA THREAD
M43
THREADED FOR FILTERS
Yes
9Morpheus
I tested this amazng optic at F/6.45 and can confirm a singular presentation, a floating above look with a diffractive flat field up to the very field stop edge then a slight loss of microsharpness. A really easy pupil to find and hold. I have all the short throw Morpheus and all are different styles of pupil from rather difficult (6.5) to very easy (4.5) with the latter ABSOLUTELY PERFECT EVERYWHERE in the field of view.
Wow ×3 !!!
Why Should You Trust All Star Telescope?
We've Made All The Mistakes
So You Don't Have To
Learn More