Brand: Celestron
Celestron EdgeHD 11" Optical Tube Assembly (OTA) (91050-XLT)
91050-XLT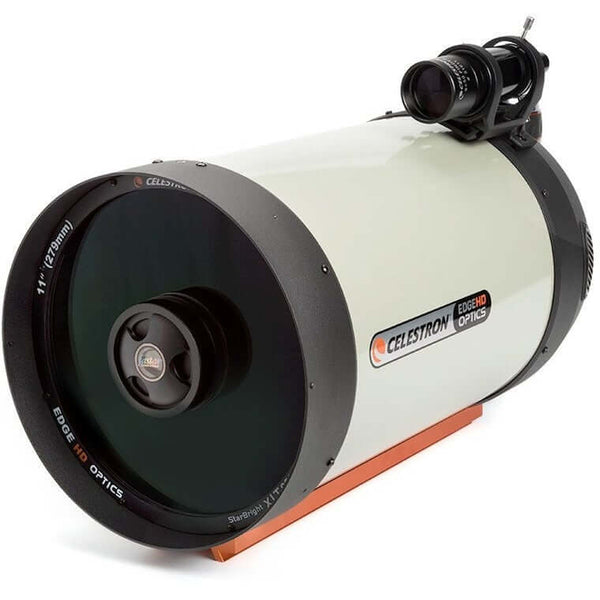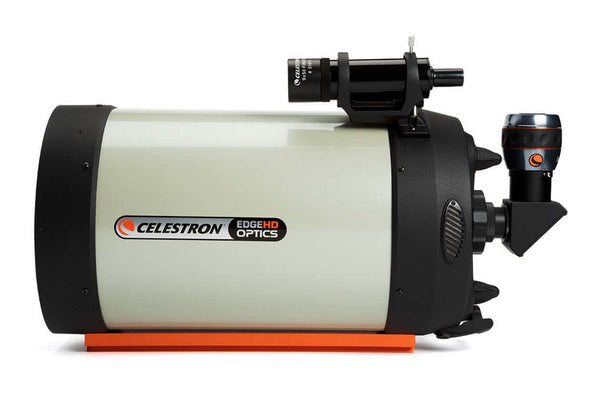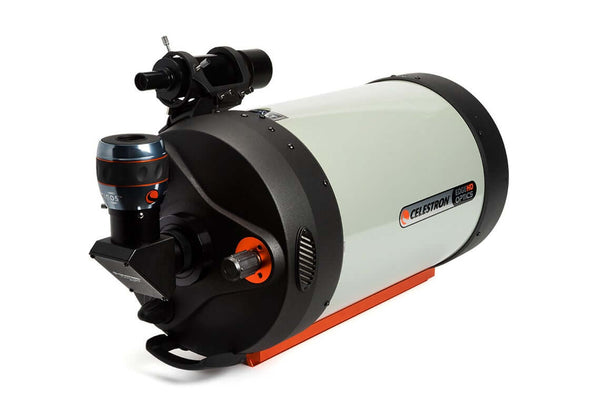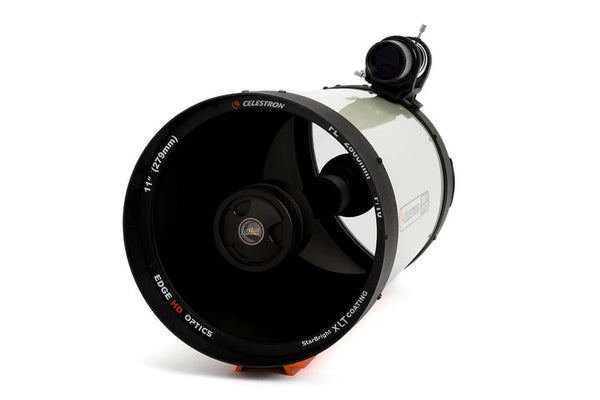 Brand: Celestron
Celestron EdgeHD 11" Optical Tube Assembly (OTA) (91050-XLT)
91050-XLT
Products in the Same Family
Free Expert Support
Why Purchase from All-Star Telescope?
Stress Free, Secure Shopping
Product Description
EdgeHD is an aplanatic, flat field Schmidt-Cassegrain telescope that produces aberration-free images across a wide visual and photographic field of view. The optical system was designed to reduce more than just off-axis star coma; it also provides an astrograph-quality flat focal plane all the way to the edge of the field of view.
True Astrograph Quality
Many optical designs that advertise themselves as "astrographs" actually only produce pinpoint stars across a curved focal plane. While this may be acceptable for some visual observing, stars will appear out of focus at the edge when used with the flat chip sensor of a digital camera. EdgeHD optics produce a focal plane more than three-times flatter than a standard Schmidt-Cassegrain telescope and dramatically flatter than competing coma-free designs. This guarantees you visibly sharp stars across some of the largest CCD chips available today.
Improved Performance
Superior edge performance not only creates rounder, more pleasing stars, but actually improves the resolution and limiting magnitude when compared to telescopes of equal aperture. With Celestron's StarBright XLT optical coatings on every surface, EdgeHD optics gives you maximum light throughput across the widest visual and photographic spectrum.
Mechanical Features
In addition to EdgeHD's optimized optical design, the telescope tube has been redesigned to make sure you get the most from your optics each and every night.
Mirror clutches - Flexible tension clutches hold the mirror in place and reduce image shift when taking long exposure astro-images. Once focused, the flexible rods allow the mirror to be held in place without putting any force or pressure on the mirror assembly, keeping the image centered in the eyepiece (or on the sensor).
Tube vents - Cooling vents located on the rear cell allow hot air to be released from behind the primary mirror. Each vent has an integrated 50-mesh filter guaranteed to let warm air out without letting dust in.
Fastar versatility - EdgeHD is the most versatile imaging telescope available today. At its native f/10, you can achieve the image scale necessary to capture the smallest of deep sky objects. Add the optional reducer lens-custom-designed for your size EdgeHD tube-and you can increase your field of view without sacrificing optical performance. A Barlow gives you added power for high-resolution planetary, lunar and solar imaging. All EdgeHD optical tubes are Fastar-compatible, allowing the secondary mirror to be removed and replaced with a third party lens accessory for ultra-fast f/2 wide field imaging.
Individually Tested
Every EdgeHD that ships has been tested not only for the surface quality of each optical component, but also with a camera and artificial star to ensure the imaging system meets our rigid quality assurance. This "final acceptance test" confirms the EdgeHD will perform in the field and deliver high-quality astroimages.
What can I see with a Celestron EdgeHD 11" Optical Tube Assembly (OTA) (91050-XLT)?
Here are some simulated views of common objects. Results with your telescope will vary with viewing conditions, obrits, equipment and more.
Jupiter with
23mm Eyepiece - 122x Magnification
(Included with This Telescope)
Jupiter with
10mm Eyepiece - 280x Magnification
Sold Separately
Jupiter with
5mm Eyepiece - 560x Magnification
Sold Separately
Moon with 23mm Eyepiece
122x Magnification
(Included with This Telescope)
Moon with 10mm Eyepiece
280x Magnification
Sold Separately
Moon with 5mm Eyepiece
560x Magnification
Sold Separately
Andromeda with 36mm Eyepiece
78x Magnification
Sold Separately
Andromeda with 23mm Eyepiece
122x Magnification
(Included with This Telescope)
Andromeda with 10mm Eyepiece
280x Magnification
Sold Separately
What's in the Box
Specifications
OPTICAL TUBE INFO:
Optical Design:
EdgeHD
Aperture:
279.4mm (11")
Focal Length:
2800mm (110")
Focal Ratio:
f/10
Focal Length of Eyepiece 1:
23mm (0.91")
Magnification of Eyepiece 1:
122x
Finderscope:
9x50
Star Diagonal:
2" with 1.25" adapter
Optical Tube:
Aluminum
Highest Useful Magnification:
660x
Lowest Useful Magnification:
40x
Limiting Stellar Magnitude:
14
Resolution (Rayleigh):
0.5 arc seconds
Resolution (Dawes):
0.42 arc seconds
Light Gathering Power (Compared to human eye):
1593x
Secondary Mirror Obstruction:
95mm (3.75")
Secondary Mirror Obstruction by Diameter:
34%
Secondary Mirror Obstruction by Area:
12.00%
Optical Coatings:
StarBright XLT
Optical Tube Length:
610mm (24")
Optical Tube Diameter:
312.42mm (12.3")
Optical Tube Weight:
28 lbs (13 kg)
Dovetail:
CGE Dovetail Bar
Solar Warning
Never look directly at the Sun with the naked eye or with an optic (unless you have the proper solar filter). Permanent and irreversible eye damage may result.
Never use your optic to project an image of the Sun onto any surface. Internal heat build-up can damage the optic and any accessories attached to it.
Never leave your optic unsupervised. Make sure an adult who is familiar with the correct operating procedures is with your optic at all times, especially when children are present.
Celestron Edge HD 11" OTA
I purchased an 11" Edge HD OTA about 2 months ago from All-Star. I'll share my experience with you.
The scope arrived in good condition, a couple of days after it shipped. The packing is hard foam and form fitting for the scope. All the accessories arrived as expected. I asked for the 10mm eyepiece instead of the 23 mm eyepiece usually included with the purchase price as I already own a Celestron Axiom 23 mm eyepiece and All-Star accommodated my needs. At 28 lbs the OTA is easy to transport and mount.
I have had some time to assess the performance of the scope now although summer night skies are bright here and my home has Bortle 7 suburban skies at the best of times. There have been a half dozen nights with fair to average seeing and considering these limitations the scope performs well.
The scope was well collimated upon arrival and remains well collimated after 2 months of use. The focusing mechanism is smooth and consistent throughout the range. For imaging the mirror locking mechanism works well. I have not experienced any mirror shift when slewing across the meridian.
Star images are bright and colours are well represented. NGC 6826 the blinking planetary is sky blue, the central star is bright, Alberio is yellow and royal blue, 61 Cygni is golden and Eta Cass's red dwarf companion is a dusky red. Resolution is as expected for an 11" SCT. With average seeing the closer double double epsilon Lyrae at 2.1" is an easy split at 215x.The bright star field of open cluster M39 is rich and the homogeneous dim open cluster NGC 6811 in Cygnus fills the field with star dust.
The Celestron Axion and Luminos 23 mm and 10 mm eyepieces perform well. They compare very favourably with my gold standard TV Ethos 21 mmm eyepiece. The 82° apparent field is spacious and comfortable for viewing. Eye relief is comfortable for eyeglass wearers. Stars are sharp almost to the field stop. Images are contrasty and challenge the views with the Televue eyepiece.
All in all, the scope is a keeper, easy for every day use. Ill look forward to testing it under dark skies!
Why Should You Trust All Star Telescope?
We've Made All The Mistakes
So You Don't Have To
Learn More