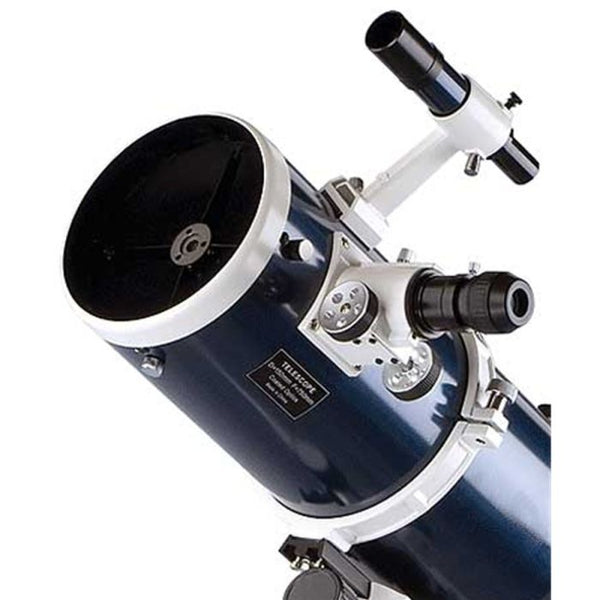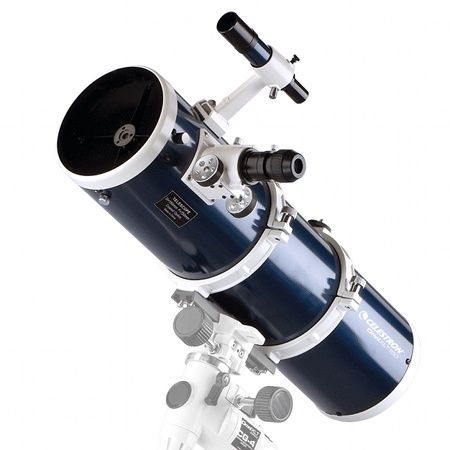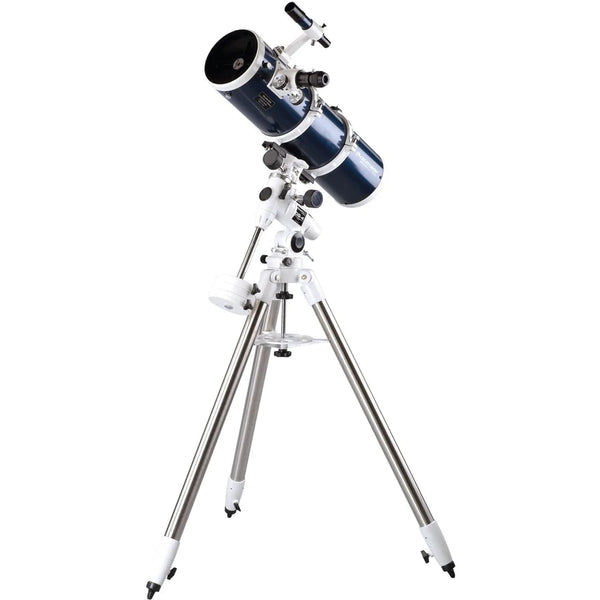 Free Expert Support
Why Purchase from All-Star Telescope?
Stress Free, Secure Shopping
Product Description
The Celestron Omni XLT 150 Newtonian Reflector optical tube assembly offers up 6" of light-gathering capability, which makes it a great choice whether your goal is to explore the solar system, venture out into deep-space, or do some imaging with the help of your choice of stable mount. Using aspheric shaping technology in conjunction with hand-figuring of the optics, the Omni XLT Newtonian Reflector Telescope presents an image with virtually no spherical abberation. Celestron also added their famous StarBright XLT coating system to further enhance light transmission.
The Omni XLT 150 comes with Celestron's robust CG4 equatorial mount.
What can I see with a Celestron Omni XLT 150 Reflector Telescope (31057)?
Here are some simulated views of common objects. Results with your telescope will vary with viewing conditions, obrits, equipment and more.
Jupiter with
25mm Eyepiece - 30x Magnification
(Included with This Telescope)
Jupiter with
10mm Eyepiece - 75x Magnification
Sold Separately
Jupiter with
5mm Eyepiece - 150x Magnification
Sold Separately
Moon with 25mm Eyepiece
30x Magnification
(Included with This Telescope)
Moon with 10mm Eyepiece
75x Magnification
Sold Separately
Moon with 5mm Eyepiece
150x Magnification
Sold Separately
Andromeda with 36mm Eyepiece
21x Magnification
Sold Separately
Andromeda with 25mm Eyepiece
30x Magnification
(Included with This Telescope)
Andromeda with 10mm Eyepiece
75x Magnification
Sold Separately
Specifications
OPTICAL TUBE INFO:
Optical Design:
Newtonian Reflector
Aperture:
150mm (5.91")
Focal Length:
750mm (30")
Focal Ratio:
f/5
Focal Length of Eyepiece 1:
25mm (0.98")
Magnification of Eyepiece 1:
30x
Finderscope:
6x30
Highest Useful Magnification:
354x
Lowest Useful Magnification:
21x
Limiting Stellar Magnitude:
13.4
Resolution (Rayleigh):
0.93 arc seconds
Resolution (Dawes):
0.77 arc seconds
Light Gathering Power (Compared to human eye):
459x
Apparent Field of View:
1.67°
Linear Field of View (@1000 yds):
88 ft (27 m)
Optical Coatings:
StarBright XLT
Optical Tube Length:
673mm (26.5")
Optical Tube Weight:
12 lbs (5.44 kg)
MOUNT INFO:
Mount Type:
Omni CG-4 Equatorial
Tripod Leg Diameter:
1.75" Stainless
Tripod Weight:
12.5 lbs (5.67 kg)
Weight of Counterweights:
7 lbs (3.2 kg) and 4 lbs (1.8 kg)
Software:
Celestron Starry Night Special Edition Software and SkyPortal App
Solar Warning
Never look directly at the Sun with the naked eye or with an optic (unless you have the proper solar filter). Permanent and irreversible eye damage may result.
Never use your optic to project an image of the Sun onto any surface. Internal heat build-up can damage the optic and any accessories attached to it.
Never leave your optic unsupervised. Make sure an adult who is familiar with the correct operating procedures is with your optic at all times, especially when children are present.
My first serious telescope.
I bought one of those cheap, light, plastic refactors 15 years ago and after that experience I completely lost interest in the hobby. Just recently and after doing some online research I thought that I would give it another try and so far I am very pleased with my choice. The CG-4 mount is a tank and other than a few plastic **** and caps is completely made out of machined castings also if I want It can be upgraded to motorised tracking. The reflector Tube looks very standard from what I have seen online and that's okay as what sold me was the price entry point and the quality of the CG-4 mount. As I am a noob I have very little else to comment on at this time other than I am researching my next accessory purchase. I think that will be a Polar Scope and then once I learn my way around the night sky some new eye pieces will be in order. The Badder zoom & Barlow combo looks interesting.
Why Should You Trust All Star Telescope?
We've Made All The Mistakes
So You Don't Have To
Learn More