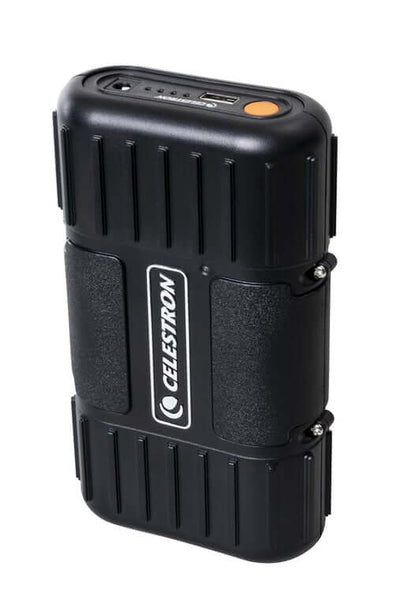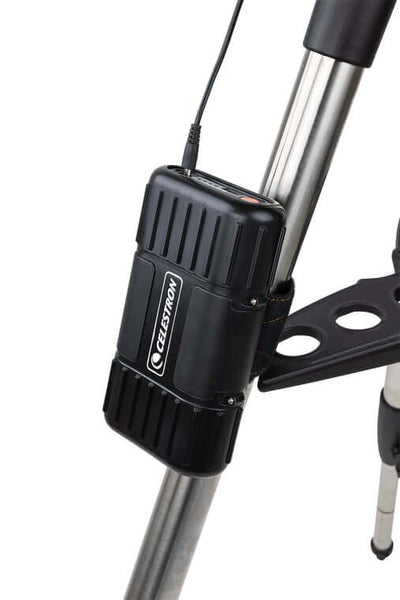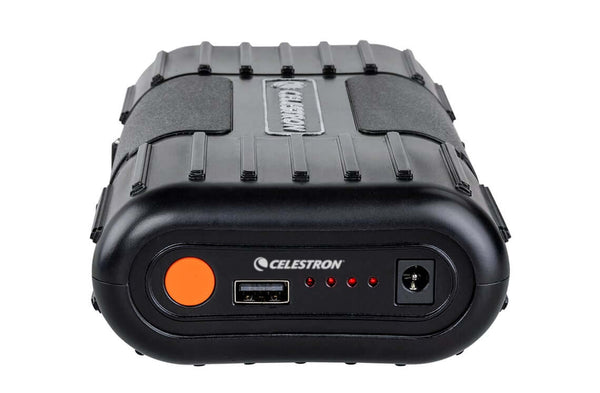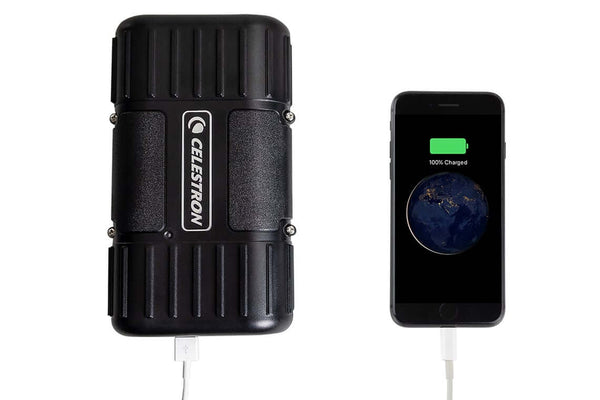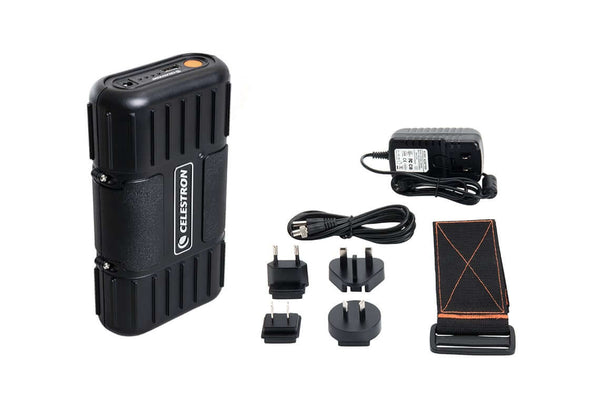 Free Expert Support
Why Purchase from All-Star Telescope?
Stress Free, Secure Shopping
Product Description
Power your telescope anywhere with the PowerTank Lithium LT, our smallest and lightest lithium-ion power pack. This handy device is a must-have for your telescope and accessories, camping gear, emergency kit, and more. Will power any computerized mount.
Stable Power Designed for Telescopes
The PowerTank Lithium LT is built with Lithium Nickel Manganese Cobalt Oxide [LiNiMnCoO2] or NMC technology, which delivers a steady charge over long periods and requires less maintenance than a traditional sealed lead-acid battery.
Unlike other lithium-ion power packs in this price range, the PowerTank Lithium LT was designed for astronomers by astronomers—specifically for the unique needs of computerized telescopes.
Telescope electronics are very sensitive to voltage. Powering a telescope with lower-than-optimal voltage can cause the motors to strain with heavier loads and can even cause the electronics to glitch. The PowerTank Lithium LT uses a built-in voltage regulator to ensure that it delivers at least 11.8 volts for most of the life of the battery, until the battery is depleted and shuts off.
You may see competitor batteries claiming that they hold enough watt-hours of electricity to power your telescope for hours. The technology in these batteries was originally developed to power much lower-voltage electronics, such as home CPAP machines. Although the voltage actually being delivered starts off at 12V, it diminishes rapidly, impacting your telescope's performance and becoming functionally useless within about 2-3 hours.
Celestron's telescope engineers worked hand-in-hand with battery suppliers on PowerTank Lithium LT to ensure that it does not experience this dropoff in performance. The built-in voltage regulator ensures a stable 12V output, regardless of the amount of charge left in the battery. This keeps your telescope's electronics safe and performing their best, so you can focus on astronomy.
The NMC chemistry used by the PowerTank Lithium LT offers far more advantages than the commonly used Lithium Cobalt Oxide batteries found on the market today. Besides having a longer shelf life and three times the number of charge cycles than LiCoO2 chemistry, our NMC battery offers overcharge and over-discharge protection and can withstand temperatures 100o F (60o C) higher than LiCoO2 batteries making the NMC less likely to experience thermal runaway.
Compared to a lead-acid battery, the PowerTank Lithium LT is smaller, lighter, more efficient, and better for the environment. It offers better performance, a longer lifespan, and safer operation than other low-cost lithium-ion battery chemistries. It also offers automatic shut-off, reverse polarity protection, charging/discharging protection, overcurrent protection, and short circuit protection.
Use in the Field
The power pack's extremely portable form factor means it can go anywhere from a remote dark sky location for astroimaging to a weekend of camping. When it's powering your telescope, use the included 2" straps to secure the unit to your tripod leg where it is out of the way. Besides the power cable to charge your telescope, no other cables are needed.
If you need to power your telescope and charge electronic devices simultaneously, the PowerTank Lithium LT features two output ports: 1 12V DC port for the telescope and 1 fast-charging 2.1A USB charging port for smartphones and tablets. This USB port can also support any accessories that require 5V USB power.
Travel with PowerTank
The PowerTank Lithium LT can travel with you on your next vacation. At 73.3 watt-hours, it meets current FAA regulations (160 Wh) for transportation in your carry-on baggage. Please check in advance with your airline to verify they do not have stricter policies. Do not place PowerTank Lithium LT in your checked baggage.
What's in the Box
Specifications
| | |
| --- | --- |
| Battery Capacity: | 73.3 Wh |
| Charging Input: | 16VDC @ 2000mA |
| Charge Time (from flat): | 4 hours |
| Telescope Power Port: | 12V DC @ 3000mA, voltage regulated, 5mm (0.19")/2.1mm (0.08") tip positive jack |
| Car Battery Adapter Port: | None |
| USB Charging Port 1 Output: | 5V DC @ 2100mA |
| Auto Shutoff Threshold Current: | Less than 250mA for 4 hours |
| Operating Temperature: | -40° - 140°F (-40° - 60°C) |
| Light Panel: | None |
| Weather Proof/Dust Proof: | No |
| Telescope Power Cord: | 6.5 ft (2 m) with connector for Celestron telescopes |
| Strap: | 50.8mm (2") wide hook and loop strap for attachment to tripod leg |
| Product Dimensions: | 190.5mm x 101.6mm x 50.8mm (7.5" x 4" x 2") |
| Product Weight: | 1.4 lbs (.63 kg) |
Celestron Powertank Lithium LT
I had it out and powering my Nexstar 8SE I was seriously impressed with the performance.
Celestron PowerTank Lithium LT
Perfect for my Nexstar 130. I have only used it twice now and no noticeable drain in power. Small, portable, and long lasting. Great choice for the Nexstar line.
Celestron PowerTank Lithium LT
Long lasting, reliable and easy to use. Our group has several of these power packs in use with overall satisfaction by all users.
Very pleased with the performance of this battery pack even in -6c. However it is very difficult to shut it off! When you press to turn it off the lights go off for a second then immediately turn back on. I need to do this several times to get it to turn off by pressing on the power button for precisely the right amount of time! Very annoying! For this reason I would not recommend buying it.
Prompt service, good product
When my old power pack quit, I was in a rush to get something new - the Lithium Power tank fit the bill perfectly: small, made especially for Celestron, lots of power. Can't get it to stay up on the tripod legs though, but that's a small issue.
Why Should You Trust All Star Telescope?
We've Made All The Mistakes
So You Don't Have To
Learn More