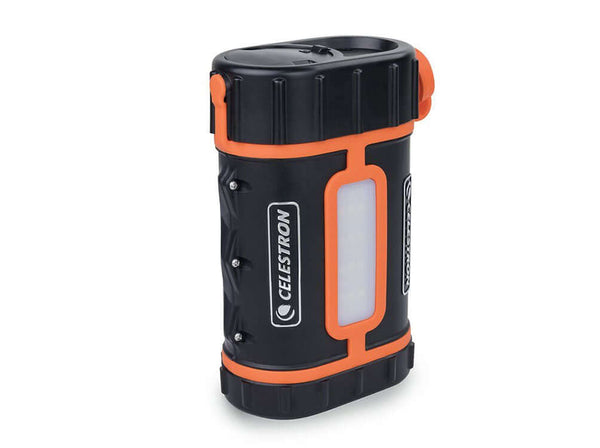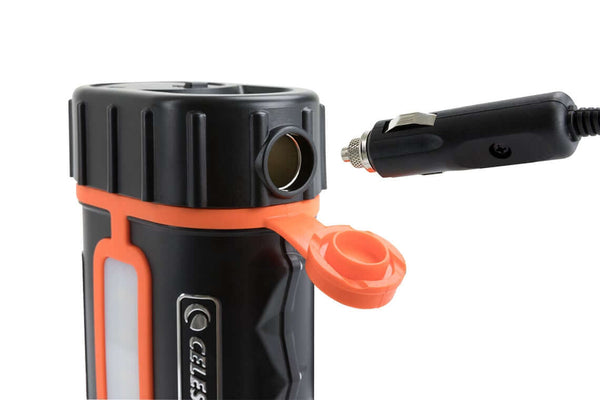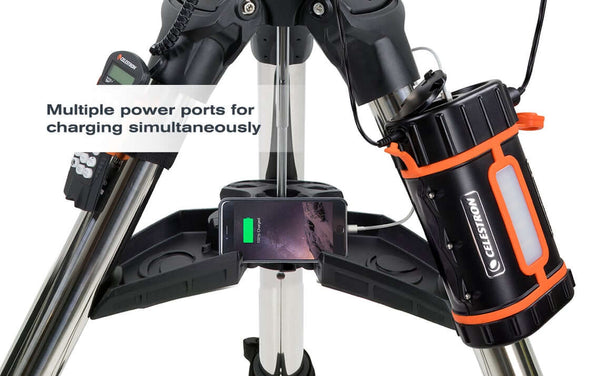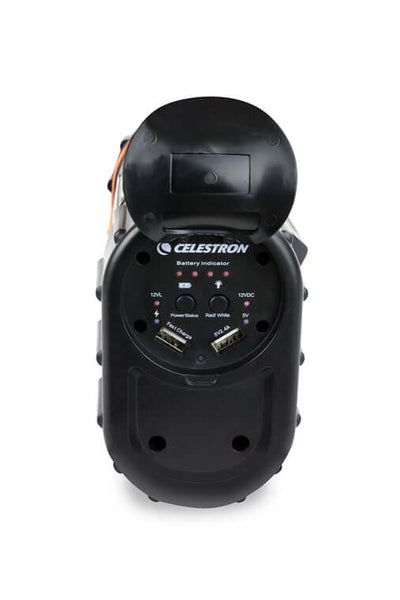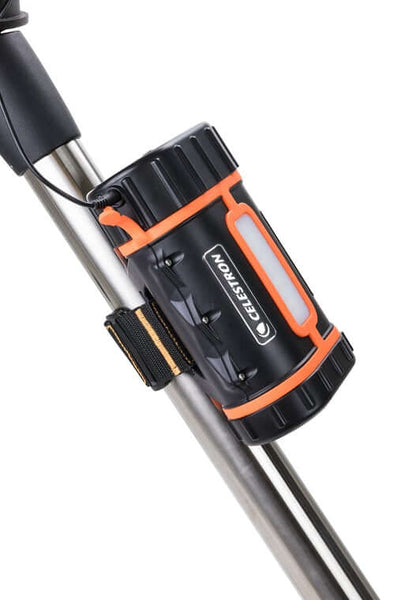 Free Expert Support
Why Purchase from All-Star Telescope?
Stress Free, Secure Shopping
Product Description
The PowerTank Lithium Pro is for the true power user! This higher capacity unit is the latest version of our bestselling PowerTank Lithium. PowerTank Lithium Pro offers twice the battery capacity of the original, making it ideal for more demanding applications. Will power any computerized mount
PowerTank Lithium Pro features the right ports and connections to accommodate a variety of devices. You'll find a 12V DC 5A telescope power port (Celestron cable included), a 12V DC 10A car battery adapter port, and two 5V DC USB ports - one 2.1 A and one that supports rapid charging.
The power pack's extremely portable form factor means it can go anywhere from a remote dark sky location for astroimaging to a weekend of camping. When it's powering your telescope, use the included 2" straps to secure the unit to your tripod leg where it is out of the way.
One side of the unit features a strip of LED lighting in both bright white and red. This turns the unit into a convenient safety light during star parties or a work lamp to clean up your observing area when the night is done. You can even use it as a bright emergency light during a power failure and illuminate an entire room of your home.
PowerTank Lithium Pro can also travel with you on your next vacation. At 158.72 Wh, it meets current FAA regulations (160Wh) from transportation in your carry-on baggage. Please check in advance with your airline to verify they do not have stricter policies.
Advantages of Celestron's LiFePO4 Battery
Powered by Celestron's Lithium-Iron Phosphate (LiFePO4) battery, PowerTank Lithium Pro is smaller, lighter, and safer than sealed lead acid batteries. The technology is also more environmentally-friendly since it does not use toxic heavy metals.
PowerTank Lithium Pro's LiFePO4 chemistry holds up to 2000 charge cycles and has an un-recharged shelf life up to 10 years. That means you won't have to remember to recharge your battery every few months like with a sealed lead acid battery. Its large, 17-hour capacity and lack of maintenance make PowerTank Lithium Pro the ideal choice for an emergency kit. Store one in your home, your garage, and even your office.
Specifications
| | |
| --- | --- |
| Battery Capacity: | 158.72 Wh |
| Charging Input: | 16VDC @ 2000mA |
| Charge Time (from flat): | 6 hours |
| Telescope Power Port: | 12VDC @ 5000mA, Tip positive |
| Car Battery Adapter Port: | 12VDC @ 10A, Tip positive |
| USB Charging Port 1 Output: | 5VDC @ 2100mA |
| USB Charging Port 2 Output: | 5VDC Quick Charge |
| Auto Shutoff Threshold Current: | (Car Battery Port) - Less than 420mA for a long period of time |
| Operating Temperature: | -4° - 140°F (-20° - 60°C) |
| Light Panel: | Red or White with two brightness settings for each color |
| Weather Proof/Dust Proof: | IP-65 rating |
| Telescope Power Cord: | 6.5 ft (2 m) with connector for Celestron telescopes |
| Strap: | 2" wide hook and loop strap for attachment to tripod leg |
| Product Dimensions: | 222.25mm x 152.4mm x 101.6mm (8.75" x 6" x 4") |
| Product Weight: | 4.5 lbs (2.04 kg) |
Celestron PowerTank Lithium Pro (18768)
Bought this larger unit to power my imaging setup,
am5 mount
asiair plus
asi2600mc pro
EAF & EFW
asi120mm mini guide
First time use in mid Aug. had cam cooler set to -5. All worked very well. I was able to image for 2hrs and used the autorun in the asiair. After 2hrs it showed 2 solid red dots for power left. Was very happy. No power issues appearing at all.
Second time early Sept. same setup and imaged for 2hrs using autorun, no cooler used. Power tank showed 3 red dots of power left, again very happy with this power tank. No power issues appearing at all. Very solid unit and appears it will handle the load when I am off site. As usual the service from All-Star Telescope was excellent. Nicholas was great to deal with. Highly recommend All-Star telescope.
Brian
It's ok
Was told it would last a full night so far running a few heater and cgem with guider and camera I get on a full charge about six hrs only. Wasn't impressed by that at all. Was the reason I spent the money I did on this power pack
Celestron power tank pro
Great item. can power my CGEM DX mount and dew shield with no problems. enough power to observe all night and have power left over. No need for power cables for people to trip over.
highly recommended !
Great portable power
This battery gives me a lot of options as I n addition to USB and DC connections, there's also the 12V DC 10A car battery adapter port. This gets me more amps than the other options and I can use this for camping, too.
Celestron Power Tank Lithium Pro review
Meets expectations as it should for the price
Why Should You Trust All Star Telescope?
We've Made All The Mistakes
So You Don't Have To
Learn More