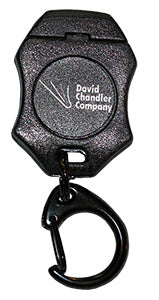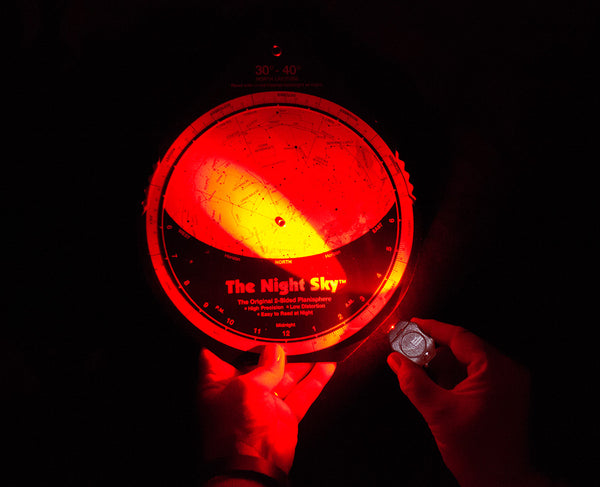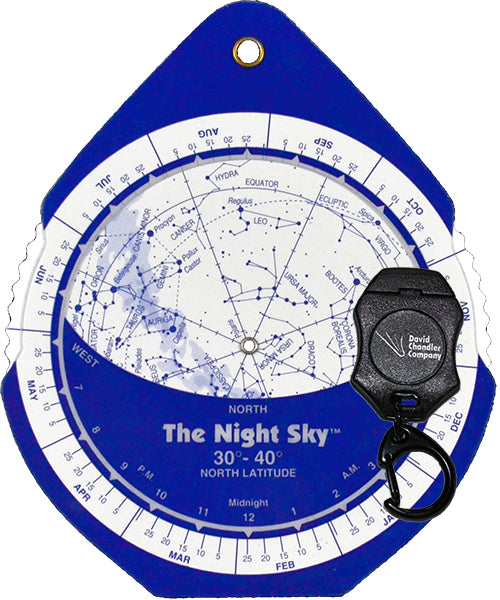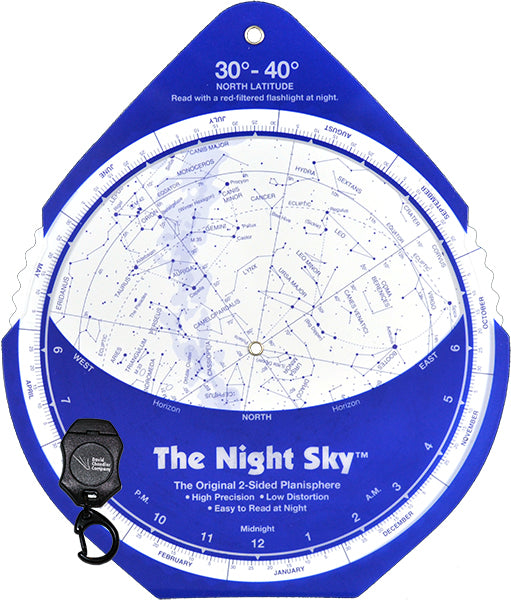 Free Expert Support
Why Purchase from All-Star Telescope?
Stress Free, Secure Shopping
Product Description
The Night Reader Pro™ is a true Astronomer's Flashlight built with a 630nm red LED to help you read a planisphere or atlas in the dark without depleting your night vision. There is no white light option to accidentally activate so you can use the Night Reader Pro™ without worry of loosing your night vision or upsetting your neighbors at a star party. Although the light is bright enough to be used when setting up equipment, the brightness can be brought up gradually to any level desired for reading at close quarters with minimal afterimaging. The LED is shielded so the light will shine where you want it, but not directly in your eyes.
Night Reader Pro™ is made tough in the USA and carries a lifetime warranty. The standard CR2032 battery is easy to replace and will give you 36 hours or more of operation. The housing is rated IPX-4 for moisture resistance and has gold-plated contacts for reliable service. A quick-clip keychain attachment is provided to keep the light handy with fast and easy access. This light will be there when you need it and you won't be fumbling with a split-ring attachment. With the Night Reader Pro™ clipped to a zipper on your jacket or to the strap on your binoculars you will always have a top-notch light source at the ready.
It can take up to 45 minutes for the human eye to completely adapt to darkness as a protein called Rhodopsin builds up in the rod cells. Once your night vision is adapted you might be surprised at how many more objects are visible, and how much better you can see details in faint objects. Unfortunately all it takes is a about a second of the bright white light from a flashlight or a cell phone display to deplete your night vision and have you waiting around to adapt again! The longer wavelength red light produced by our Night Reader is detected by the cone cells in your eye and does not deplete Rhodopsin in your rod cells. This allows you to read a chart or atlas and immediately return to viewing the sky.
Specifications
| | |
| --- | --- |
| Dimensions | 1.5 × 1.00 × .40 in |
| Product ID | DC-NRP |
| Battery | One CR2032 |
| LED Specification | 630nm |
amazingly useful!
for such a small light, this unit is not a keychain toy that is a throwaway item. This little light is bright enough to be useful, small enough that it takes no room in my eyepiece kit and the beam is compact enough that no one nearby would be bothered by my using it in a dark sky field with others enjoying the sky nearby.
Why Should You Trust All Star Telescope?
We've Made All The Mistakes
So You Don't Have To
Learn More