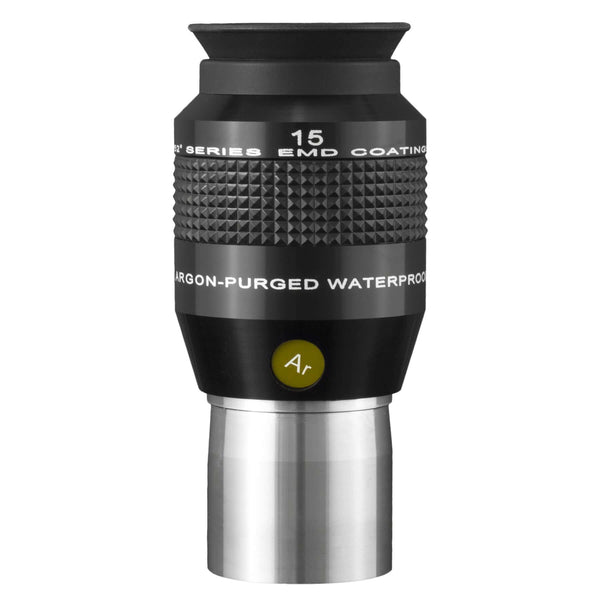 Free Expert Support
Why Purchase from All-Star Telescope?
Stress Free, Secure Shopping
Product Description
Solidly in the mid-magnification range for most amateur telescopes, the 15mm is a true workhorse for visual observers. If you love deep sky observing, eyepieces in this focal length range not only give healthy increases in magnification, but the contrast enhancement of giving a darker background sky can make all the difference of how galaxies and nebulae appear under suburban skies.
Explore Scientific Waterproof Eyepieces - Comfort, Quality, Value. The Explore Scientific 52° Series eyepieces are excellent flat-field multi-element oculars that can transform your visual astronomy experience. With an apparent field of view of 52 degrees, these eyepieces offer incredible value in a very nice eyepiece. Expect exceptional quality and value versus a comparably priced Plossol.
Another great benefit of these eyepieces is the excellent contrast and ease with which you can gaze, not directly at an object, but slightly to either side. This skill, called using averted vision, is especially helpful when observing faint objects, because using averted vision puts the image on a part of your eye that is more sensitive to light, allowing you to see fainter images
Specifications
| | |
| --- | --- |
| Item Number | EPWP5215-01 |
| Focal Length | 15mm |
| Length | 93mm |
| Width | 43mm |
| Weight | 7.3oz (206g) |
| Barrel Size | 1.25" |
| Eye Relief | 16.3mm |
| Field Stop Diameter | 15.5mm |
High-quality middleweight
[NOTE: I am a beginner, so I have little to experience to compare this with]. I tried this eyepiece out for the first time last night and was happy with the experience. With only a 25mm and a 10mm eyepieces in my beginner kit, I wanted something that was 'in-between'. Exploring the stars works great: I use the 25mm to get a low-magnification view when searching. Rather than jumping to the 10mm for maximum magnification, I prefer this 15mm: with my telescope, it provides a 'zoom' of 50x while still capturing a wide field of view that keeps everything in context. One faint star cluster entirely filled the 'frame', and the quality optics of this eyepiece showed each star as a crisp pinprick, right to the edge of the lens. It is a very hefty item, indicating a solid construction. It even comes with a little carry bag to keep it from being scratched. As it was on sale, the overall value can't be beat.
Why Should You Trust All Star Telescope?
We've Made All The Mistakes
So You Don't Have To
Learn More