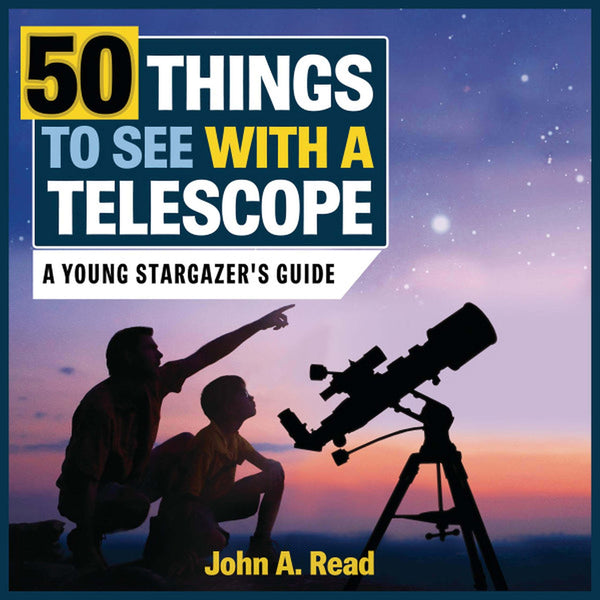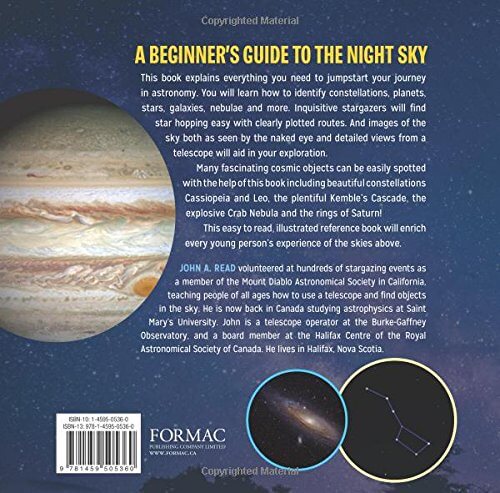 Free Expert Support
Why Purchase from All-Star Telescope?
Stress Free, Secure Shopping
Product Description
John A. Read covers everything needed to identify constellations, planets, stars, galaxies, nebulae and more. Inquisitive stargazers will find planet hunting and star hopping easy with clearly plotted routes and images of the sky both as seen by the naked eye and detailed views from a telescope.
Many fascinating cosmic objects can be easily spotted with the help of this book including beautiful Cassiopeia, regal Leo, the plentiful Kemble's Cascade, the explosive Crab Nebula, the rings of Saturn — even the moon!
This easy to read, fully illustrated reference book will enrich every young person's experience of the skies above.
John Read has personally observed, photographed, and researched all 50 objects and is passing his best tips and tricks along to you. You'll enjoy reading his first-hand experience on what you can expect while viewing.
This book will help empower you as a new amateur astronomer to feel comfortable with your equipment. After exploring the lunar surface in detail, you'll be ready to try observing the planets, double stars, galaxies, and other challenging objects. This book is a must-have in your astronomy collection that you'll find yourself enjoying for years to come.
Author's Bio
Shortly after his wife bought him a twelve-inch Dobsonian Telescope for Christmas (to be fair, she got leather boots), he joined the Mount Diablo Astronomical Society, volunteering as many as four nights per week under California's cloudless skies. In 2013 he published his first book, 50 Things to See with a Small Telescope. In 2016, John left corporate America, and in 2020, completed a four year astrophysics degree.
He recently won the Simon Newcomb for excellence in Science Communication by the Royal Astronomical Society of Canada, for his books: 50 Things to See on the Moon and 50 Things to See with a Telescope.
50 things to see with a telescope
A good reminder when looking at night sky.
Great book for the new stargazer.
The title of this book should be "A NEW stargazers guide" instead of a young stargazers guide. Great book, well written and easy to understand for this new stargazer who is NOT young.
Why Should You Trust All Star Telescope?
We've Made All The Mistakes
So You Don't Have To
Learn More