Brand: iOptron
iOptron HAE29 Strain Wave AZ/EQ Mounts (w/ iPolar / High Precision Encoder)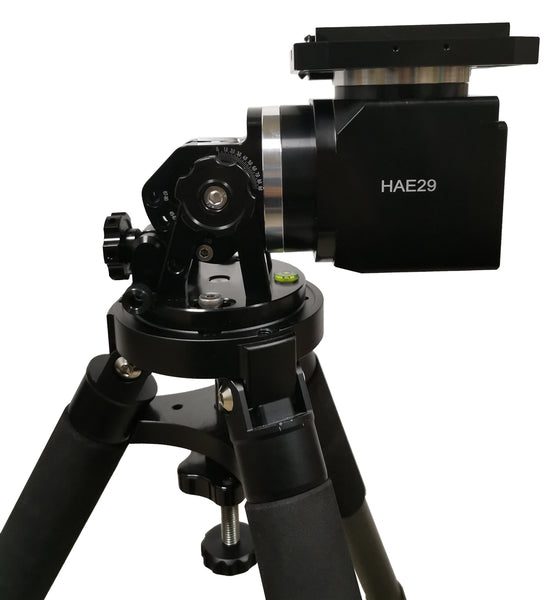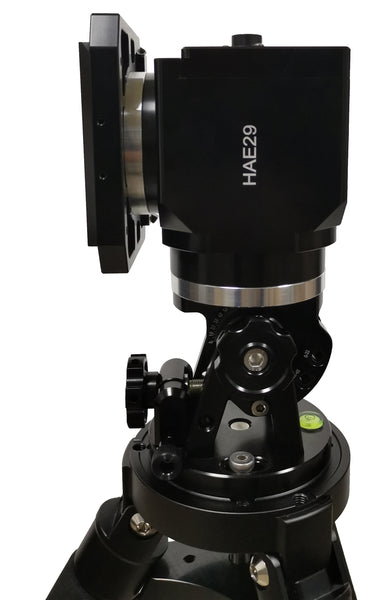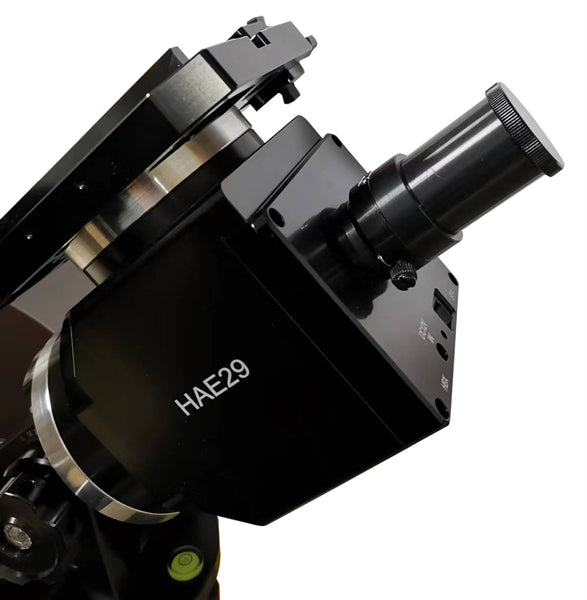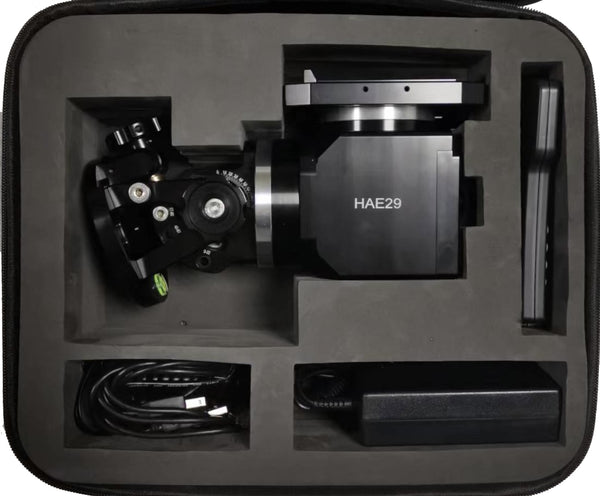 Brand: iOptron
iOptron HAE29 Strain Wave AZ/EQ Mounts (w/ iPolar / High Precision Encoder)
Variant
HAE29 Strain Wave AZ/EQ (HE292)
HAE29 Strain Wave AZ/EQ w/ iPolar (HE292A)
HAE29 Strain Wave AZ/EQ w/ iPolar & High Precision Encoder (HE294A)
Free Expert Support
Why Purchase from All-Star Telescope?
Stress Free, Secure Shopping
Product Description
Introducing the new members of iOptron strain wave gear mount family - AZ/EQ dual mount HAE29 and HAE29EC! These light weight, high payload little titans will deliver an astronomy experience like never before. Imagine a mount head weighing in at 8 lbs with a payload capability 29.7lbs, without needing a cumbersome counterweight or shaft. Applying iOptron's multi-decade experience creating precision mounts, the HAE29 brings this vision to reality.
Utilizing state of the art strain wave gear technology for the both RA and DEC movement, the HAE29s deliver unparalleled weight to payload efficiency. Its black anodized all metal CNC machined body is not only appealing to the eye, it's a rugged platform that will perform at the highest level for many years to come. Unique features such as an electronic friction break and power down memory allow the mount safely stop and resume a GoTo slew or continue tracking even after an abrupt power loss (No need to realign and start from the beginning).
A HAE29 mount can be controlled by a computer, either via ASCOM/Commander for a Windows PC or a third party INDI driver for a MacOS software; a SmartPhone/Tablet via iOptron Commander Lite or an App like SkySafari; or a Raspberry Pi device via INDI driver.
The HAE29EC features a high precision RA axis encoder that delivers incredible tracking accuracy, enough that many will choose to image "sans" guiding.
Specifications
Mount
Strain Wave Altazimuth/Equatorial Mount
RA gear system
Strain Wave Gear
DEC gear system
Strain Wave Gear
Reduction ratio
RA 480:1
DEC 360:1
Payload w/o CW *
29.7 lbs (13.5 kg)
Mount weight
8.15 lbs (3.7 kg) with dovetail saddle
Payload/Mount weight
3.65
Payload with CW*
40 lbs (18kg)
High precision encoder
Yes (RA) (HAE29EC Only)
PEC
Realtime PEC (RPEC) (HAE29EC Only)
Period
360 second
Drive motor
Stepper motor
Structure Material
All metal, CNC machined
Exterior finish
Anodized black
Polar Scope
iPolar electronic polar scope (external) (HAE29 w/ iPolar & HAE29EC Only)
Level indicator
Level bubble
Control system
GOTONOVA/Commander
Hand Controller
Go2Nova® 8409 with ~212,000 objects database
Tracking
Automatic
Maximum slew speed
6°/sec
Power consumption
0.6A(Tracking), 1A(GOTO)
Power
DC12V-5A (5.5/2.5mm DC plug)
AC adapter
100V ~ 240V (included, indoor use only)
Cable management
Ready for DIY
Power off brake
Electronic friction brake
Power-down memory
Yes
Wi-Fi
Built-in
Communication port
Yes (Wi-Fi and USB, via HC)
Autoguide port
Yes (ST-4 compatible)
Firmware upgrade
Yes
Dovetail saddle
Vixen & Losmandy
Tripod
Optional
Counterweight Shaft
SS Φ20X200mm, 3/8"-16 thread (Optional)
Counterweight
10 lbs (4.5kg) (Optional)
Operation temperature
-20°C ~ 40°C (hand controller -10°C ~ 40°C)
Warranty
Two year limited
* 200mm, with payload center of gravity to the RA rotation axis. Or an OTA size of ~220mm.
Just WOW
Fell in love with this unit. Small footprint, low weight works well in both axis. Left PHD2 guiding at 1second, calibrated and works so well on RA/Dec guiding. No problems working with N.I.N.A. USB connection, but still having trouble with connecting to wifi (works as admin). The two machine bolts (AZ Locking)…well, still looking for a better cold weather solution. Finally, wish it could have both Vixen and Losmandy saddle.
Well made, step up from my CGEM-DX with regards to everything.
Why Should You Trust All Star Telescope?
We've Made All The Mistakes
So You Don't Have To
Learn More