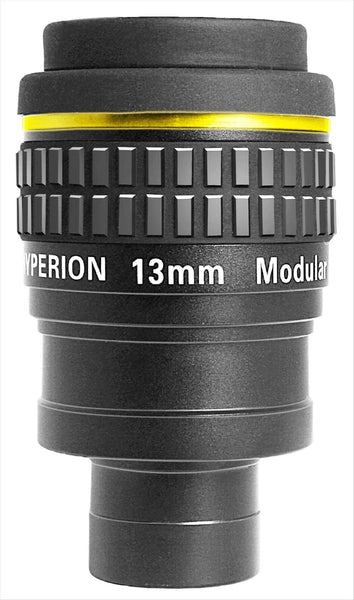 Free Expert Support
Why Purchase from All-Star Telescope?
Stress Free, Secure Shopping
Product Description
Most telescopes are supplied with one or two simple eyepieces in the set, which do not exploit the performance of the optics. Moderate contrast and sharpness and small field of vision quickly spoil the fun of the sky observation. With Hyperion eyepieces you get everything out of your telescope!
You can distinguish between the series with "Prime lenses" f = 5 mm, 8 mm, 10 mm, 13 mm, 17 mm, 21 mm, 24 mm, the two great eyepieces aspheric 31 mm and 36 mm, as well as the Hyperion zoom eyepiece with infinitely variable focal length of 8 mm to 24 mm.

The 68° "Fixed Focal Length" - series of the Hyperion eyepieces
The word fixed focal length is here in this brief description in quotes because you are treated as a user by the modular structure of the eyepieces in the position to change the focal length. The fixed focal length Hyperion eyepieces are Multi function eyepieces .

Connection of cameras and camcorders
The Hyperion eyepieces have above ("eye-side") two system thread. To expose them, either the eyecup or the large thread protection ring must be removed. For one, it's an M43 thread and continue to a second with SP54 thread; the M43 thread (system thread 1) accessories, E.g. for the normal eyepiece projection is used for connection of T2. A M34 on T2 transition ring (Hyperion M43/T-2) is to switch threads between them (known as afocal projection), the thread SP 54 (system thread 2) is used for connecting digital cameras or camcorders, where the lens can not be removed.

Focal length variability and filter insert
A variety of additional Hyperion focal lengths can be obtained by using our 2" fine tuning extensions rings 14mm and 28mm, or even with our 2" eyepiece filter set. Thus an eyepiece of 5mm focal length can be converted into one of 2.6mm focal length - without loss of sharpness - above all, because no additional lenses are introduced into the bean, which is unavoidable when using a Barlow lens. Also you can of course astronomical 1¼" eyepiece filters in the 1¼" screwing the eyepiece barrel.

Further focal modification there are tweaking our rings (FTR) with 14 - and 28mm length. The different possible focal lengths when removing the first lens group, and in combination with filters and fine tuning rings can be found in the table above.

Stop ring (#2958097): Another "clever" accessories for our Hyperion eyepieces is the stop ring. It can be used, the insertion of the eyepieces set so that each eyepiece gives a sharp image instantly when plugged into a 2" diagonal mirror.

Due to the wealth of functions, there is the Baader Hyperion eyepieces own, 6-page instruction manual to explain the variety of connection options of cameras and all the possibilities of the focal length fine tuning.

Hyperion fixed focal length eyepieces on the Zeiss Diascope spotting scope
The Hyperion fixed focal length eyepieces are also at Zeiss Diascope spotting scopes can be used. You will need the Baader Diascope eyepiece bayonet 1¼ "Adapter (#2454500) for the connection of 1¼" Astro eyepieces on the Zeiss Diascope spotting scopes. He is using the 1¼" socket of the Hyperion eyepiece pushed and fixed by means of 3 small screws on the socket. The Diascope spotting scope is the Zeiss bayonet ready available, so that the complete unit Hyperion Zeiss spotting scope used eyepiece and Baader bayonet adapter directly into the Zeiss spotting scope.
Baader Phantom Coating® Group
Baader Phantom Group Coating is a 7-layer broadband coating with extremely low residual reflection. The term "Group" indicates that for each type of glass of the lenses, which come into the Hyperion eyepieces to apply, each effective anti-reflection layer system was expected.

All these various anti-reflection coatings on each glass surface were then optimized so that they are most effective where the human eye has its highest sensitivity at night - at about 520 nm - in the green region of the spectrum.

The best anti-reflection appears almost colourless: this proves that the anti-reflective coating over the entire visible spectrum is equally good effect. Phantom Group anti-reflection coatings are - depending on the type of glass - almost entirely colourless. In this way it is ensured that the least amount of light for a night-adapted eye is lost without any stray light.

If a multi-coated lens (eyepiece or lens) with direct view from the front shows a strong green reflex, then it is not phantom group to a Baader anti-reflective coating! The intensive green reflex is a sign of a little sophisticated coating technique and means that in the spectral range between 500-550 nm the most light is reflected, i.e. is lost.
Quick Overview
Fixed focal length of 5mm, 68° field of view – ease of view even at high magnifications!
High quality Phantom Group-Coating in Zeiss class for complete freedom from reflections with maximum contrast
1.25" and 2" barrels included, thus variable focal lengths
Includes many threads for camera and accessory adaptation, afocal and classical eyepiece projection is possible
Specifications
GENERAL
MANUFACTURER
Baader Planetarium
SKU (#)
2454613
EAN CODE
4047825011435
NET WEIGHT (KG)
0.41
EYEPIECE SERIES
Hyperion
SPECIFICATIONS
FOCAL LENGTH
13 mm
APPARENT FIELD OF VIEW
68°
EYE RELIEF (MM)
20 mm
AR-COATING
Phantom Coating® Group
PARFOCAL EYEPIECES
Yes
BARREL SIZE (IN)
1.25", 2"
OPTICAL DESIGN
Modular
SPECIALITY
Eyepiece projection: afocal, Eyepiece projection: classical
EYEPIECE DESIGN
FIELD STOP DIAMETER
15,4 mm
FIELD STOP DISPLACEMENT TO REFERENCE PLANE
-23,5 mm
NUMBER OF LENS ELEMENTS
8
NUMBER OF GROUPS
5
SLIP PROTECT SAFETY
Classic Undercut
EYEPIECE BODY ABOVE REFERENCE PLANE (MM)
62,1 mm
LENGTH OF 1¼" BARREL (MM)
24 mm
LENGTH OF 2" BARREL (MM)
47,5 mm
OUTER DIAMETER
58 mm
CONNECTIONS
OUTER CONNECTION (EYEPIECE/-CAMERA-SIDED)
Thread, M43
INNER CONNECTION (LENS SIDED)
Thread, M28,5, M48
OUTER CONNECTION (LENS SIDED)
Barrel, 1.25", 2" (50,8mm)
CAMERA THREAD
M43, SP54
THREADED FOR FILTERS
Yes
INCLUDED ITEMS
DUSTCAPS
1.25" dustcap (31,8mm), 2" dustcap (45mm), 2" dustcap (46.5mm - fits over eyecup)
EYECUPS
folding eyecup (M43)
INCLUDED ACCESSORIES
Soft-leather bag
Baader Planetarium Hyperion 13mm Eyepiece (HYP-13)
Why Should You Trust All Star Telescope?
We've Made All The Mistakes
So You Don't Have To
Learn More