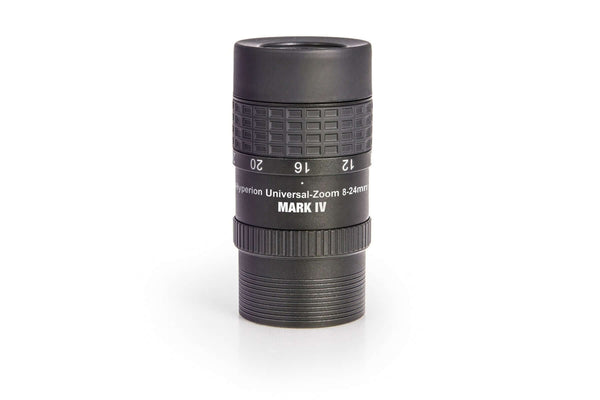 Free Expert Support
Why Purchase from All-Star Telescope?
Stress Free, Secure Shopping
Product Description
Hyperion Universal Zoom Mark IV: fourth generation of Baader-Zoom, 68° Widefield eyepiece with five magnifications - focal lenghts 8, 12, 16, 20 and 24mm clearly defined with "smoothed-out" improved Clickstop Action (a must for effortless binoviewing)
Hyperion Mark IV Universal Zoom 8-24mm Eyepiece with 1¼" / 2" nosepieces and ClickStop-Action
Zoom-lenses in general are not really famous for high quality optics. Also many zoom-eyepieces do not deliver the best possible image quality at high magnification because they were designed with focus on the price-tag so that image sharpness and field size is getting worse with increased magnification.
The recognition that the Hyperion Zoom Eyepiece enjoys is based on the fact that it was designed the other way around: the glass selection and most of all the principal optical design and consequently the lens polish quality – all were optimized for the highest magnification. And obviously, when closing in on an object you will want the field of view to increase and not to have it become seemingly smaller. Hence the Hyperion-Zoom shows the largest apparent field of view at highest magnification.
For many birders, observers of nature and astronomers alike, the Hyperion Zoom Eyepiece is their favourite eyepiece, it is also the only zoom-eyepiece that was designed from ground up to be used with bino-viewers.
What's new in the model "Universal Zoom Mark IV"?
Even Bestsellers can be improved: The fourth generation of this eyepiece weighs 290 gram and is lighter by 80 grams than its predecessor - it now has 55 mm diameter to become useful in dual mode from 55 mm interpupillary distance, both features make it especially desirable for use with bino-viewers. The adjustable eyecup can be removed to expose the M43 video/photo thread and create the maximum "nose space" for using it on binocular viewers with the supplied winged rubber eyecups - for maximum concentration on the target.
The click-stop action has been smoothed out to more easily access the magnification stops at 8/12/16/20 and 24mm (click-stops are mandatory to easily and precisely set both eyepieces to the same focal length for effortless binocular observation without eye-strain). The zooming-mechanism as well as the inner zooming rails for all lens groups have been modified to improve cold temperature operation and the parfocalty for each focal length has been fine tuned.
Most important however – the Mark IV offers almost 4 mm more backfocus. This is most beneficial for application with a multitude of spotting scopes. Two different Adapters for telescope and spotting scope adaptation are included with the eyepiece (Spotting-Scope Adapter "A" and Telescope-Adapter "B"). Read more at "Telescope-sided Connections").
The Mark IV comes with both the 2" and 1¼" nosepieces mounted, each nosepiece having it´s own dust cap and both nosepieces are threaded to accept either 1¼" or 2" eyepiece filters. Both nosepieces are free of the hated undercuts. Instead our proprietary Zero-Tilt Safety-Kerfs provide an added measure of security by reducing the tendency of an eyepiece to slip from an unlocked eyepiece clamp. An additional little feature is the Baader-yellow soft pouch with integrated belt strap – which fastens onto many tripod legs just as well, to serve as a bin for all dustcaps that may go astray otherwise.
As usual with Baader eyepieces, the Mark IV offers an M43 photo/video thread on top of the eyepiece, to allow attachment of any desired DSLR or T-2 accessory for mounting a video-camera by means of the optional M43/T-2 adapter ring #2958080. Unchanged is the optical quality, 68° field of view at highest magnification, Phantom Group multicoatings, a large adjustable eyecup or alternatively two M43 rubber eyecups for bino viewing. An optional spacer ring M43/M43 (#2954250) with 7,5 mm extension enables the user to increase the height of these eyecups in case of need.
The Mark IV likewise accepts adaptation of the 2.25x Hyperion-Barlow onto the 1¼" nosepiece, to transform into a high power zoom, featuring the magnification range of 3.6 to 10.7 mm. The Hyperion Universal Zoom Mark IV is available individually (#2454826) or as set together with the 2.25x Hyperion Barlow (#2454827)
Telescope-sided Connections
The Hyperion zoom Mark III comes with two removable barrels (1¼ "and 2"), as well as an 2" SC-thread for direct connection on telescopes or mirrors/prisms with the optional 2"/2" changer ring (#1508080).
Furthermore included in the scope of supply are two adapters of different height - both with 1 3/8" inner threads - for following uses:
Spotting Scope-Adapter A: 4mm gain on backfocus. the Mark IV focuses with all tested spotting scopes (optional adapters available for most major brands) Many spotting scopes nowadays do allow the mechanical insertion of astronomical 1¼" eyepieces – but in many cases this combo cannot focus to infinity. By utilizing the supplied spotting-scope adapter ring "A", the Hyperion Universal Zoom reaches almost four mm deeper into the eyepiece clamp of all those spotters, to safely reach infinity focus. When removing the 1¼" nosepiece, a 1 3/8" thread inside the "A"-ring will make the Mark IV firmly thread onto all Celestron-Ultima spotters and it´s namesakes. Optional available is a bayonet-adapter for Zeiss Diascope-spotters (#2454500). Threaded adapters for many other famous spotting scope brands (that still don´t allow 1¼" eyepiece adaptation) will become available in the future – now that it makes sense to produce them
Telescope-Adapter B: Sufficient distance to clamping screws. When using the Mark IV on a telescope though, the "B"-ring (supplied) should be chosen instead, to keep the bottom of the eyepiece flush with the upper end of most star diagonals. Otherwise the bottom 2" SC-threaded holding ring that holds the "A" or "B" ring in place may directly rest on the clamping screws of the star diagonal. The supplied 2" SC-ring also allows the Mark IV to firmly mount the eyepiece onto any SC-thread, especially onto our 2" clicklock star diagonal, with the help of the 2"/2" adapter (#1508020).
Camera-sided Connections
As usual with Baader eyepieces, the Mark IV offers an M43 photo/video thread on top of the eyepiece to directly attach most video cameras. It also allows attachment of any desired DSLR or T-2 accessory by means of the optional Baader Hyperion T-Adapter M43i / T-2a #2958080. An optional spacer ring M43/M43 (#2954250) with 7,5 mm extension enables the user to increase the height of the included eyecups in case of need or to attach M43 cameras without touching the lenses.

A further connection capability offers the SP54-system thread-in the form of the Hyperion DT ring system. For this system, the transition ring M43/SP54 #2958086 is suitable for the Mark IV zoom eyepiece. This adapter enables the connection of all common camera lenses on the Hyperion zoom to use it for Eyepiece Projection. Those connection rings are called "Hyperion DT rings", see our section "Eyepiece accessories"
Included eyecups
Three different eye cups are included in the basic equipment of the eyepiece.
Initially mounted is the large height-adjustable eyecup that also fastens onto the M43 photo-thread of the eyepiece. By rotating it counterclockwise the height will increase. This eyecup easily unthreads simply by rotating it upward further than the uppermost stop - this reveals the M43-thread connection
A none-folding rubber eyecup alternatively fits straight onto the M43-thread. This is the preferred solution for observers without glasses at a binoviewer. It gives you enough room for your nose and good support to keep the perfect eye distance.
An even lower eyecup with foldable winged eye shield especially serves for wearers of eye glasses, the flappable side shields block stray light and side image information not part of the eyepiece field of view. This helps to concentrate on the target when using a binoviewer.
Specifications
GENERAL
MANUFACTURER
Baader Planetarium
SKU (#)
2454826
NET WEIGHT (KG)
0.38
EYEPIECE SERIES
Hyperion
SPECIFICATIONS
FOCAL LENGTH
8 - 24 mm
APPARENT FIELD OF VIEW
48° - 68°
AR-COATING
Phantom Coating® Group
PARFOCAL EYEPIECES
Yes
BARREL SIZE (IN)
1¼", 2"
OPTICAL DESIGN
Modular
SPECIALITY
Eyepiece projection: afocal, Eyepiece projection: classical
EYEPIECE DESIGN
NUMBER OF LENS ELEMENTS
7
NUMBER OF GROUPS
4
SLIP PROTECT SAFETY
Safety Kerfs
EYEPIECE BODY ABOVE REFERENCE PLANE (MM)
81 mm
LENGTH OF 1¼" BARREL (MM)
24,5 mm
LENGTH OF 2" BARREL (MM)
27 mm
OUTER DIAMETER
55 mm
CONNECTIONS
OUTER CONNECTION (EYEPIECE/-CAMERA-SIDED)
Thread, M43
INNER CONNECTION (LENS SIDED)
Thread, 1 3/8", 2" (50,8mm)
OUTER CONNECTION (LENS SIDED)
Barrel, 1¼", 2" (50,8mm)
CAMERA THREAD
M43
THREADED FOR FILTERS
Yes
INCLUDED ITEMS
DUSTCAPS
1¼" dustcap (31,8mm), 2" dustcap (45mm), 2" dustcap (46.5mm - fits over eyecup)
EYECUPS
large height adjustable eyecup (M43), small eyecup (M43), winged eyecup (M43)
This was my first well thought out rational purchase.
It determined my base high power seeing level.
It also told me what power my eyes enjoyed best.
It serves now as my critical de facto lunar tool in conjunction with, pun intended, my 2X ED 3element 2" Barlow in F/9 optics yet to test in F/6.45.
In no way is this ocular deficient, except for in the smaller apparent view at the long end, in optical performance/quality its indistinguishsble from primes, my very good eyes detect none whatsoever.
My finest purchase overall.
If Luna is up then I use this eyepiece almost exclusively (with 2X Barlow).
IMHO a zoom should be the highest priority especially if lunar and planetary viewing are on your agenda.
Baaders zoom offering is about as good as it gets but there are still value ones out there that perform well.
Highly recommended !!
Why Should You Trust All Star Telescope?
We've Made All The Mistakes
So You Don't Have To
Learn More