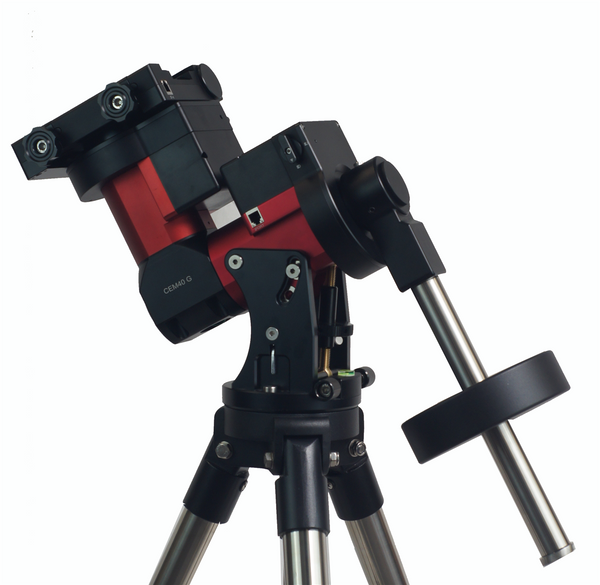 Free Expert Support
Why Purchase from All-Star Telescope?
Stress Free, Secure Shopping
Product Description
The iOptron® CEM40 mount is the next generation of center-balanced equatorial mounts. This mount is incredibly eye-pleasing, and its beauty is found in more than its appearance. The functionality of the mount is superb. Weighing in at only 17.4lbs., this mount can support a payload of up to 40lbs.! That's incredible!
Innovative iOptron Technology
Make way for an innovative mount! This mount has an integrated electronic polar finder scope known as the iPolar. This tool ensures the accurate alignment of a telescope, even when the pole star is obscured. There are large levers on the quick-lock drive engagement system; these large levers make it easy to snap the gears into place.
This iOptron CEM40 mount has a dual saddle that accommodates Losmandy and Vixen-style dovetail plates. it also uses iOptron's ultra-quiet, low-power consumption stepper motor drive system, aiding the mount in providing precise tracking.
Computerized Mount Features
The iOptron CEM40 mount uses the Go2Nova® 8407 hand controller to navigate the night sky. This incredible technology helps observers find celestial objects with the aid of the mount's 212,000+ object database! For those looking for a telescope that has the capability of tracking and finding beautiful night sky objects, this mount is a must have tool.
With the included tripod, 11lbs counterweight, and the mount's computerized technology, observers are just an OTA away from a spectacular viewing experience!
Note: This mount uses #8027 counterweight
Specifications
Mount
Center-Balanced Equatorial Mount
Max payload*
40 lb (18 kg), exclude counterweight
Mount weight
17.4 lb (7.9 kg)
Payload/Mount weight
2.28
Structure Material
All metal, CNC machined
Exterior Finish
Anodized red/black
Latitude adjustment range
0° ~ 60° (special CW shaft mounting if <10°)
Azimuth adjustment range
± 6°
Tracking accuracy (PE)**
<±7 arcsec
PEC
PPEC
Period
400 sec
Worm diameter
Φ17mm, Brass
Right Ascension worm wheel
Φ110mm, 216 teeth, zero backlash
Declination worm wheel
Φ110mm, 216 teeth, zero backlash
Right Ascension axis shaft
Φ45mm steel
Declination axis shaft
Φ45mm steel
Right Ascension bearings
Φ68mm
Declination bearings
Φ68mm
Counterweight shaft
Φ28x280 mm SS 1.2 KG
Counterweight
5KG (11lb)
Motor
Precision stepper motor, 1.8°/128X micro-step
Motor resolution
0.08 arcsec (200 PPS)
Transmission
Synchronous belt
Hand Controller
Go2Nova® 8407+, 8 line 21 character LCD
Star Database
212,000+, star identification
Power
DC 12V, 5A (5.5mm/ 2.5mm plug)
AC adapter
100V ~ 240V (included, for indoor use only)
Power consumption
0.6A(Tracking), 0.9A(GOTO)
Power-down memory
Yes
Polar scope
Internal iPolarTM electronic polar scope
Meridian treatment
Stop (0-10° pass), flip
Zero position
Automatic zero search
Dovetail saddle
6" Losmandy D & Vixen
Max slew speed
4.5°/sec (1080x)
Guiding port
ST-4
Communication port
USB
GPS
Yes
WiFi
External (optional)
Cable Management
DC12V (3A), ST4, USB
Tripod
LiteRoc 1.75" Stainless Steel(7kg)
Optional tri-pier
Hard case
Optional
Operation temperature
-10°C ~ 40°C
Warranty
Two year limited
* OTA size and length dependent
** Measured with encoder, 400 seconds
Why Should You Trust All Star Telescope?
We've Made All The Mistakes
So You Don't Have To
Learn More