Brand: Ken Press
Ken Press 16" Planisphere for 30-60 Degrees North (KP-16E)
KP-16E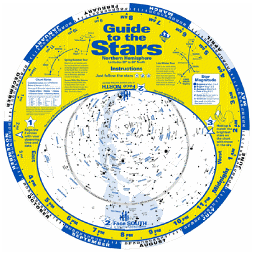 Brand: Ken Press
Ken Press 16" Planisphere for 30-60 Degrees North (KP-16E)
KP-16E
Free Expert Support
Why Purchase from All-Star Telescope?
Stress Free, Secure Shopping
Product Description
The 16-inch diameter plastic star chart is for use in the northern hempisphere between 30-60 degrees of lattitude. It consists of two plastic circles riveted together that can be turned to find the stars for any hour or day of the year. Binocular and small telescope objects are noted on the chart. The back of the chart is packed with information including a table for the annual meteor shower, Moon map, planet facts, a tickle of mythology, astro history timeline, fun facts and more.
Note about the Planets: The planets are not plotted on charts of this type because they move daily along the gray circular band within the white oval. This path in the sky is called the ecliptic.
Ken Press 16" Planisphere
Ever since I saw a similar planisphere in the giftshop of the HR MacMillan Planetarium I have always wanted one. Because of cloudy weather I have not really had a chance to use it, but I'm sure it will come in handy the spring and summer. Sure is big! Also, it is easy to read.
A large and easy to read chart. I should have realized the scale's size at purchase and was surprised when I opened the box and saw it for the first time. It turned out to be a good thing when multiple people are viewing it at the same time and much more friendly when viewing under red light. It is very detailed and extremely helpful finding what you're looking for in the night sky.
Ken Press 16" Planisphere for 30-60 Degrees North (KP-16E)?
Why Should You Trust All Star Telescope?
We've Made All The Mistakes
So You Don't Have To
Learn More