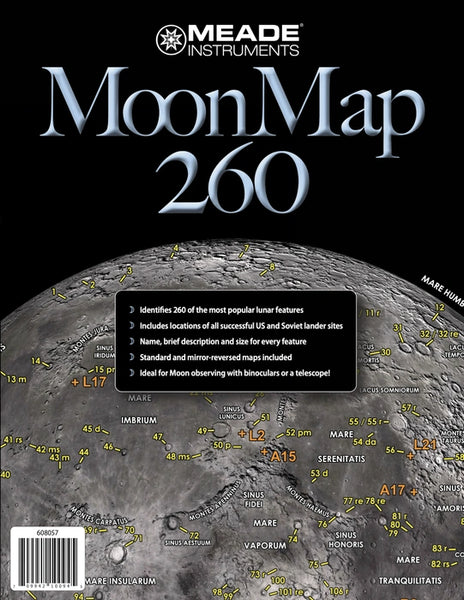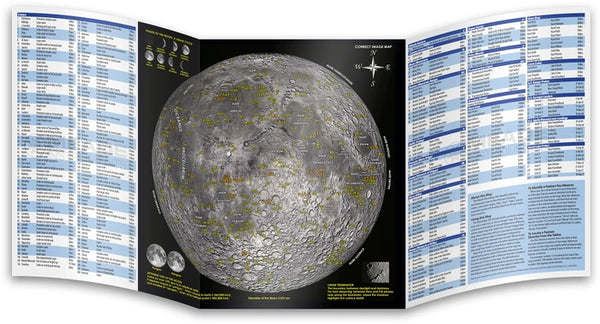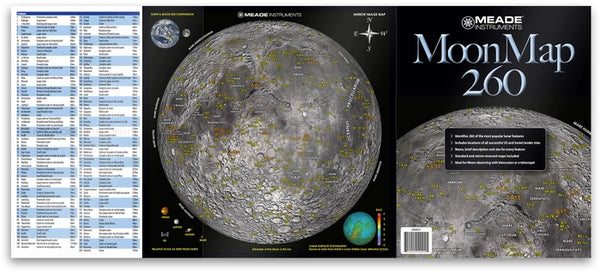 Free Expert Support
Why Purchase from All-Star Telescope?
Stress Free, Secure Shopping
Product Description
The Moon is Earth's nearest neighbor and certainly the easiest target to locate in the night sky. It's the ideal target to observe your first night out and will keep you amazed with its numerous features and astonishing detail. The Moon's surface is breathtaking in large telescopes, small telescopes, and even binoculars. So why not spend some time exploring our nearest neighbor with the Meade Moon Map 260?
The Meade Moon Map 260 identifies over 260 lunar surface features including craters, mountain ranges, valleys, rilles, "seas" and more. Each feature is cross-referenced in the Moon Map's tables with its official name, size and a brief description. In addition to lunar landscape features, all successful spacecraft landing sites from US Apollo, Surveyor and Ranger Probe missions as well as Soviet Luna Probe missions are also clearly identified on the map.
Designed for use with all types of telescopes and binoculars, the Meade Moon Map 260 features Moon images displaying a correct-image (right side up) and reversed (mirrored) image so what you see thru the telescope or binocular matches what you see on the map.
This map is tough! The Meade Moon Map 260 is protected from dew, dirt, and liquids with a durable plastic laminated coating. It measures 25.25" x 11" when unfolded and reduces to a very portable 8.5" x 11" size when folded.
The Meade Moon Map 260 is the ideal companion to help you navigate all the impressive lunar features. Whether you're a seasoned astronomer or just starting out in this hobby, the Moon Map can be your guide to exploring our nearest and brightest neighbor!
Good value for money
The Orion MoonMap 260 is an attractive and practical lunar chart for use at the telescope and for planning lunar observing sessions. The cartography is clear and many more gestures are shown beyond those that are labelled. The labelling is organized logically so that you can either find out what a labelled feature is named or logins a named feature on the map. Both standard and mirror/reversed views are included, so the product works with all optical designs. If you are following the RASC Observe the Moon—Binocular observing program, all features are included in the maps; on the case of Observe the Moon—Telescope, there are about a dozen features without labels (but most are in the image).
Why Should You Trust All Star Telescope?
We've Made All The Mistakes
So You Don't Have To
Learn More