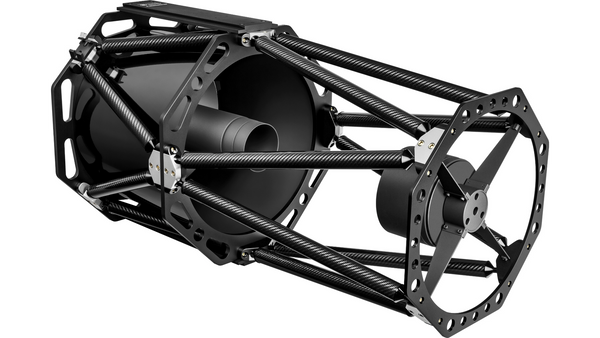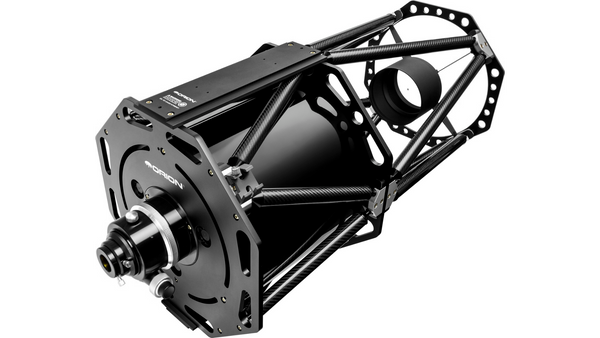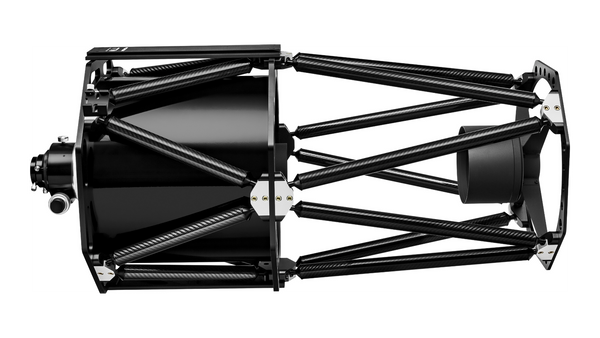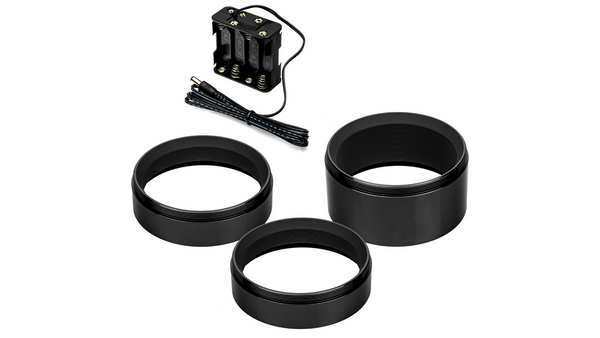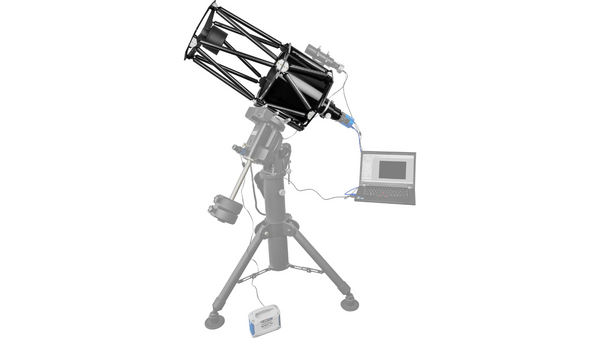 Free Expert Support
Why Purchase from All-Star Telescope?
Stress Free, Secure Shopping
Product Description
If you have been on the fence about purchasing a Ritchey-Chrétien telescope for astrophotography, you should hop off it now and take a look at the new Orion 12" f/8 Truss Tube Ritchey-Chrétien Astrograph. It features premium quartz mirror optics housed in an ingenious truss tube support structure originally developed back in 1935 for the 200" Hale Telescope at the Palomar Observatory! This exquisitely engineered telescope is optimized for large-aperture astrophotographic excellence and will take your imaging pursuits to a whole new level!
Unlike conventional Newtonian reflector and Schmidt-Cassegrain designs that are susceptible to displaying coma away from the center of the field, the Orion 12" f/8 Truss Tube Ritchey-Chrétien Astrograph utilizes hyperbolic primary and secondary mirrors to achieve wonderfully flat images that are virtually coma-free. Plus, since there are no lenses involved, images are delightfully free of chromatic aberration, for true-color performance. Both the 12" (304mm) primary mirror and the secondary mirror are figured from low-expansion quartz glass and boast enhanced aluminum coatings to provide 96% reflectivity. The primary mirror is fixed in place to eliminate annoying "image shift" that plagues Schmidt- and Maksutov-Cassegrain telescopes. The secondary mirror is precisely center-marked to facilitate collimation.
The Serrurier carbon fiber truss system is thermally very stable, minimizing the effect of ambient temperature changes on the telescope's focus. Plus, since it's an open tube, the optics cool down faster than solid tube versions. The Serrurier system utilizes two sets of opposing truss tubes on either side of the declination pivot plane, which keep the optical elements parallel to each other no matter how the telescope is oriented, thus keeping optical collimation precisely intact. Stainless steel ball and socket hardware connects the truss tubes to the telescope's three large CNC-machined aluminum support plates.
The focuser on the Orion 12" f/8 Truss Tube Ritchey-Chrétien Astrograph is a masterpiece of rigidity and precision. The CNC-machined 3.3" dual-speed (10:1) linear bearing Crayford focuser features a stainless steel rail on the drawtube that provides extra support for up to 9 lbs. of imaging gear without flexure or slippage. The focuser can be rotated 360º for image framing. Both 2" and 1.25" non-marring compression ring accessory collars permit the use of 2" or 1.25" accessories.
The Orion 12" f/8 Truss Tube Ritchey-Chrétien Astrograph tube assembly is equipped with a D-style dovetail mounting bar on both the bottom and top. A dovetail finder scope base is also installed for attachment of any Orion finder scope or reflex sight (sold separately). Three 1.5" 12V DC cooling fans are mounted on the rear cell to help accelerate optical equilibration to ambient temperature. A battery holder is included (requires eight user-supplied AA batteries), as are one 2" and two 1" threaded extension rings for use in reaching focus with various configurations of imaging cameras and accessories. Primary and secondary mirror dust covers are also provided. Weighing 52 lbs. without any additional accessories, this telescope requires an equatorial mount that can support that load, such as the Orion HDX110 EQ-G equatorial mount.
Superb optics, superior design, and sensational affordability come together to make the Orion 12" f/8 Truss Tube Ritchey-Chrétien Astrograph one spectacular instrument for capturing bright, detailed images of deep-space objects with CCD cameras and APS-C and full frame DSLRs. Get yours today!
What can I see with a Orion 12" RC Truss OTA (51875)?
Here are some simulated views of common objects. Results with your telescope will vary with viewing conditions, obrits, equipment and more.
Jupiter with
25mm Eyepiece - 97x Magnification
(Sold Separately)
Jupiter with
10mm Eyepiece - 243x Magnification
Sold Separately
Jupiter with
5mm Eyepiece - 486x Magnification
Sold Separately
Moon with 25mm Eyepiece
97x Magnification
(Sold Separately)
Moon with 10mm Eyepiece
243x Magnification
Sold Separately
Moon with 5mm Eyepiece
486x Magnification
Sold Separately
Andromeda with 36mm Eyepiece
68x Magnification
Sold Separately
Andromeda with 25mm Eyepiece
97x Magnification
(Sold Separately)
Andromeda with 10mm Eyepiece
243x Magnification
Sold Separately
What's in the Box
Specifications
Best for Viewing
Fainter deep sky
Best for imaging
Deep sky
User level
Advanced

Optical design
Ritchey-Chretien

Optical diameter
304mm
Focal length
2432mm
Focal ratio
f/8.0
Optics type
Hyperbolic

Glass material
Low thermal expansion glass
Eyepieces
None
Resolving power
0.38arc*sec
Lowest useful magnification
43x
Highest useful magnification
300x
Highest theoretical magnification
608x
Limiting stellar magnitude
15.1
Optical quality
Diffraction limited
Finder scope
None
Focuser
3" dual-speed linear bearing Crayford
Secondary mirror obstruction
150mm

Secondary mirror obstruction by diameter
49%

Secondary mirror obstruction by area
24%

Mirror coatings/over-coatings
Enhanced Aluminum & Silicon Dioxide

Mount type
Optical Tube without Mount
Astro-imaging capability
Lunar, planetary & long exposure
Tube material
Carbon graphite

Length of optical tube
38.5 in.
Weight, optical tube
52.0 lbs.
Additional included accessories

D-style dovetail bars on top and bottom of OTA
Three built-in 12V DC cooling fans on rear cell
Dovetail finder scope base

Other features

One 2" and two 1" extension rings
Primary and secondary mirror covers
Battery holder for fans (requires 8 AA batteries)


Warranty
One year
Why Should You Trust All Star Telescope?
We've Made All The Mistakes
So You Don't Have To
Learn More