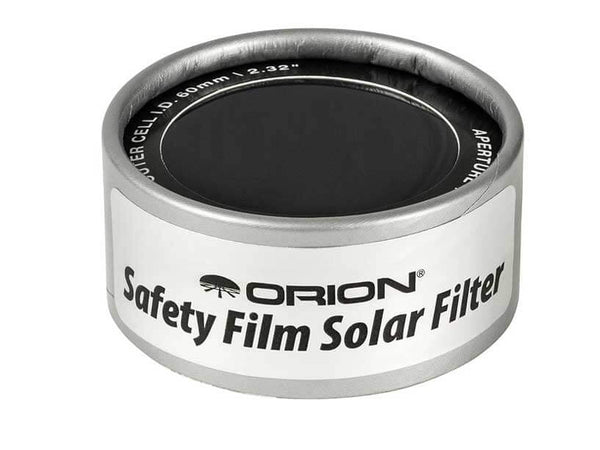 Free Expert Support
Why Purchase from All-Star Telescope?
Stress Free, Secure Shopping
Product Description
These budget-friendly solar filters feature a strong film polymer material that is more durable than other thin film solar filters. Once installed on 50mm binoculars, these E-Series Solar Filters display the Sun in a pleasing, natural yellow-orange colour unlike the unnatural blue shade cast by some other types of filters. The yellow-orange image of the Sun yields high levels of contrast and clarity for sharp solar views.
The lightweight wound paperboard housings of these solar filters feature an inside diameter (ID) of 2.54", which means they fit binoculars whose objective lens barrels have an outer diameter between 2.38"-2.5" (60.3mm-63.5mm).
These E-Series Solar Filters are designed to fit a range of 50mm binoculars. Since binocular dimensions may vary, we include adhesive-backed felt strips which are required to provide a secure friction-fit between the solar filters and binocular barrels. Some binocular models may require a double layer of felt strips to achieve a friction-fit with the filters.
CAUTION: Before observing the Sun, confirm the E-Series Solar Filters are securely installed on binoculars. NEVER look at the Sun, even for an instant, without a protective solar filter.
This comes in pairs. 
What's in the Box
Why Should You Trust All Star Telescope?
We've Made All The Mistakes
So You Don't Have To
Learn More