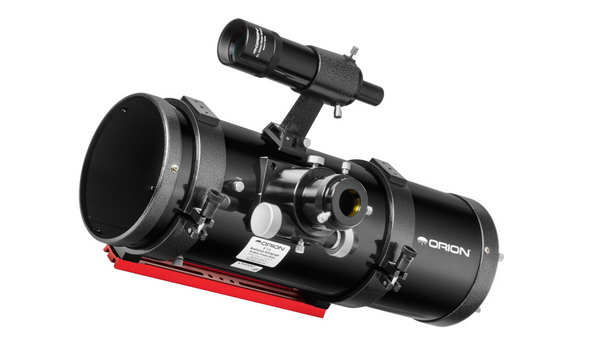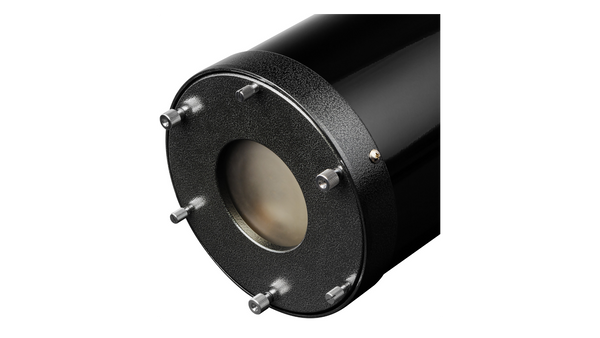 Free Expert Support
Why Purchase from All-Star Telescope?
Stress Free, Secure Shopping
Product Description
Our 6" aperture imaging reflector is loaded with useful features to help you capture high-resolution images of the night sky. With very fast f/4 optics and 94% reflectivity coatings, the Orion 6" Newtonian Astrograph will help you acquire outstanding high-resolution images of deep-sky objects with delightfully short exposure times so you can get great results in less time. What's more, this compact imaging specialist is conveniently lightweight at just 12.7 lbs., so it doesn't require a huge mount to support it.
The rolled-steel Newtonian Reflector optical tube's 6"-aperture parabolic primary mirror measures 610mm in focal length, making the optically fast f/4 Astrograph a perfect choice for going after wide-field images of distant deep-space objects. Since the primary mirror is made of thermally stable B270 glass, it acclimates to ambient temperature more quickly than standard reflector telescopes. An oversized, 63mm minor axis secondary mirror provides excellent field illumination for DSLR and CCD cameras. Both primary and secondary mirrors boast enhanced reflectivity (94%) aluminum coatings to optimize contrast with a protective silicon dioxide (quartz) overcoat.
The 6" f/4 Newtonian Astrograph Reflector features a precise, 2" dual-speed (10:1) linear-bearing Crayford focuser which lies 7" back from the front of the 22.5" long optical tube. This recessed focuser position helps maximize contrast by blocking stray off-axis light for high-resolution performance. The super-steady linear-bearing Crayford focuser design will hold heavy imaging payloads without slippage. For consistent results every night, an Orion-exclusive steel reinforcing plate underneath the focuser eliminates flexure, even with heavy cameras and other imaging gear attached. A 2" compression ring collar and 1.25" compression adapter keep inserted cameras and accessories secure without scratching.
Of course, the 6" f/4 Newtonian Astrograph can also be used for spectacular visual observations of deep-sky and solar system based celestial objects. An included 2" diameter extension tube adds 1.38" (35mm) of length to the focuser for visual use. The reflector's 6" aperture and fast focal ratio will amaze you with high-contrast views of the cosmos.
A pair of hinged, die-cast aluminum tube rings with felt lining are included, which each have flat bosses on the top and bottom featuring M6 threaded sockets for easy attachment of the included Vixen-style mounting bar and additional imaging accessories. An 8x50 straight crosshair finder scope with dovetail bracket and snap-on dust cap are also included.
As with any fast Newtonian reflector telescope, an optional coma corrector is recommended to eliminate inherent coma for optimized imaging performance.
What can I see with a Orion 6" f/4 Newtonian Astrograph Reflector Telescope (Astronomy Star Product) (10269)?
Here are some simulated views of common objects. Results with your telescope will vary with viewing conditions, obrits, equipment and more.
Jupiter with
25mm Eyepiece - 24x Magnification
(Sold Separately)
Jupiter with
10mm Eyepiece - 61x Magnification
Sold Separately
Jupiter with
5mm Eyepiece - 122x Magnification
Sold Separately
Moon with 25mm Eyepiece
24x Magnification
(Sold Separately)
Moon with 10mm Eyepiece
61x Magnification
Sold Separately
Moon with 5mm Eyepiece
122x Magnification
Sold Separately
Andromeda with 36mm Eyepiece
17x Magnification
Sold Separately
Andromeda with 25mm Eyepiece
24x Magnification
(Sold Separately)
Andromeda with 10mm Eyepiece
61x Magnification
Sold Separately
What's in the Box
Specifications
Best for viewing
Brighter deep sky
Best for imaging
Deep sky
User level
Intermediate
Optical design
Reflector

Optical diameter
150mm
Focal length
610mm
Focal ratio
f/4.1
Optics type
Parabolic
Glass material
Low thermal expansion glass

Resolving power
0.77arc*sec
Lowest useful magnification
21x
Highest useful magnification
177x
Highest theoretical magnification
300x
Limiting stellar magnitude
13.5
Optical quality
Diffraction limited
Finder scope
8x50
Focuser
2" dual-speed linear bearing Crayford
Secondary mirror obstruction
63mm

Secondary mirror obstruction by diameter
42%

Secondary mirror obstruction by area
18%

Mirror coatings/over-coatings
Aluminum & Silicon Dioxide

Mount type
Optical Tube without Mount
Astro-imaging capability
Lunar, planetary & long exposure
Backfocus distance
77.1mm
Tube material
Steel
Length of optical tube
22.5 in.
Weight, optical tube
12.7 lbs.
Additional included accessories

Pair of hinged tube rings
2" extension tube
13" Vixen-type dovetail bar
8 x 50 finder
Dust cover

Other features

Steel reinforcing plate under focuser
Oversized secondary mirror for fully illuminated field
Extended length front tube to block ambient light

Warranty
One year
Well-designed scope, but not for a beginner.
This is a well-designed scope with nice parts, but is hastily assembled, so needs some experience and decent collimation tools to set it up. Mine also came with a broken finderscope shoe which I was able to easily fix myself. The scope will work with the Starizona Nexus 0.75 reducer corrector to produce a fast f/3 450mm scope. This fits Markarian's Chain into the FoV of the 1" sensor on the ASI533 camera. The scope has produced some nice tight stars in my images.
Why Should You Trust All Star Telescope?
We've Made All The Mistakes
So You Don't Have To
Learn More