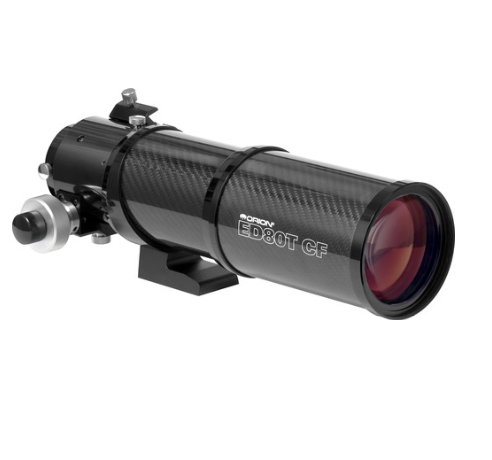 Free Expert Support
Why Purchase from All-Star Telescope?
Stress Free, Secure Shopping
Product Description
Here's one of our staff-favourite telescopes that is especially popular with astrophotography enthusiasts, the 80mm apochromatic triplet Orion ED80T CF refractor telescope. With an 80mm aperture triplet objective featuring FPL-53 extra-low dispersion glass, views and captured images come through true to colour and exhibit tack-sharp resolution.
Apochromatic refractor telescopes have a devoted following amongst amateur astronomers, for good reason. The crisp view offered by a high-quality apo refractor is truly a wonder to behold and share. Apochromatic refractors significantly reduce chromatic aberration, or false colour, compared to standard achromatic refractor telescopes due to the use of "ED" (Extra-low Dispersion) optical glass and use of three optical elements. The visual and imaging benefits of apochromatic refractor telescopes have helped to make them instruments of choice preferred by many real-time observers and imaging experts alike.
The ED80T CF apo refractor is a versatile power performer telescope well-suited for multiple applications. With a focal length of 480mm (f/6.0), its fast unobstructed optics yield detail-rich visual views of solar system and wide-field deep-sky objects alike. The triplet objective and top-notch ED optics virtually eliminate chromatic aberrations making the ED80T CF refractor an excellent candidate for astrophotography use when used with an imaging-capable equatorial mount and CCD or DSLR camera. The relatively small size and light weight of the refractor telescope makes it perfectly portable for escapades to dark-sky locations for either visual or photographic expeditions. The retractable dew shield makes the ED80T CF even more compact for storage and transport, with a length of 14.3" with the dew shield fully retracted. The refractor telescope measures 18.25" long when the dew shield is fully extended to minimize peripheral glare and dew accumulation.
The striking carbon-fiber refractor tube is nifty to look at, and makes the ED80T CF a lightweight luxury to transport and mount. Weighing in at a mere 5.5 lbs., this is one telescope you won't have to break your back (or bank account) when considering mounting options. The integrated dovetail mounting base attaches directly to any Orion equatorial (EQ) mount equipped with a narrow, or "Vixen-style," dovetail saddle without the need for additional mounting accessories. While a stable motorized EQ mount is recommended for astrophotographic pursuits, the ED80T CF refractor telescope can be adequately mounted on a wide variety of lightweight sturdy field and photo tripods by virtue of the same integrated dovetail mounting base which features a threaded 1/4"-20 acceptor.
In keeping with Orion's established tradition of offering quality astronomy products at affordable prices, the ED80T CF refractor is offered to you at an amazing value. What's more, we've included top-notch features and accessories which are sure to please even the most discerning apo aficionado. The precision machined Crayford-style telescope focuser provides dual-speed focus adjustment perfect for dialling in delicate details of celestial and terrestrial subjects. The smaller fine focus knob adjusts focus at a rate of 11:1 compared to the coarse focus knob, giving you the ability to home-in on just the right focal point for sharp performance and crystal-clear observations and astrophotos. The included 2" to 1.25" eyepiece adapter allows trouble-free use of higher magnification 1.25" telescope eyepieces or 1.25" imaging cameras and other accessories. For storage and safe transport, everything fits nicely in the included hard case with custom die-cut foam interior.
What can I see with a Orion ED80T CF Triplet Apochromatic Refractor Telescope (09534)?
Here are some simulated views of common objects. Results with your telescope will vary with viewing conditions, obrits, equipment and more.
Jupiter with
25mm Eyepiece - 19x Magnification
(Sold Separately)
Jupiter with
10mm Eyepiece - 48x Magnification
Sold Separately
Jupiter with
5mm Eyepiece - 96x Magnification
Sold Separately
Moon with 25mm Eyepiece
19x Magnification
(Sold Separately)
Moon with 10mm Eyepiece
48x Magnification
Sold Separately
Moon with 5mm Eyepiece
96x Magnification
Sold Separately
Andromeda with 36mm Eyepiece
13x Magnification
Sold Separately
Andromeda with 25mm Eyepiece
19x Magnification
(Sold Separately)
Andromeda with 10mm Eyepiece
48x Magnification
Sold Separately
What's in the Box
Specifications
| | |
| --- | --- |
| Best for viewing  | Brighter deep sky |
| Best for imaging | Deep sky |
| User level | Intermediate |
| Optical design | Refractor |
| Optical diameter | 80mm |
| Focal length | 480mm |
| Focal ratio | f/6.0 |
| Coatings | Fully multi-coated |
| Optics type | Air-spaced triplet |
| Glass material | Extra low dispersion FPL-53 |
| Eyepieces | None |
| Resolving power | 1.45arc*sec |
| Lowest useful magnification | 12x |
| Highest useful magnification | 160x |
| Highest theoretical magnification | 160x |
| Limiting stellar magnitude | 12.2 |
| Optical quality | Diffraction limited |
| Finder scope | None |
| Focuser | 2" dual-speed Crayford |
| Mount type | Optical Tube without Mount |
| Astro-imaging capability | Lunar, planetary & long exposure |
| Tube material | Carbon graphite |
| Length of optical tube | 15.0 in. |
| Weight, optical tube | 5.5 lbs. |
| Additional included accessories | Dovetail base for finder scope, Custom foam-lined hard carrying case |
| Other features | Baffled interior, Retractable dew shield and rotatable focuser, Triplet objective with one element FPL-53 glass |
| Warranty | One year |
Why Should You Trust All Star Telescope?
We've Made All The Mistakes
So You Don't Have To
Learn More