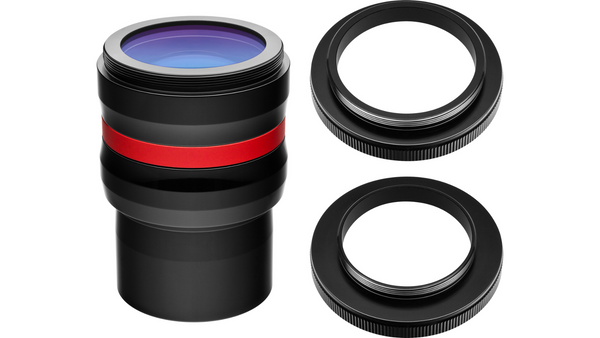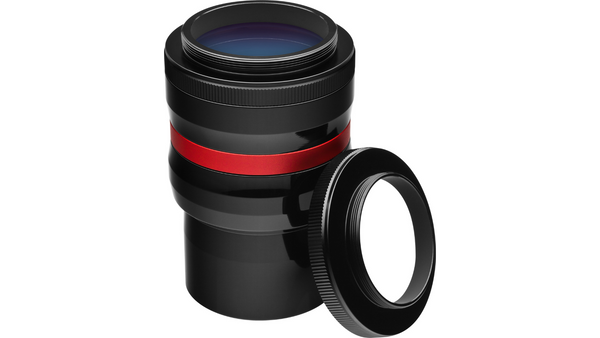 Free Expert Support
Why Purchase from All-Star Telescope?
Stress Free, Secure Shopping
Product Description
Designed specifically for use with the EON 104mm ED-X2, this handy device corrects field curvature to eliminate misshapen stars near the field edge and yield an optically flat field for optimized imaging performance.
To maximize imaging performance, a field flattener is needed to correct field curvature inherent in optically fast, short focal length refractor telescopes. Without a field flattener, refractors can exhibit bloated, misshapen stars near the edge of the telescope's field-of-view, which reduces astrophoto quality. As its name implies, using a field flattener produces a flat field with pinpont stars across the entire field of view for the very best astrophotography performance.
The Field Flattener's 55mm backfocus distance is conveniently designed to work with most DSLR cameras without requiring any additional extension rings. A T-ring for the make and model of DSLR camera is required for attachment. Two interchangeable camera attachment adapters are included, one with standard T-threads (M42) and another with wider-format M48 threads. The wider M48 adapter allows optimal illumination of full-frame camera sensors, and is designed to minimize vignetting.
The machined aluminum housing of the Orion Field Flattener for the EON 104mm ED-X2 Triplet Refractor has a mechanical length of 50.2mm and features a tapered 2" barrel which securely fits in the EON 104mm ED-X2 focuser. Threaded for use with 2" imaging filters. Weighs 8.3 oz. For photographic use only.
Why Should You Trust All Star Telescope?
We've Made All The Mistakes
So You Don't Have To
Learn More