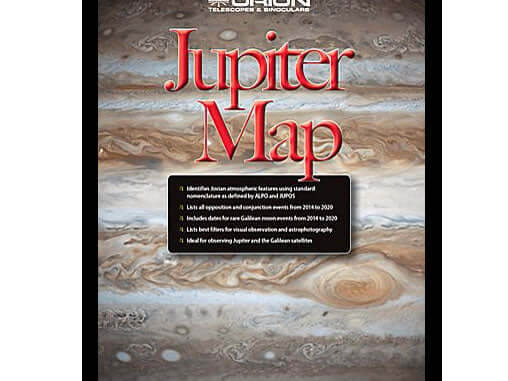 Free Expert Support
Why Purchase from All-Star Telescope?
Stress Free, Secure Shopping
Product Description
Set sail for the spectacular sights of Jupiter! The Second Edition of the affordable Orion Jupiter Map & Observing Guide is a great tool for backyard astronomers of all skill levels who want to get more out of their observations of gigantic Jupiter and its four brightest moons.

The largest planet in our solar system is a joy to explore with a telescope, and the Orion Jupiter Map & Observing Guide is loaded with educational information and tips to help you get the most out of each and every view of Jupiter. With its bold equatorial cloud belts and swirling storms including the famous Great Red Spot, the planet Jupiter is an ideal telescopic target for beginners and experienced stargazers alike.
The Orion Jupiter Map & Observing Guide is packed with observing tips, filter recommendations for viewing and imaging Jupiter, and features beautifully detailed images of the gas giant planet. Use it along with your telescope to identify Jovian atmospheric features including belts, zones, regions, and bright and dark features using official nomenclature.
The new Second Edition lists oppositions and observable conjunctions of Jupiter with the Moon and other planets from 2020 through 2026.There is also a new section on one of the Jovian planet's most prominent features: the Great Red Spot (GRS). It includes GRS facts and figures as well as tips for finding and viewing this monster anti-cyclone.
The Jupiter Map & Observing Guide also includes helpful hints for observing Jupiter's Galilean moons. The ever-changing positions of Io, Europa, Callisto, and Ganymede relative to Jupiter's disc provide backyard astronomers with a different view each night.
The Jupiter Map & Observing Guide measures 25.25" x 11" when fully unfolded, and folds up to 8.5" x 11". It is plastic laminated for long-lasting durability as well as protection against dew, dirt, and the occasional coffee spill.
Why Should You Trust All Star Telescope?
We've Made All The Mistakes
So You Don't Have To
Learn More