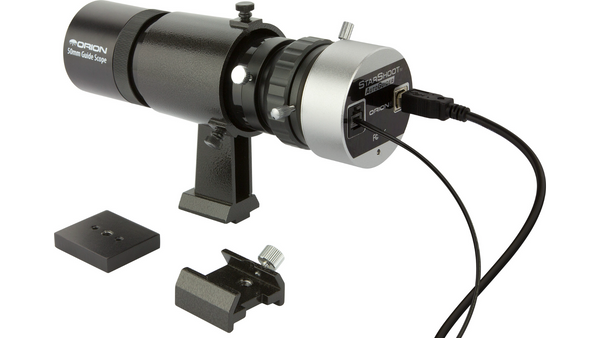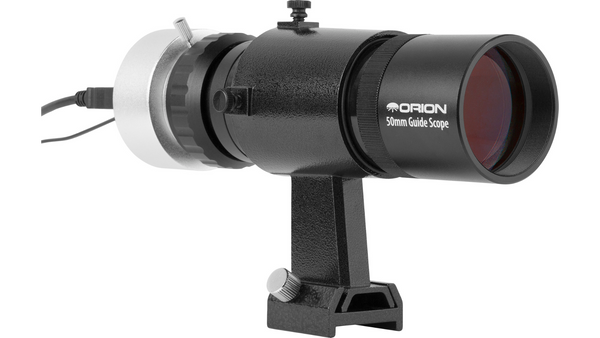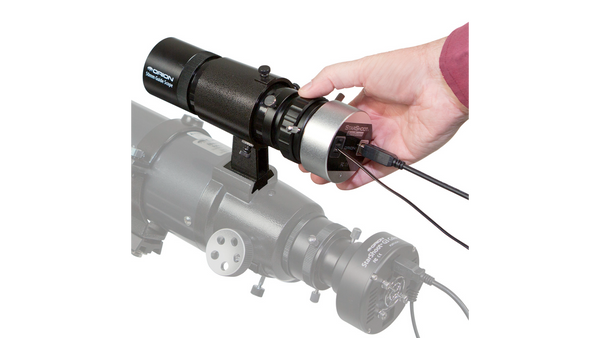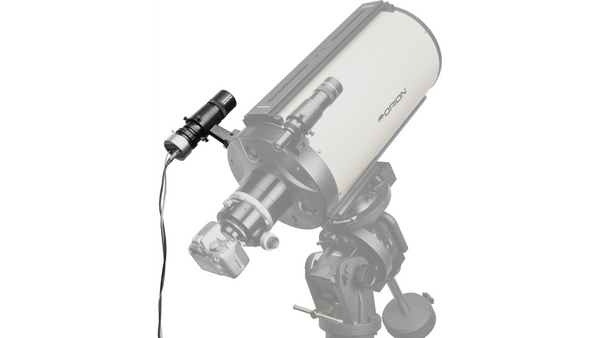 Free Expert Support
Why Purchase from All-Star Telescope?
Stress Free, Secure Shopping
Product Description
This complete, compact, and convenient autoguiding solution will help you acquire accurate astrophotos easily. With our Deluxe Mini 50mm Guide Scope with Helical Focuser and StarShoot AutoGuider included, the Orion Magnificent Mini Deluxe AutoGuider Package comes with everything you need to add autoguiding precision to your astrophotographic pursuits.
Employing the use of both a dedicated autoguider and guide scope is arguably the best way to optimize the accuracy of any astrophotography pursuit. In the recent past however, this enhanced imaging precision came with a very hefty price tag. Just a few short years ago, a dedicated autoguider could easily cost more than many astrograph-quality telescopes. To make matters worse, most guide scopes of the recent past were prohibitively long, bulky, and difficult to align with repeatable accuracy. Today, thanks to technological progress and the availability of the highly sensitive yet affordable Orion StarShoot AutoGuider, astrophotographers can enjoy accurate imaging results without emptying their pockets. With a sensitive autoguider like the Orion StarShoot AutoGuider, any astrophotographer can enjoy optimized imaging precision by using a small-aperture guide scope with a much shorter focal length than the unwieldy instruments of the past. Along these lines, Orion is proud to announce this accurate and affordable autoguiding innovation - the Magnificent Mini Deluxe AutoGuider Package!
Our compact, all-in-one autoguiding solution includes everything you need to enjoy enhanced accuracy in all your astrophotographs. Designed for use with imaging instruments up to 1500mm in focal length, the Magnificent Mini Deluxe AutoGuider package includes a 50mm mini-refractor guide scope featuring a precise helical focuser, StarShoot AutoGuider, dovetail mounting base, and a small adapter plate. The 50mm aperture, 162mm focal length (f/3.2) Deluxe Mini Guide Scope features fully multi-coated achromatic optics and a precise, machined helical focus mechanism to allow for faster, more precise focusing of potential guide stars.
The Deluxe Mini 50mm Guide Scope's machined and anodized helical focuser has a fixed-orientation design that will not rotate the installed StarShoot AutoGuider or similar device during focus adjustments. The helical focuser simply moves the attached autoguider in or out while maintaining its set orientation. Astrophotographers are sure to appreciate this, since it ensures that the field of potential guide stars will not rotate when focus adjustments are made. You'll never have to search for potential guide stars thanks to the Deluxe Mini 50mm Guide Scope's bright and wide field-of-view. The helical focuser has a 12.5mm travel range, and a tight thread tolerance which ensures zero backlash and eliminates flexure-inducing "play". The helical focuser ring is ribbed for easy grip during adjustments, and a convenient thumbscrew lock keeps the focuser in-place once ideal focus is achieved.
Our popular StarShoot AutoGuider features a 1.2" format 1.3MP CMOS sensor with 5.2 x 5.2 micron sized pixels for accurate guiding performance. On the mini guide scope, a machined aluminum 1.25" adapter with three thumbscrews keeps the StarShoot AutoGuider securely in-place during long imaging sessions. The dovetail guide scope bracket fits in any standard Orion dovetail finder scope base and omits the need for a piggyback oriented guide scope system which can be a hassle to install and balance. Three adjustment thumbscrews on the bracket allow easy and precise aiming of the guide scope. An included dovetail mounting base and attachment hardware lets you install the Magnificent Mini Deluxe AutoGuider on any telescope optical tube, in case you want to install it on a telescope that already has a finder scope, or on a telescope without a dovetail base. The included adapter plate lets you mount the Magnificent Mini Deluxe AutoGuider Package's dovetail base to most standard dovetail plates for piggybacking on top of your imaging telescope's tube rings, or for use in a side-by-side plate or saddle.
With a total weight of just 1.4 lbs (22.8 oz.), the Orion Magnificent Mini Deluxe AutoGuider Package adds minimal mass to astrophotography setups, making it easy to add autoguiding accuracy to your images without adding the bulk of older and larger guide scopes. Buy the affordable Magnificent Mini Deluxe AutoGuider Package today and find out just how magnificent your own astrophotographs can be!
What's in the Box
Specifications
Best for imaging
Deep sky
User level
Intermediate
Optical design
Refractor
Optical diameter
50mm
Focal length
162mm
Focal ratio
f/3.2
Coatings
Fully coated
Optics type
Air-spaced doublet
Glass material
Crown/Flint
Resolving power
3.32arc*sec
Lowest useful magnification
9x
Finder scope
None
Focuser
None
Mount type
Optical Tube without Mount
Astro-imaging capability
Lunar, planetary & long exposure
Tube material
Aluminum
Length of optical tube
6.8 in.
Weight, optical tube
1.3 lbs.
Additional included accessories

Non-rotating helical focuser
T-thread or nosepiece camera mount
1.3 MP monochrome imaging sensor


Other features

StarShoot AutoGuider camera
Universal mounting plate and hardware


Warranty
One year
Why Should You Trust All Star Telescope?
We've Made All The Mistakes
So You Don't Have To
Learn More