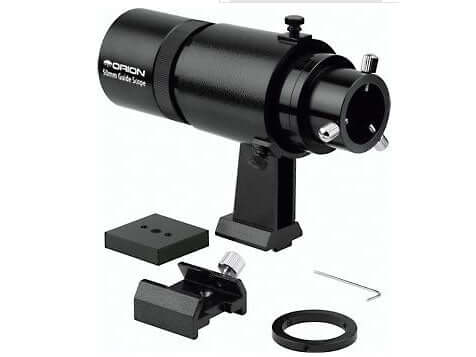 Free Expert Support
Why Purchase from All-Star Telescope?
Stress Free, Secure Shopping
Product Description
The Orion-designed Mini 50mm Guide Scope is a complete and compact guide scope solution designed for use with the Orion StarShoot AutoGuider (sold separately) or similar small-chip CCD autoguider devices. The Orion Mini 50mm Guide Scope is ideal for guiding long-exposure astrophotographs with imaging telescopes up to 1500mm in focal length.
Thanks to the high level of guiding accuracy offered by modern autoguider devices such as the Orion StarShoot AutoGuider, astro-imagers of today can use guide scopes with much shorter focal lengths and smaller apertures compared to the large, bulky models used in the past. Using a more optically "fast" refractor as a guide scope can save astro-imagers time, space, and money, but will still provide the unrivaled accuracy that only autoguiding can bring to long-exposure astrophotographs. Although modern dedicated autoguider devices allow small, optically fast guide scopes to be used with excellent results, there is an unfortunate scarcity of quality offerings available. That is, until now. The Orion Mini 50mm Guide Scope brings autoguiding into the realm of affordability for any astrophotographer, and brings the guide scope to a position that was previously occupied by a telescope finder scope.
Consisting of a 50mm aperture, 162mm focal length (f/3.2) achromatic refractor guide scope, an adjustable dovetail guide scope bracket, an 1.25" aluminum parfocal ring, a dovetail mounting base, and an adapter plate, the Orion Mini 50mm Guide Scope makes it easy for any astro-imager to enjoy the precision of autoguiding in their images. All this pint-sized setup requires is a StarShoot AutoGuider (sold separately) or similar small-chip CCD autoguider and it?s ready for night, camera, action! The guide scope bracket fits into the standard Orion dovetail finder scope base found on most Orion telescopes. If your imaging scope doesn?t feature a dovetail base or has one already occupied by an oft-used finder, the included dovetail base and attachment hardware lets you attach the Mini 50mm Guide Scope to any optical tube. Alternatively, the included adapter plate can be used to attach the dovetail base and Mini 50mm Guide Scope to any standard dovetail plate or side-by-side plate if preferred.
The featherweight guide scope tips the scales at a mere 16oz., and has been designed for use with imaging telescopes measuring up to 1500mm in focal length. This one-pound wonder Mini 50mm Guide Scope features fully multi-coated optics and a focus-adjusting front ring with locking collar. The included parfocal ring makes it easy to repeat autoguiding performance night to night, by letting you set the ideal focus position of the autoguider.
Find out how easy and affordable it can be to add autoguiding precision to your astrophotos today with the new Orion Mini 50mm Guide Scope!
Please note: this product was not designed or intended by the manufacturer for use by a child 12 years of age or younger.
Specifications
| | |
| --- | --- |
| Best for imaging | Deep sky |
| User level | Intermediate |
| Optical design | Refractor |
| Optical diameter | 50mm |
| Focal length | 162mm |
| Focal ratio | f/3.2 |
| Coatings | Fully coated |
| Optics type | Air-spaced doublet |
| Glass material | Crown/Flint |
| Resolving power | 3.32arc*sec |
| Lowest useful magnification | 9x |
| Finder scope | None |
| Focuser | None |
| Mount type | Optical Tube without Mount |
| Astro-imaging capability | Lunar, planetary & long exposure |
| Tube material | Aluminum |
| Length of optical tube | 6.8" |
| Weight, optical tube1.0 lbs. | 1.0 lbs. |
| Additional included accessories | Adjustable dovetail mounting bracket, Universal mounting plate and hardware, Parfocal ring and hex key |
Why Should You Trust All Star Telescope?
We've Made All The Mistakes
So You Don't Have To
Learn More