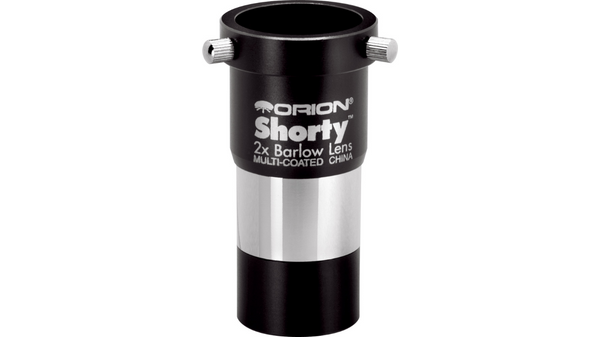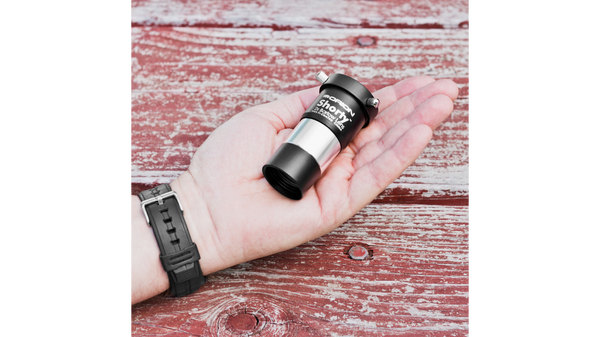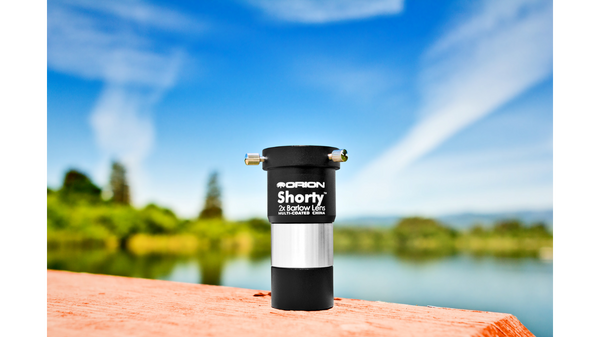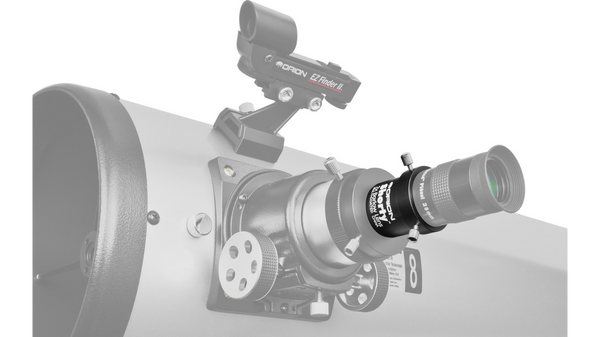 Free Expert Support
Why Purchase from All-Star Telescope?
Stress Free, Secure Shopping
Product Description
Give your telescope eyepieces a 2x power boost! The Orion Shorty 1.25" 2x Barlow Lens doubles the power of any 1.25" telescope eyepiece it's used with. For about the price of a single eyepiece or less, the practical Shorty 2x Barlow effectively doubles the number of telescope eyepieces at your disposal.
The Orion Shorty 2x Barlow Lens doubles the magnifying power of any 1.25" eyepiece, essentially dividing the eyepiece's focal length by a factor of 2. For example: using a 25mm eyepiece in the Shorty 2x Barlow provides the same magnification a 12.5mm eyepiece would normally exhibit (25 ÷ 2 = 12.5). Using this simple formula, you can easily determine how each of your 1.25" telescope eyepieces will perform when inserted in the Shorty 2x Barlow Lens. A 20mm ocular will behave like a 10mm eyepiece; a 6mm eyepiece will provide the magnification of a 3mm eyepiece, and so on.
Using the Orion Shorty 1.25" 2x Barlow Lens is easy. Simply insert the Shorty 2x Barlow into your telescope's focuser or diagonal, and then insert any 1.25" eyepiece into the Orion Shorty, gently securing it in place with the two thumbscrews. Then, adjust the telescope's focus wheels to enjoy double the magnification of the eyepiece used. Think of the money you can save with this practical and affordable telescope eyepiece accessory!
Not only does the Orion Shorty 2x Barlow's power-boosting ability mean you can enjoy two different viewing magnifications with each 1.25" telescope eyepiece in your collection, the Shorty Barlow can also make observing at high powers more comfortable. Many low focal length high-power eyepieces have a woefully small eye lens that can be troublesome to peer through, especially for eyeglass wearers. Using the Orion Shorty 2x Barlow Lens with a longer focal length eyepiece lets you achieve the same high magnification view, but in most cases the eye lens will be much larger, helping to reduce eye strain and improve comfort. The multi-coated optics of the Orion Shorty 2x Barlow ensure maximum light transmission, so your views will be bright and clear. You can even use 1.25" eyepiece filters with the Orion Shorty Barlow, thanks to its filter-threaded barrel.
The Orion "Shorty" 2x Barlow gets its name from its compact size. Measuring just 3.1" long end to end, the Shorty is about half the length of a standard Barlow lens. Its extra short 1.25" barrel is just 1.6" long, fitting easily in any 1.25" star diagonal, making the Shorty a perfect Barlow choice for use with refractor, Maksutov-Cassegrain, and Schmidt-Cassegrain telescopes. Of course, the Shorty 2x Barlow also works well with any reflector telescope. Not only does its small stature allow use with refractors and Cassegrain telescopes, but it also means the Orion Shorty 2x Barlow will occupy less space in your accessory case compared to a standard Barlow lens, leaving room for more astronomy gear goodies.
Warranty Note: Limited Warranty against defects in materials or workmanship for one year from date of purchase. This warranty is for the benefit of the original retail purchaser only. For complete warranty details contact us at 800-447-1001.
Specifications
| | |
| --- | --- |
| User Level: | Beginner |
| Barrel Size: | 1.25" |
| Magnification Factor: | 2 |
| Coatings: | Multi-Coated |
| Filter Threads: | Yes |
| Clear Aperture: | 22mm |
| Compression Ring: | No |
| Weight: | 3 oz. |
| Height: | 3.1 inches |
| Warranty | One Year |
Why Should You Trust All Star Telescope?
We've Made All The Mistakes
So You Don't Have To
Learn More