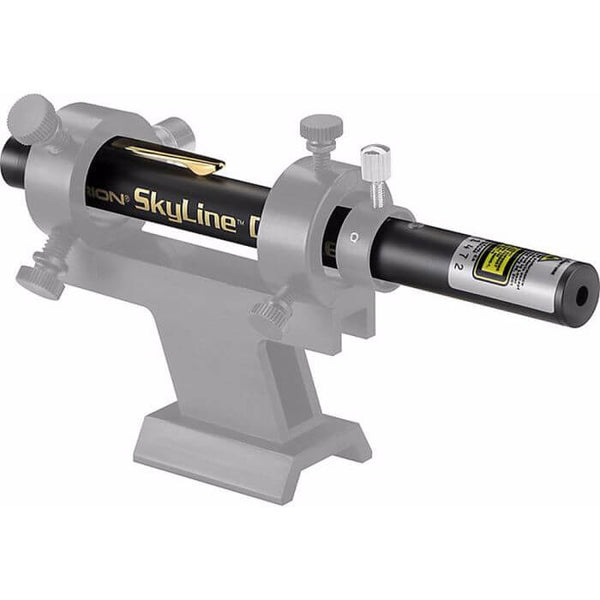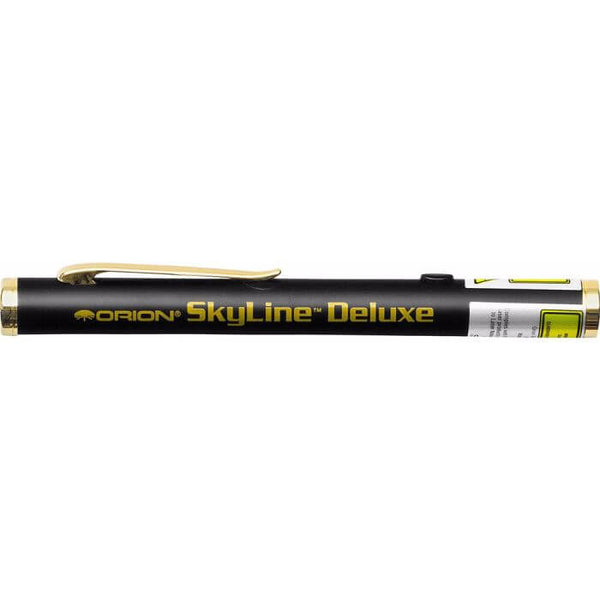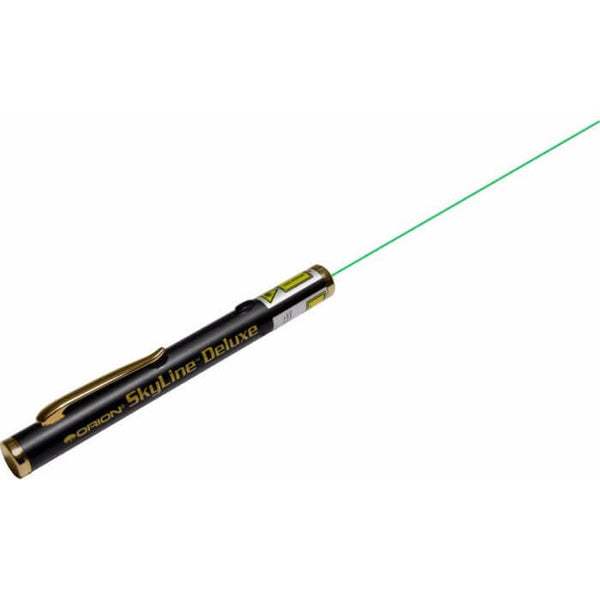 Free Expert Support
Why Purchase from All-Star Telescope?
Stress Free, Secure Shopping
Product Description
Have you ever been outside under a clear starry sky with a friend or family member, when you wanted to point out the location of the Orion Nebula, or trace the outline of the Sagittarius "Teapot" asterism? You point your finger, but that just doesn't cut it. "Where are you pointing? Do you mean the third bright star up from that middle pine tree over there?" Save yourself from frustration and take the guesswork out of the equation with the Orion SkyLine Deluxe Green Laser Pointer. Its bright green beam makes pointing out objects in the sky as easy as pie.
The Orion SkyLine Deluxe Green Laser Pointer is perfect for stargazers. It emits a thin but distinct green laser beam that appears to stretch all the way to the stars! SkyLine's < 5mW green beam just keeps going and going, seemingly to infinity. It works in light-polluted or moonlit skies just as well as crystal-clear skies in remote locations. It's great for pointing out stars, planets, constellations and more for others to see. The quality build of the SkyLine Deluxe Laser is also second to none. It uses an electronic feedback regulation circuit to ensure ultra-stable beam intensity compared to other green lasers on the market. And to protect your SkyLine, it comes with a high quality aluminum case with custom foam cutouts for both the laser and batteries.
The aluminum laser pointer body is 6" long and features a convenient pocket clip. Two AAA batteries are included. And we've included a high quality aluminum case to protect the SkyLine Laser when not in use. It includes custom foam cutouts for both the laser and the batteries.
CAUTION - always use SkyLine Deluxe responsibly, NEVER aim it anywhere near people, pets, vehicles, aircraft, or windows, and keep out of the hands of children.
Warning - The Class 3R laser complies with US 21 CFR 1040.10 and 1040.11 and is FDA Certified and IEC Compliant. Avoid direct eye exposure.
Please note this product was not designed or intended by the manufacturer for use by a child 12 years of age or younger.
Orion Skyline Deluxe Green Laser Pointer (05673)
Skyline Deluxe Green Laser Ponter
I am extremely happy with this Laser pointer. I would recommended it to anyone who asks me about it and tell them who I bought it from.
Skyline Laser Pointer
Nice slim laser pointer, works well in the -20C cold.
Orion Laser
Great laser. Would be great if the laser and mount came as a package.
great laser!
Amazing how it almost seems to reach up to the stars! Great tool to point out celestial objects. A finger never quite cuts it!
Why Should You Trust All Star Telescope?
We've Made All The Mistakes
So You Don't Have To
Learn More