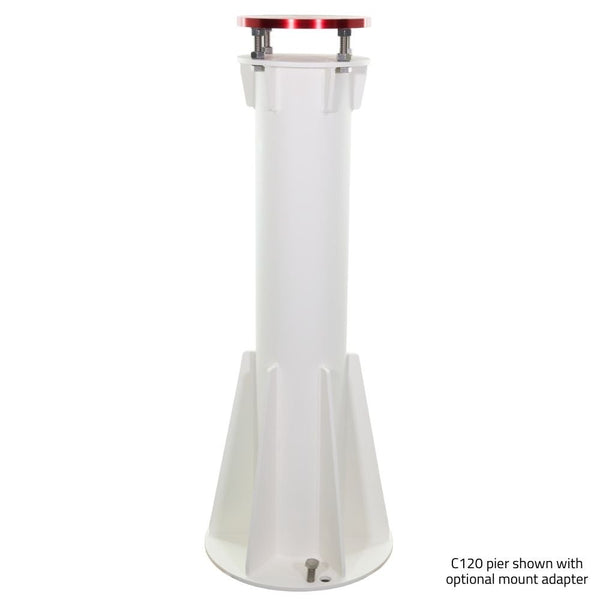 Free Expert Support
Why Purchase from All-Star Telescope?
Stress Free, Secure Shopping
Product Description
C120 pier is the perfect solution to install even a large telescope in an astronomical observatory. The C120 pier has a high load capacity (150 kg) and, compared to a standard tripod, it provides high stability and needs for less space. A pier also prevent the telescope to touch the tripod legs during movements!
This pier is available also with different optional adapters for EQ6, EQ6-R, AZ-EQ6, CGEM, EQ8, GM1000, GM2000, GM3000 or Paramount MX mounts.
Specifications
The C120 pier is 120cm high (height from the ground including the optional adapter) and is made up of steel with 4mm thickness and 220mm diameter tube in order to ensure high load capacity. The pier is powder coated. At the base of the pier there are 3 pairs of holes at 120°: each pair consists of a through hole that is used to fix the pier to the threaded bars (not included) that have to be in the concrete base and an M20 threaded hole where you screw in the M20 screws (supplied in the package) to allow leveling of the C120 pier. The C120 pier for concrete base weighs 60 kg without the optional adapter.
You can order the C120 pier also without the adapter: in this case the user will have to make an adapter for his mount, in the image below you will find the dimensions of the adapter with the connections for the C120 pier, then you will have to add the connection for your mount.
Why Should You Trust All Star Telescope?
We've Made All The Mistakes
So You Don't Have To
Learn More