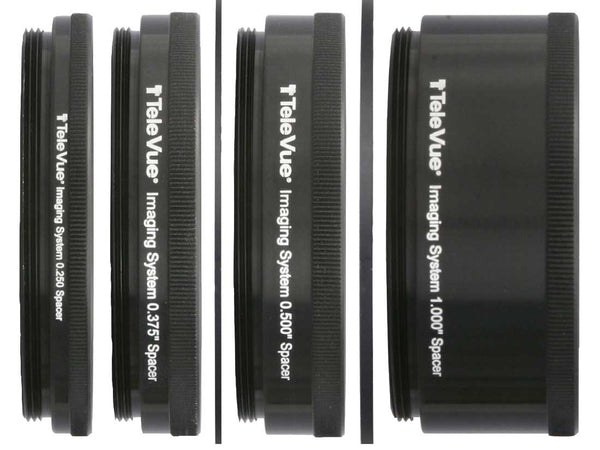 Free Expert Support
Why Purchase from All-Star Telescope?
Stress Free, Secure Shopping
Product Description
This set includes 2 spacers and 4 Extension Tubes for 2.4" Imaging System accessories.
Parts List
0.040"/1mm spacer (TLF-0040)
0.080"/2mm spacer (TLG-0080)
0.250"/6.4mm tube (TLA-0250)
0.375"/9.5mm tube (TLB-0375)
0.500"/12.7mm tube (TLC-0500)
1.000"/25.4mm tube (TLD-1000)
Extension tubes thread together and into other threaded 2.4" Imaging System accessories. Spacers are nonthreaded and are placed on the 2.4" accessory thread.
CAUTION: to avoid insufficient thread engagement, do not place more than one spacer between tubes. In the picture, the spacers are on either side of the 0.500" tube.

Why Should You Trust All Star Telescope?
We've Made All The Mistakes
So You Don't Have To
Learn More