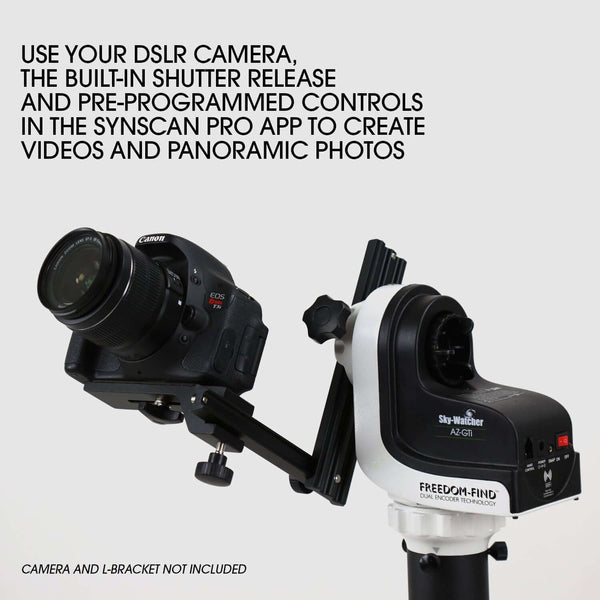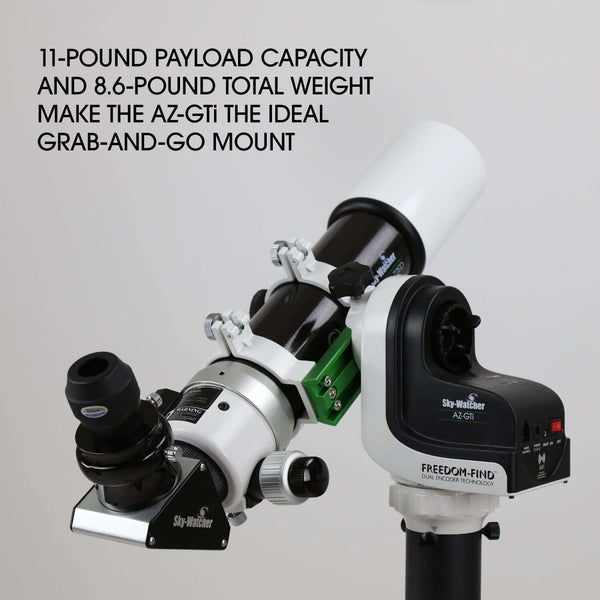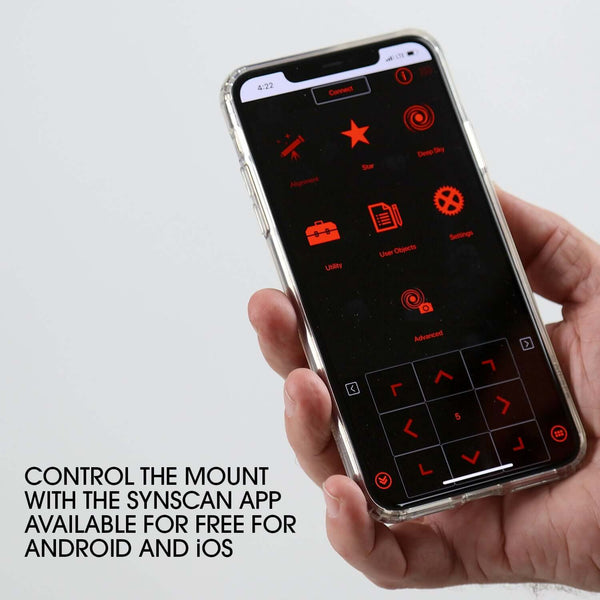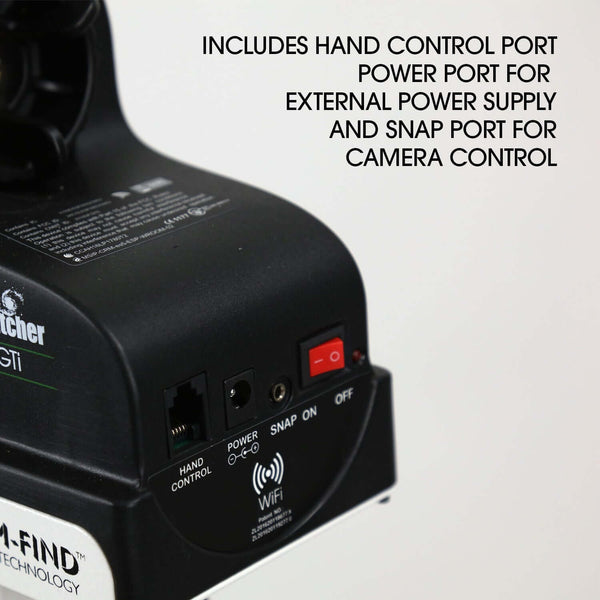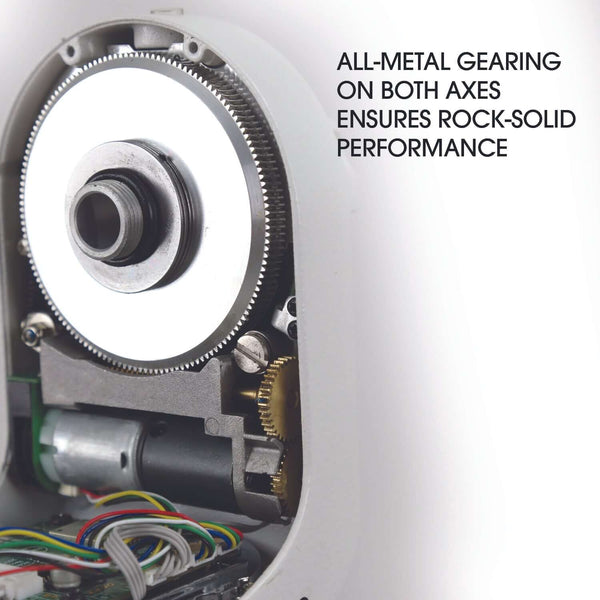 $540.00 CAD
Save: $100.00
Free Expert Support
Why Purchase from All-Star Telescope?
Stress Free, Secure Shopping
Product Description
Rock Solid GoTo Tracking Built for Globe Trekking
Sky-Watcher's AZ-GTi is the perfect tracking platform for those seeking a compact travel mount capable of both alt-az GoTo alignment and video timelapse. Boasting a payload capacity of 11 pounds, this modular mount can support anything from a small Maksutov or refractor to a mid-sized DSLR for timelapse photography. Weighing just 8.6-pounds, the AZ-GTi is the ideal travel mount, easily fitting in carry-on luggage and perfect for grab-and-go situations or even long photographic pilgrimages.
Revolutionary Wi-Fi Control
The AZ-GTi is one of the first Sky-Watcher products featuring built in Wi-Fi control. Once connected to the mount, use Sky-Watcher's SynScan Pro app to align the mount for celestial tracking.
Easy Integration with any Tripod
The AZ-GTi includes an adjustable aluminum tripod with built in pier extension. The mount can attach to a tripod using a 3.8-inch-16 thread and includes an adapter for ¼-inch-20 thread sizes, making it capable of mounting to nearly any tripod.
Automatic Shutter Release Control
No need for an intervelometer timer with the AZ-GTi! With a 60-second preset exposure setting, the AZ-GTi can trigger a DSLR using the auxiliary shutter release cable. Once the camera is plugged into the mount and a shot is fired, it will continually shoot 60 second exposures until the cable is removed.
Freedom Find™
For those looking for the ultimate visual tracking mount, the AZ-GTi features Sky-Watcher's Freedom Find™ dual-encoder system. These encoders are separate from the mount's GoTo system and allow you to disengage the clutches and manually move the mount around the sky without losing your initial alignment.
Available in three configurations
Whether it's the mount only, with a 102mm Maksutov OTA, or with a 127mm Maksutov OTA, the AZ-GTi delivers the perfect grab-and-go system for the astronomer that's on the move.
The AZ-GTi comes with the mount head, pier extension, and tripod.
What's in the Box
Specifications
General Mount Info
Mount Type
Alt-AZ/EQ
GoTo
Yes
Payload Capacity (lbs)
11
Mount Height (Min)
31.6"
Mount Height (Max)
59.8"
Mount Head Weight (lbs)
2.6
Tripod Weight (lbs)
7.9
Fully Assembled Weight (w/ weights)
10.5
Tripod Leg Diameter
1.2"
Mounting Saddle Type
V
Power Type
AA/12V
Clutch
Slip
Polar Scope
No
Latitude Range (degrees)
0-90
Computer/Drive System Info
Object Database
App Data base
Controller
WiFi
WiFi
Yes
Polar Align Assist
Yes
Auto Guide
No
Dual Encoders
Yes
DSLR Enterface
Yes
Motor Type
Stepper
Drive System
Gear
Excellent product
This is my first tracking mount. I wanted something portable and not too heavy. This is exactly what I wanted. I am using a Pentax spotting scope until I decide if I want to go further in to this hobby. I like the ability to control it through it's own wifi hub with my phone. Shipping was quick.
Well, it's ok.
- Alignment (two star) is a bit tricky. Haven't got a good alignment off the start but still working on it.
-rather shakey trying to focus ( at half the extension) but it is a light weight mount.
Smooth Operator!
Makes locating objects in the sky a breeze.
Why Should You Trust All Star Telescope?
We've Made All The Mistakes
So You Don't Have To
Learn More