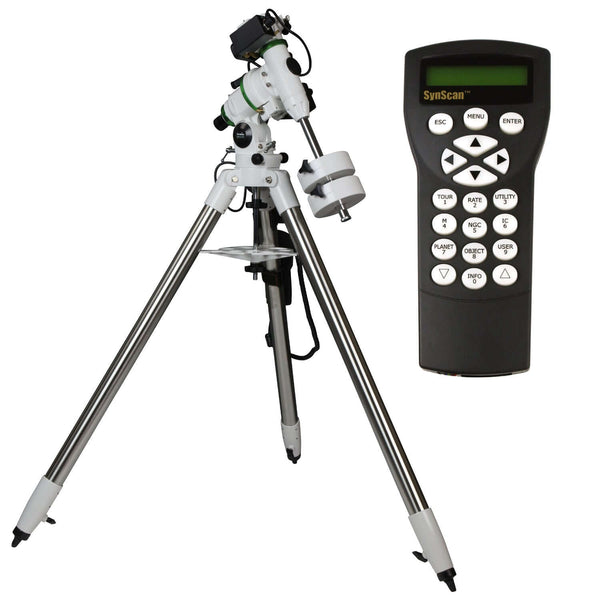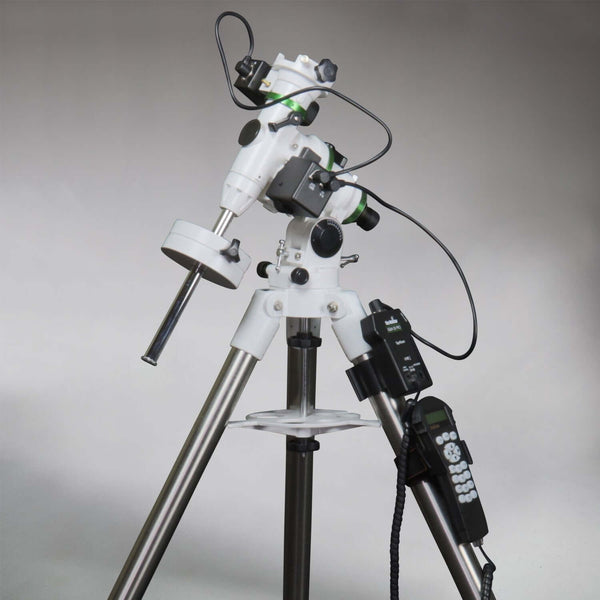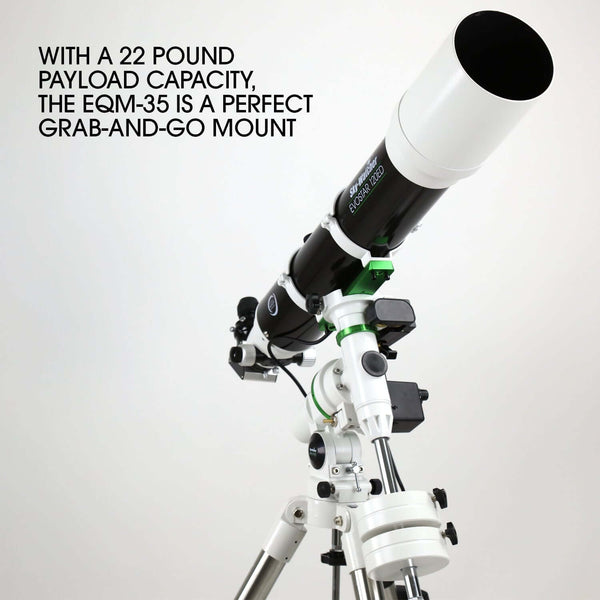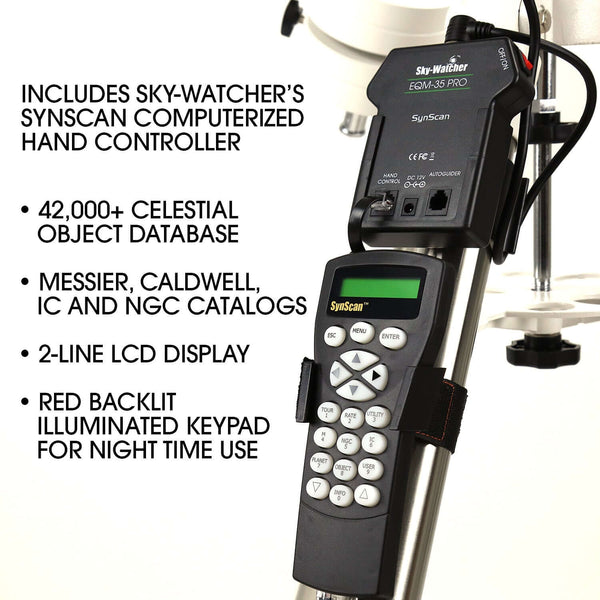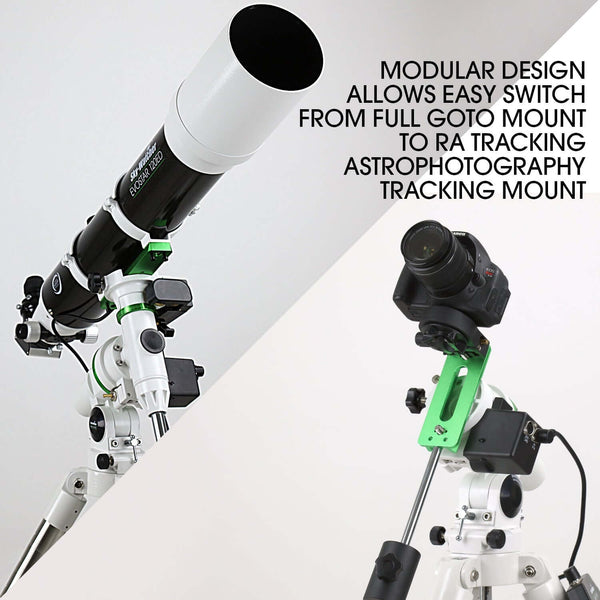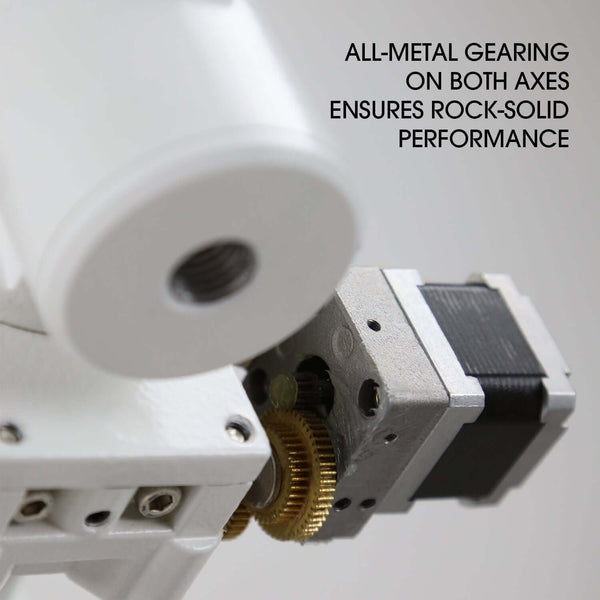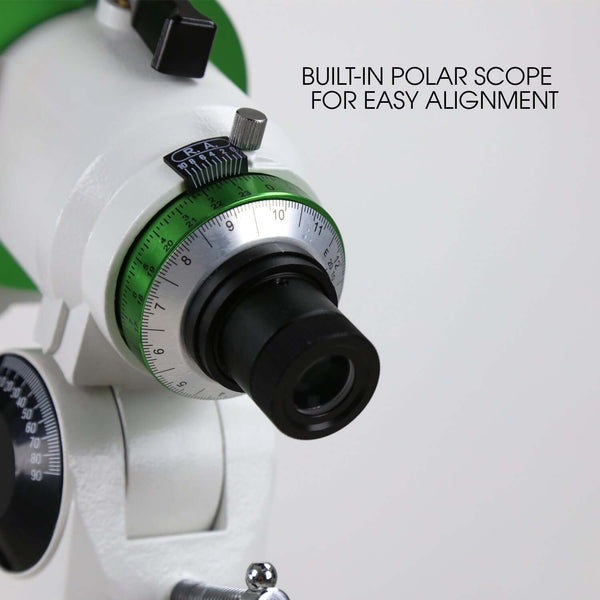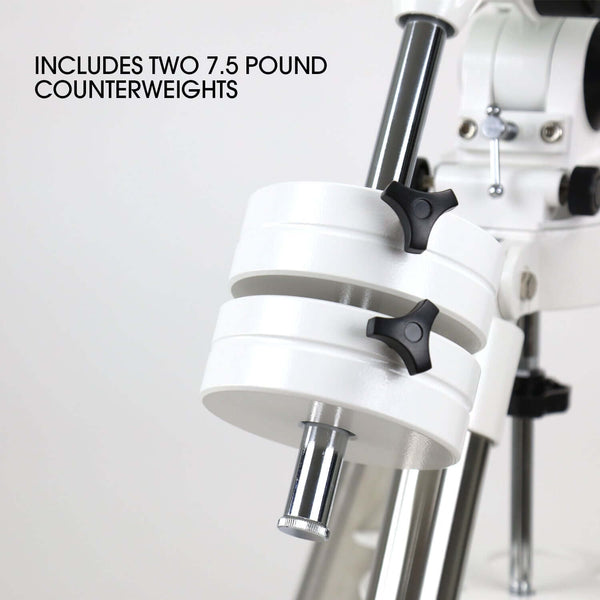 $1,130.00 CAD
Save: $80.00
Style
With Hand Controller (S30500)
Wifi Only No Hand Controller (S30505)
Free Expert Support
Why Purchase from All-Star Telescope?
Stress Free, Secure Shopping
Product Description
The perfect entry-level EQ mount for those getting serious about astrophotography.
The Sky-Watcher EQM-35 provides a convenient, stable platform for refractors up to 100mm or up to 127mm Maksutovs. Designed as an imaging system, it also works astonishingly well for visual use. This mount is perfect for the beginner to intermediate astronomer looking to expand their craft into astrophotography.
The removable dec assembly allows for the use of Star Adventurer L-brackets or ball head adapters, turning the mount into a heavy-duty tracking system for your DSLR or mirrorless camera and wide-field imaging.
If you're looking for a lightweight, stable mount that is precise and easy to use, the EQM-35 is it!
Specifications
General Mount Info
Mount Type
EQ
GoTo
Yes
Payload Capacity (lbs)
22
Mount Head Weight (lbs)
9.65
Tripod Weight (lbs)
12.5
Fully Assembled Weight (w/ weights)
37.15
Tripod Leg Diameter
1.75"
Mounting Saddle Type
V
Power Type
12V (4 amp minimum)
Clutch
Locking Lever
Polar Scope
Built In
Latitude Range (degrees)
15-65
Computer/Drive System Info
Object Database
42900+
Controller
Hand Controller
WiFi
Optional WiFi dongle
Polar Align Assist
Yes
Auto Guide
Yes
Permanent Periodic Correction
Yes
Dual Encoders
No
DSLR Enterface
No
Included Weights
7.5lbs (two)
Motor Type
Stepper
Drive System
Gear
Replacement for older powered mount
It's an excellent upgrade to our previous mount!
EQM-35
Originally bought to hold my 4" F/9 tube; i foolishly thought an AZ GTI would work fulltime as my mount, luckily, i came to my senses and bought this mount instead.
Much more robust and stable.
I dont image so i can't say if it performs for that usuage well but visually it fully satisfies (even at ludicrous powers) with very quick dampening under a second with 14lbs on it.
Buying my new 62evolux which i plan to mount on my 4" F/9 (& G&G !) and that should max out its capabilities fitted out with my monster 2incher eyepieces.
If I was imaging I'd probably want a HEQ5 or EQ6R though.
Fully satisfies me and sleuthing the web there is an upgrade to a belt system if so inclined.
A value solution that is not so 'value' but more like great buying wisdom at an affordable price.
Astrophotographers should probably move onto a more robust platform for more consistent star shapes in my opinion.
AP is the MOUNT -not the scope !!
EQM-35 is not perfect but pretty darn close !
Highly recommended.
Sky-Watcher EQM-35i Equatorial GOTO Mount
We are very happy with our new mount and the new features it brings to watching the sky. Also, the customer service we experience at All-Star telescope is exceptional.
It's amazing
Finally able to start a hobby I've always wanted too. The customer service was beyond amazing. Answered all my questions, made great recommendations , and explained why for each item.
Why Should You Trust All Star Telescope?
We've Made All The Mistakes
So You Don't Have To
Learn More