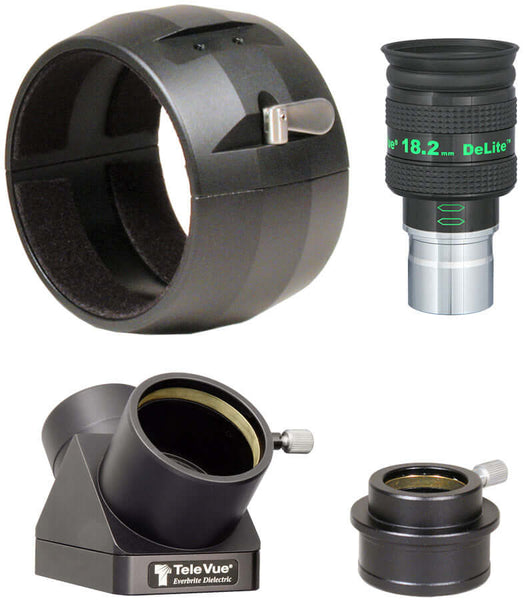 Free Expert Support
Why Purchase from All-Star Telescope?
Stress Free, Secure Shopping
Product Description
TeleVue has gathered a package of accessories that perfectly complement their NP101is APO Refracting OTA. 
TeleVue 18.2 mm DeLite 62º Eyepiece - 1.25"
TeleVue's legendary high-quality can be seen in this addition to their telescope eyepiece line-up! The DeLite eyepiece accepts TeleVue Dioptrx astigmatism correction devices and sports a sliding eye guard that locks into place. The 18.2 mm Eyepiece has a beautiful 62º apparent field of view and 20 mm of eye relief. Furthermore, TeleVue DeLite eyepieces are parfocal with 1.25" models of TeleVue Plossl, Panoptic, Nagler, and Delos eyepieces.
Eyepiece Details
Product Number: EDE-18.2
Focal Length: 18.2 mm
Barrel Size: 1.25"
Apparent Field of View: 62º
Eye Relief: 20 mm
Weight: 7.6 ounces
Field Stop: 19.1 mm
TeleVue 4" Ring Mount - Satin Finish
The Televue 4" Ring Mount slips around the tube assembly of the telescope while the bottom of the 4" Ring Mount attaches to any alt-azimuth or equatorial mount that uses a 1/4-20 attachment bolt. The slot you see on the top of the TeleVue 4" Ring Mount allows you to attach Televue accessories like the Starbeam, Sol-Searcher, or Quik Point finder. This beautiful black anodized ring mount has a satin finish that will match other black items on your Televue tube assembly.
TeleVue 2" Everbrite Diagonal with 2" to 1.25" Adapter
The TeleVue Everbrite has a Pyrex mirror with 1/10th wave accuracy. The eyepiece's dielectric, non-metallic coatings have 99% reflectivity across the visible spectrum which results in images that are brighter and "whiter." The Everbrite's body is machined from one solid block of aluminum for permanent alignment. The 2" filter anti-reflection threads in the diagonal let you attach filters to the diagonal instead of moving from eyepiece to eyepiece, the brass clamp ring holds 2" eyepieces and accessories firmly in place without marring the barrels, and the included 2" to 1.25" HiHat Adapter is of same high-quality in make and materials.
Why Should You Trust All Star Telescope?
We've Made All The Mistakes
So You Don't Have To
Learn More