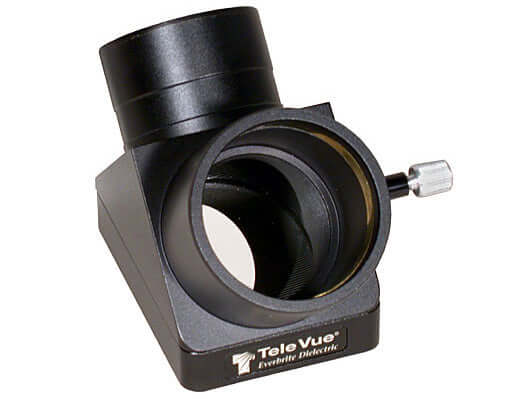 Free Expert Support
Why Purchase from All-Star Telescope?
Stress Free, Secure Shopping
Product Description
Whiter and brighter images. Simply put, that is the benefit the Everbrite mirror coating. This exotic, dielectric, nonmetallic coating is 99% reflective across the full visual spectrum, resulting in the "whitest," most natural image available. The coating is painstakingly applied to Pyrex with a surface accuracy of a 1/10 wave flatness.
To ensure performance, every mirror is optically inspected under conditions far more critical than a diagonal mirror is ever used in typical telescopes. In this way, TeleVue can guaranty that the Everbrite will permit your telescope to operate at its fullest potential.
The Everbrite is offered in both 1.25" and 2" models. The diagonal bodies of each are machined from solid blocks of aluminum. Permanent alignment is assured. The one piece body construction also means heavy accessories can't force the diagonal body to "unscrew" from the barrel as with other brands. Both the 1.25" and 2" models feature brass clamp rings, anti-reflection threads and 1.25" and 48mm filter threads respectively.
Carefully tested.
Magnificent performance.
I felt a 3D spacial effect...the stars floating near and far that I never felt with the good stock dielectric i used.
Excellent optics require an excellent diag and this feels, looks and satisfies exquisitely.as EVERYTHING after it NEEDS a firm foundation to rest upon and now everything resonates so much better.
NO SCATTER.
This was my last need purchase that i thought only a want.
Why Should You Trust All Star Telescope?
We've Made All The Mistakes
So You Don't Have To
Learn More