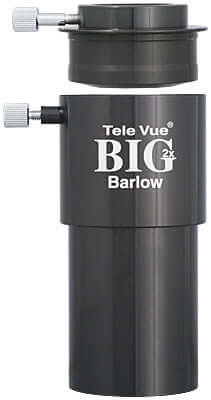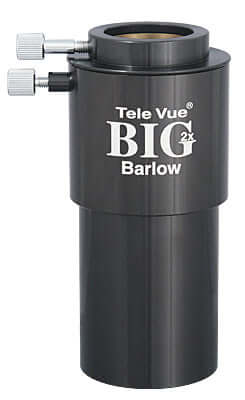 Free Expert Support
Why Purchase from All-Star Telescope?
Stress Free, Secure Shopping
Product Description
 Offered in a 2x magnification, the Big Barlow is ideal for Newtonian scope owners. It will be parfocal with both 2" and 1¼" eyepieces in this application. Features include 1¼" eyepiece adapter, threads for 48mm filters, captive lock screw and full multi-coatings.
Properly designed Barlows do wonderful things: They amplify power, slow the telescope's f/# (improving eyepiece sharpness), and give designers the opportunity to compensate for eyepiece aberrations.
TeleVue Barlows use multi-coated high index glasses for optimum aberration correction, exceptional contrast with virtually no light loss. Observed performance is aberration free, even when tested with f/4 scopes. They even improve our competitor's eyepieces and telescopes!
TeleVue Quality
Compromise image quality in any part of the optical chain and you've compromised every part! TeleVue product design and execution deliver consummate satisfaction. Every TeleVue Barlow must pass the same rigorous f/4, full field testing as all our eyepieces. All TeleVue Barlows now use brass clamp rings for secure, non marring holding of eyepieces and accessories.
Note: The Big Barlow is not recommended for use with 2" diagonals because it's length prevents it from being parfocal. With some telescopes, focus might not be reached, particularly when the interface lens is also used with it. A far better approach with no potential problems in any scope or with any eyepieces is to use the 2" 2x Powermate (PMT-2200). See the Powermates page for a discussion of Powermates vs. Barlows.
Why Should You Trust All Star Telescope?
We've Made All The Mistakes
So You Don't Have To
Learn More