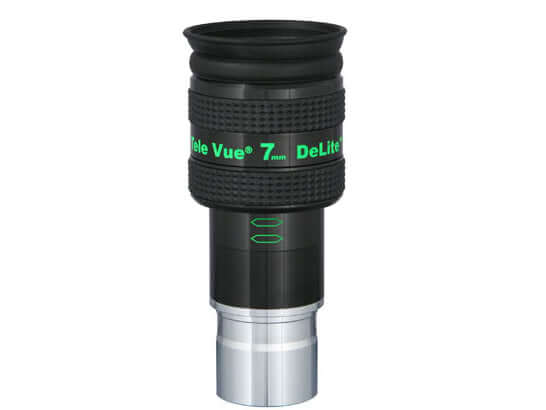 Free Expert Support
Why Purchase from All-Star Telescope?
Stress Free, Secure Shopping
Product Description
All models have 1¼" barrels and are parfocal with TeleVue's 1¼" Plössl, Panoptic, Nagler, and Delos eyepieces. Named DeLite because that best describes the viewing experience, the name also recognizes designer Paul Dellechiaie's work. The DeLite series is a delightful addition to TeleVue's visionary line of eyepiece developments.
Just as Delos eyepieces were developed based on TeleVue's Ethos eyepiece design advancements, DeLite is the logical step toward a smaller, more economical and lightweight version of Delos. The 62° apparent field DeLite retains the pure optical quality of Delos along with 20mm eye-relief, unique sliding, locking eyeguard, and is Dioptrx-ready.
Specifications
| | |
| --- | --- |
| Focal Length | 7mm |
| Barrel Size | 1.25" |
| Apparent Field of View | 62 degrees |
| Eye Relief | 20mm |
| Weight | 0.46lbs |
| Field Stop | 7.5mm |
TeleVue 7.0 Delite
As a glasses wearer, I found some tunnel vision viewing through this eyepiece, even thought the eyepiece has a 20mm eye relief. Less of a problem using it without glasses. The view is very sharp edge to edge, though narrow as expecting for a 62 degree apparent field of view. I choose this eyepiece based on eye relief, size and weight for use with a portable 70mm telescope. So, does the job and happy with my purchase!
Named DeLite for a reason
I have owned many eyepiece over the years, including a wide variety of those from Tele Vue. The DeLites are amazing. The contrast and sharpness are second to none. Whether for planetary observation or hunting galaxies at the threshold of detection, DeLites never fail to deliver. They are truly a delight!
Am very pleased with this lens...bought it to see the Pope from across the water when he came to Lac Ste Anne...gave us an excellent view and I got an amazing picture! Now I need to work on capturing a galaxy!
Delite 7mm
I reviewed the 18.2mm TV Delite already so for a little more detailed review, please go see that one.
Used this with a TMB 115 F7 on the moon and quickly split Albireo. Absolutely pin point stars, sharp edge to edge and no false colour at all. Adjustable eye up is really nice and it barlowed extremely well with the TV 2x barlow. I'll likely pick up this whole set eventually.
10/10
Why Should You Trust All Star Telescope?
We've Made All The Mistakes
So You Don't Have To
Learn More