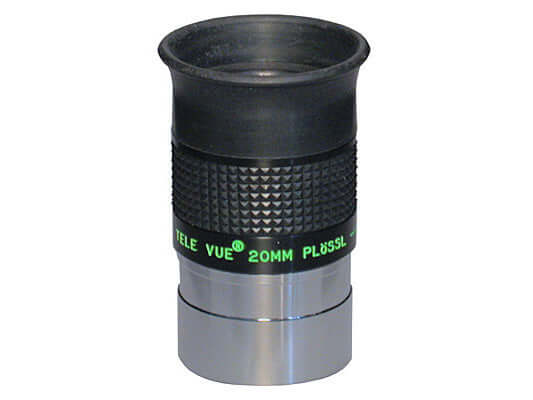 Free Expert Support
Why Purchase from All-Star Telescope?
Stress Free, Secure Shopping
Product Description
The 25mm, 20mm, 15mm, 11mm and 8mm Plössls round out the focal lengths for various observing from deep sky to planetary. They work best with TeleVue Powermates to effectively double the number of focal lengths in your collection. Far superior to eyepieces usually provided as standard with most instruments.
Since we introduced our Plössls in 1980, they have won praise and patents, including a patent in Japan. TeleVue Plössls, designed by Al Nagler, have been a recognized benchmark of performance and value in the class of 50° apparent field of view eyepieces. While the Plössls may be our least expensive eyepiece line, they still enjoy the same care and attention to detail as our most expensive. While it's easy for other manufacturers to vie for the lowest price, TeleVue continues to believe that quality, performance and consistency will ultimately reward you with the most value for your dollar.
Diffraction limited "on-axis" performance is a given. Using more expensive high-index glasses to reduce astigmatism and lateral color at the field's edge, TeleVue Plössls deliver sharper images than any other brand of 4 or 5 element "Plössls" or Orthoscopic designs. The faster the focal ratio of your telescope, the greater your visual reward for using TeleVue eyepieces. TeleVue Plössls feature full multicoatings for greatest light transmission and contrast. Blackened lens edges and internal anti-reflection threads tweak the last bit of contrast for maximum image detail. The sharper field focuses faint star light into perceptible points and allows those with undriven mounts to gaze longer before repositioning the image.
For a bit more than generic brands, you can own genuine TeleVue Plössls.
Specifications
| | |
| --- | --- |
| Focal Length | 20mm |
| Barrel Size | 1.25" |
| Apparent Field of View | 50 degrees |
| Eye Relief | 14mm |
| Weight | 0.19 lbs |
| Field Stop | 17.1mm |
Tele Vue 20.0 Plossl (EAP-20.0)
A great little eyepiece that wins the visual test against some of the more expensive offerings from Tele Vue. Although it's only 50° FOV, and a simple design, there is less glass to look thru, the faint fuzzies pop out where others fail. Great addition to any eyepiece collection.
It's Not Just Hype
"Back in the day", when Tele Vue first launched their line of Plossls, they quoted a user as saying that they were "deliriously happy" about their Celestron's performance once it had been paired with a Tele Vue Plossl. "Oh really?" I used to think. Mind you, at that time I could afford nothing by Celestron or Tele Vue, so there may have been an element of envy in my scepticism.
Fast forward 40 (or so years). I was observing the moon the other night, changing eyepieces to find the optimal magnification for that session. "Nope, 13mm is too much, let's drop back to a 20mm. What the heck?" The image was noticeably degraded from what it had been when I had the 20 mm in just a moment before.. Very noticeably. Cloud? A sudden worsening of the seeing? Then I realised what had happened. In the dark I had grabbed my generic 20mm Plossl, and not the Tele Vue. I popped the 20mm Tele Vue back in and signed in relief. The image had much better contrast and much crisper transitions between the sunlit and shadowed parts of the lunar surface. "Wow," I said to myself, "they really do make that much of a difference!" If you want to make a major upgrade to your telescope's performance without breaking the back, consider replacing your generic eyepieces with Tele Vue Plossls. You won't go back.
Why Should You Trust All Star Telescope?
We've Made All The Mistakes
So You Don't Have To
Learn More