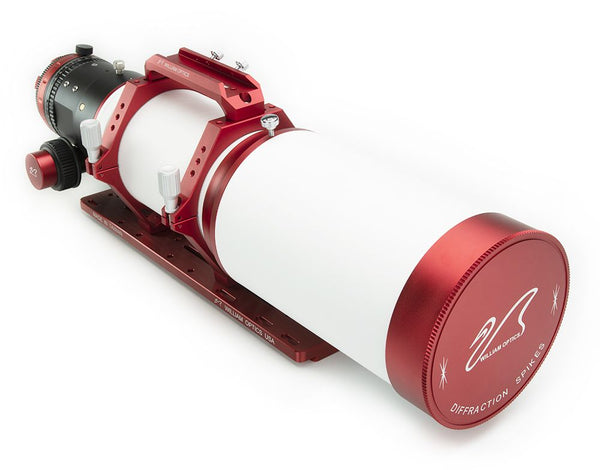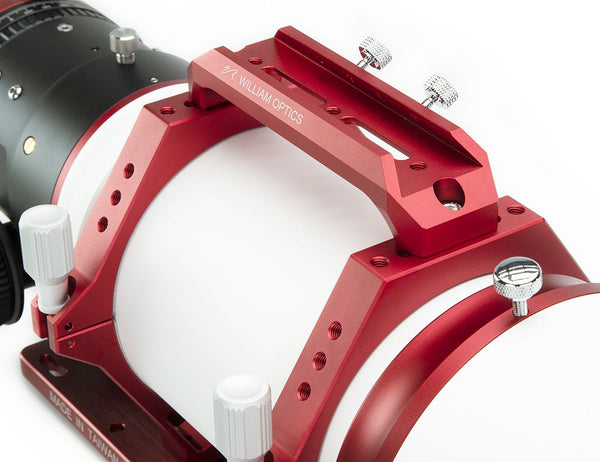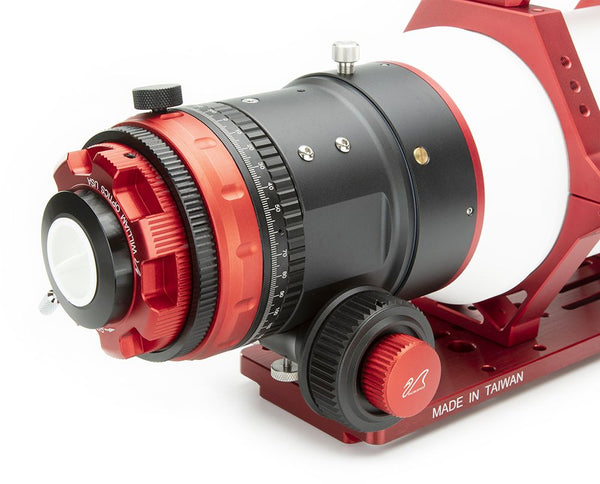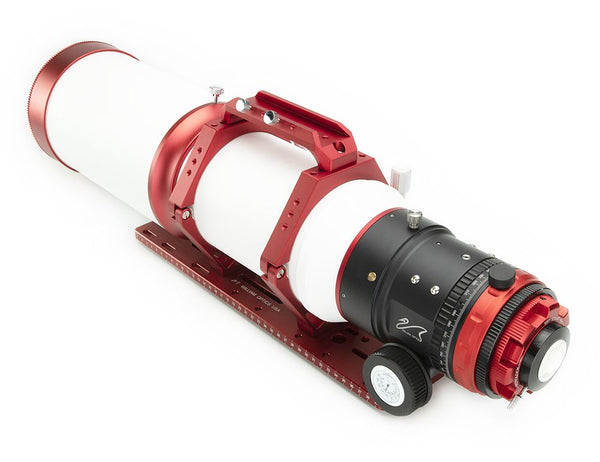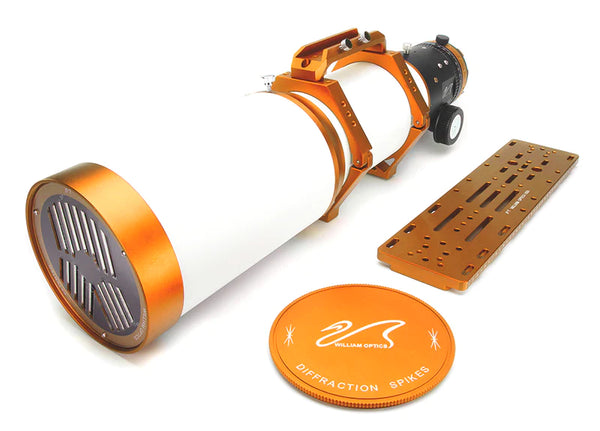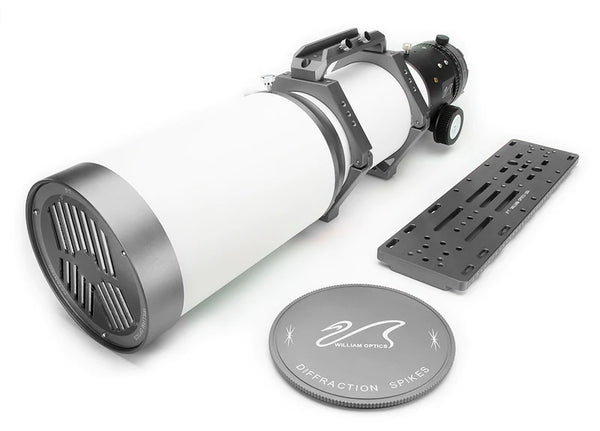 Accent Color
Red (A-F120RD-RP33)
Gold (A-F120GD-RP33)
Space Gray (A-F120TG-RP33)
Free Expert Support
Why Purchase from All-Star Telescope?
Stress Free, Secure Shopping
Product Description
The William Optics FluoroStar 120 Refractor is an air-spaced triplet APO. Using three elements made of high-end fully coated glass like FPL-53 virtually removes chromatic aberration and produces images that are sharp and full of contrast. A patented light weight Bahtinov mask is included to provide assistance in focusing, or you can remove it when using the F120 visually.
The FLT120 has a native focal ratio of f/6.5 and a focal length of 780 mm. The big 3.3" rack and pinion dual-speed focuser allows for use of two optional M92 flatteners from William Optics; the FLAT68III, which flattens the field beautifully without focal reduction, or the FLAT7A, an APO flattener and 0.8X reducer. While the FLAT68III is recommended for the best image quality of the two, the FLAT7A reduces the focal ratio from f/6.5 to f/5.2. Both flatteners accept 2" threaded filters.
As with other William Optics refractors, the fit and finish on the FluoroStar 120 is superb. The telescope comes with cradle style mounting, a saddle handle bar, and a universal Losmandy-style dovetail plate. All four pieces are anodized in red. The included camera rotator and the Rotolock 2" Adapter are anodized to match. This is one beautiful telescope. By the way, the top of the handle bar has a Vixen-style saddle built in to accept William Optics slide base guide rings for a guide scope or finder. You can also use an accessory mounted on a Vixen dovetail.
This Fluorostar 120 APO OTA from William Optics comes standard with a dust cover that has a built-in, clear Bahtinov Mask for perfect focusing every time. Simply remove the flat front cover plate, leaving the dust cover cuff in place on the OTA. Point the OTA at a bright star, and focus carefully. When the bright central diffraction spike looks exactly centered between the other two spikes forming an "X", then your OTA is in exact focus for stars. Remove the dust cover cuff carefully from the objective end of the OTA, and you are ready to image.
Recommended Optional Accessories
T-Mount for

M4/3
Nikon
Canon
Sony a
Pentax
Fuji

Guiding Scope
Flattener
Eye Piece & Prism
Finder Scope & Ring
Red Dot Finder
What can I see with a William Optics Fluorostar 120 APO Triplet OTA (A-F120-RP33)?
Here are some simulated views of common objects. Results with your telescope will vary with viewing conditions, obrits, equipment and more.
Jupiter with
25mm Eyepiece - 31x Magnification
(Sold Separately)
Jupiter with
10mm Eyepiece - 78x Magnification
Sold Separately
Jupiter with
5mm Eyepiece - 156x Magnification
Sold Separately
Moon with 25mm Eyepiece
31x Magnification
(Sold Separately)
Moon with 10mm Eyepiece
78x Magnification
Sold Separately
Moon with 5mm Eyepiece
156x Magnification
Sold Separately
Andromeda with 36mm Eyepiece
22x Magnification
Sold Separately
Andromeda with 25mm Eyepiece
31x Magnification
(Sold Separately)
Andromeda with 10mm Eyepiece
78x Magnification
Sold Separately
What's in the Box
Specifications
Focal Length:
780mm
Diameter:
120mm
Aperture:
f/6.5
Camera Format:
APC-C
Full Frame
Focuser:
3.3" Rack & Pinion Focuser
Image Circle:
> Full Frame
Recommended Flattener:
FLAT 7A
FLAT68III
Tube Length:
680mm (Fully Retracted)
850mm (Fully Extended)
Tube Weight:
7.2 kg
Interchangeable T-Mount:
Canon EF
Nikon F
Sony E
Pentax
Micro Four Thirds
Fuji FX
Note: William Optics uses high quality steel lens cells and FPL53 glass for WO triplet series (GT and FLT) - this combination is perfect for temperature compensation and will prevent pinched optics in cold weather conditions.
Before you store the telescope you have to uncover it and let the tube to stay open for some time. After the telescope dry up, moisture will evaporate and it can be safely stored. You must to store your telescope in a dry place with a constant room temperature.
Otherwise lens cell will rust and lens coating will be damaged by fungus.
William Optics Fluorostar 120 APO
Very nice scope. Very well made, high quantity. Will bring decades of exploring.
Why Should You Trust All Star Telescope?
We've Made All The Mistakes
So You Don't Have To
Learn More