Brand: ZWO
ZWO 1.25" SII 7nm Filter (ZWO-SII7NM1.25)
ZWO-SII7NM1.25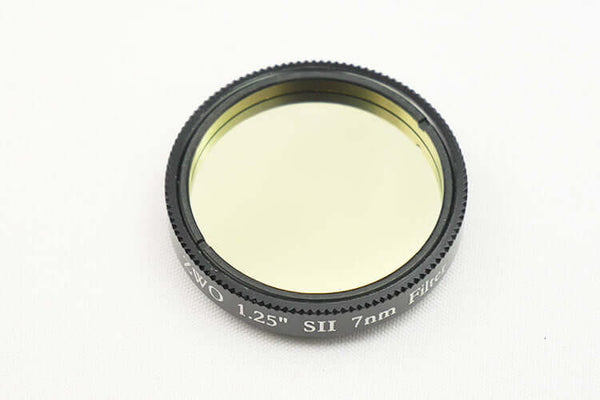 Brand: ZWO
ZWO 1.25" SII 7nm Filter (ZWO-SII7NM1.25)
ZWO-SII7NM1.25
Free Expert Support
Why Purchase from All-Star Telescope?
Stress Free, Secure Shopping
Product Description
Narrowband filter does not eliminate the effects of light pollution or increase the object's brightness. In many cases, they increase the contrast between nebula and night sky, not brightening the nebula.
The ZWO narrowband S-II 7nm filter passes light at 672nm wavelength with a bandpass of 7nm which is designed for nebula observation. It is suitable for visual observation on most emission nebulae, planetary nebulae and supernova remnants, use it with H-alpha and OIII narrowband filters (SHO Set) for tricolour CCD astrophotography.
It can reduce the transmission of certain wavelengths of light, specifically those produced by artificial light including mercury vapour, and both high and low pressure sodium vapour lights and the unwanted natural light caused by neutral oxygen emission in our atmosphere (i.e. skyglow).
Specifications
Name: ZWO New narrowband 1.25″ filter
Size: 1.25″
Thickness: 5.5mm+2.5mm(thread)
Glass thickness: 1.85mm
Thread: M28.5*0.6 male thread
Love it
I recently went mono with an ASI533mm Pro cam from All-Star & picked up a set of these 7nm SHO filters to go with it. I had reservations about the bandwidth vs 3 nm filters, but these were more affordable and I'm familiar with the 7nm L-Extreme product for my OSC cam. My experience has been very good, the bandpass combined with the sensitivity of a mono cam has yielded several great images with more detail and vibrance than an OSC image of similar total integration. I find 300 sec subs to be well exposed on most targets & the Sii brings detail in a SHO blend that is lost otherwise in suitable targets. Nicholas was very helpful and accommodating with this transaction, he has my thanks.
Why Should You Trust All Star Telescope?
We've Made All The Mistakes
So You Don't Have To
Learn More