Brand: Antlia
Antlia ALP-Dual Band 5nm SII&Hb Golden Filter (ALP-TSB-2)
ALP-TSB-2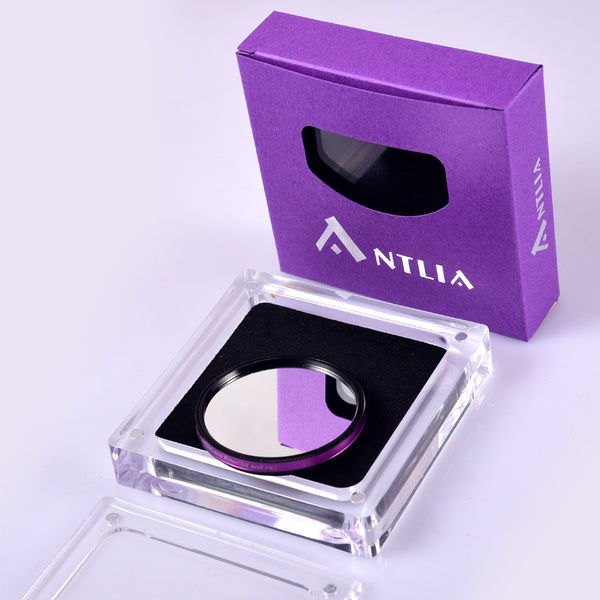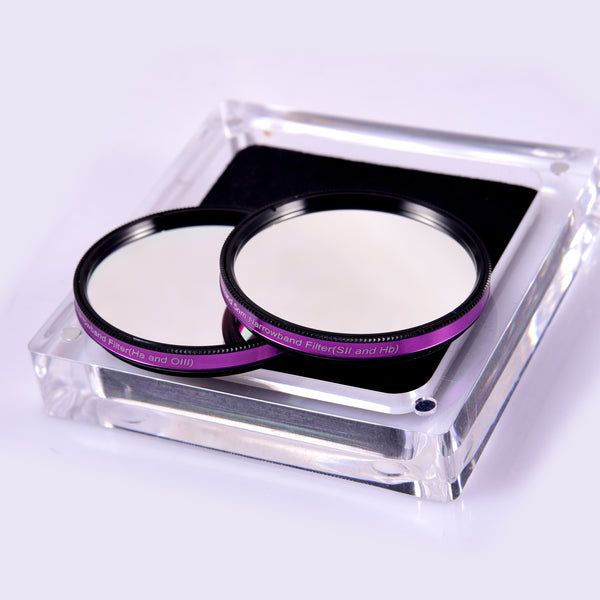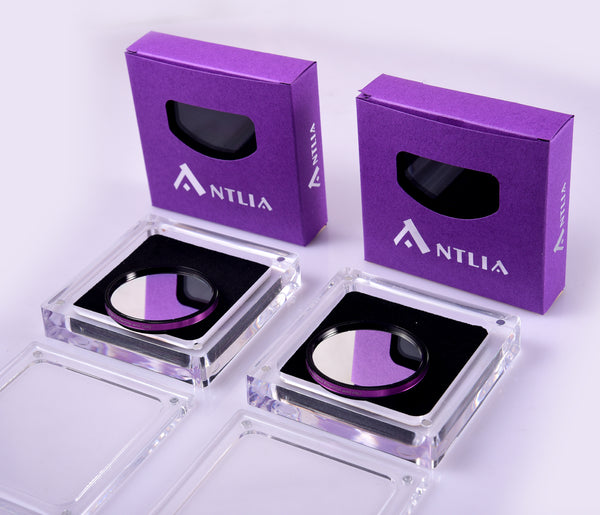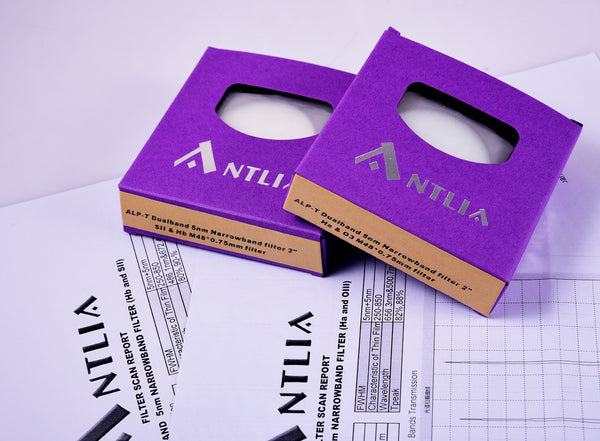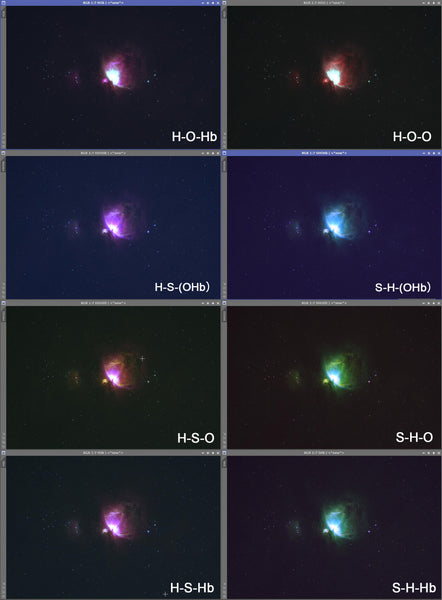 Brand: Antlia
Antlia ALP-Dual Band 5nm SII&Hb Golden Filter (ALP-TSB-2)
ALP-TSB-2
Free Expert Support
Why Purchase from All-Star Telescope?
Stress Free, Secure Shopping
Product Description
The ALP-T dual band 5nm SII&Hb filter is a dual line-pass filter, which lets the deep red Sulfur-II line and the blue Hydrogen-Beta line through and is used with one-shot color (OSC) cameras such as DSLR's or astronomical OSC cameras. It is a significant addition to the popular Antlia ALP-T dual band 5nm Ha&OIII filter and enables false-color images and narrow-band nebula images using OSC. When capturing data with this filter, the nebulae are recorded with greater contrast against the background than without it.
The combination of these two dual band filters allows extreme narrow-band images with OSC cameras by capturing the spectral data from 4 channels i.e. Ha/OIII/SII/Hb. The spectrum of these four channels can be separated and recombined into various colour palettes in your post-processing. The resulting images can be used for luminance contrast enhancement of traditional RGB-balanced images or creation of images in various popular false-color palettes such as H-O-Hb, S-H-O, H-S-OHb, H-O-O etc.
Why design SII&Hb bands pass instead of OIII&SII bands?
The filter is dedicated to capture H-beta and SII emission lines. We know that SII is singly ionized sulfur that emits light in the deep red part of the spectrum, beyond H-alpha, but the contribution of H-beta to emission lines in nebulae is frequently overlooked, even though it is the second most common Hydrogen emission after the H-alpha line. Capturing more OIII will boost the existing signal but does not give more information. However Hb has the potential to reveal structures not seen using OIII. The design is to capture the H-beta emission line in the certain nebulas that contain some blue spectrum, this cannot be captured by H-alpha, SII and OIII filters. Greater and richer details will be captured in many nebulae images to achieve results with a superior signal-to-noise ratio.
It is generally accepted that the OIII signal is a relatively weaker contributor to nebulae images. The OIII bandpass sensitivity is an important consideration for any nebulae filter. Most colour cameras (OSC) use a RGGB Bayer pattern. The allocation of twice as many green pixels as compared to either red or blue pixels, enables a much-improved capture of the OIII signal. Furthermore, higher OIII signal can be achieved by additional exposure using the Antlia ALP-T Ha&O3 filter, then isolating the GB channels, followed by synthesis of an OIII channel to add into your stack.
In the situation where you may only want to add SII to your Ha&OIII data, then it may be preferable to buy one SII narrowband filter and achieve a cleaner SII spectral emission. However, our new filter design (SII&Hb) includes the H-beta emission line which provides a distinct improvement in nebulae contrast and improved feature separation in Hb areas.
Antlia ALP-T Dual Band 5nm Ha&OIII filter: Dual band filter with a very narrow passband of 5nm in OIII and H-alpha to achieve a higher signal-to-noise ratio. The resulting contrast improvement for OSC is impressive.
Antlia ALP-T Dual Band 5nm SII&Hb filter: Dual band filter with a very narrow pass band of 5nm H-beta and S-II. This filter is ideal for increasing contrast of nebulae that emit in the sulfur and H-beta range using OSC. It provides additional feature separation and isolation in Hb areas.
The advanced multi-coatings on Antlia ALP-T dual band filters effectively isolates the red, Ha line, blue-green, OIII line, deep red SII and the blue H-beta lines from emission nebulae, with almost total suppression of optical density (OD)4.5 on unwanted wavelengths from light pollution, moonlight, and airglow. The result is that both the ALP-T dual band 5nm Ha&OIII and SII&Hb filter creates a superior signal-to-noise ratio and better contrast in your OSC images.
Specifications
| | | |
| --- | --- | --- |
|  Model | Sulfur-II | Hydrogen Beta |
| FWHM | 5nm | 5nm |
| CWL (Central Wavelength) | 672.4nm | 486.1nm |
| Peak Transmission | 90% | 85% |
| Blocking | ≥OD4.5 | ≥OD4.5 |
| Filter Thickness | 2mm+/-0.05mm | 2mm+/-0.05mm |
Why Should You Trust All Star Telescope?
We've Made All The Mistakes
So You Don't Have To
Learn More