Brand: Antlia
Antlia Quad Band Anti-Light Pollution Filter - 2'' Mounted (ALP-QUAD-LP-2)
ALP-QUAD-LP-2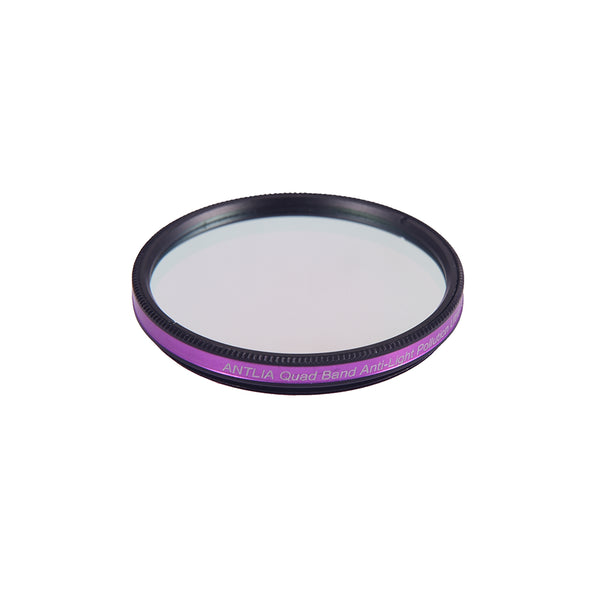 Brand: Antlia
Antlia Quad Band Anti-Light Pollution Filter - 2'' Mounted (ALP-QUAD-LP-2)
ALP-QUAD-LP-2
Free Expert Support
Why Purchase from All-Star Telescope?
Stress Free, Secure Shopping
Product Description
The Antlia Quad Band Anti-Light Pollution Filter is a light suppression filter for color and monochrome cameras. It is able to shoot most deep sky objects like galaxies, reflection nebulae, emission nebula, and star clusters from a Bortle 8 location to Bortle 1 as its spectral transmission passes through visible light region, near-ultraviolet (NUV) and near-infrared (NIR) region.
Antlia Quad Band filter has a broad bandpass designed to cope with faster optics up to the f/2 focal ratio.
Considering the high quantum efficiency (QE) characteristics of the latest cameras in the near-infrared region and this region is less susceptible to artificial light pollution, the Antlia Quad Band Light-Pollution Filter adds high transmission in the near-infrared (NIR) band. This spectrum design improves image signal-to-noise ratio and contrast by capturing signals in visible bands and NIR region, while also maintaining ood color balance and being easier to manage in post-processing.
Certain full-spectrum objects like M51, M83 possess significant signal in the near-infrared (NIR) region, you can possibly capture these deep sky objects more contrasted with the Antlia Quad Band filter under light polluted condition.
When using this filter with a camera that has UV/IR cut protective glass, the visible band transmission signal is retained, but the IR cut limits your ability to capture targets with infrared signal.
Therefore, the Antlia Quad Band filter is more suitable for cameras with AR protective glass as they can capture both NIR and visible band signals.
Specifications
 Model
Hydrogen-alpha
S-II
O-III
H-beta
NII
FWHM
5nm
5nm
CWL (Central Wavelength)
656.3nm
671.6nm
672.4nm
495.9nm
500.7nm
486.1nm
658.3nm
654.8nm
Peak Transmission
> 92%


> 92%

> 92%

> 92%

> 92%

Blocking
≥OD4 @ 300-1050nm

≥OD4 @ 300-1050nm

≥OD4 @ 300-1050nm

≥OD4 @ 300-1050nm

≥OD4 @ 300-1050nm

Filter Thickness
2mm+/-0.05mm

2mm+/-0.05mm

2mm+/-0.05mm

2mm+/-0.05mm

2mm+/-0.05mm
Filter Ring:

Antlia standard ring:1.25'' (M28.5*0.6),2''(M48*0.75)
Ultra-thin filter cell to minimize vignetting by maximize possible clear aperture
Black Anodized Finish
Laser Engraving No Fading
Not Recommended:

Solar imaging
Night visual observation

Not Permitted:

DO NOT LOOK AT THE SUN WITH THIS FILTER
Serious eye damage will result if you fail to observe the warning.
Why Should You Trust All Star Telescope?
We've Made All The Mistakes
So You Don't Have To
Learn More