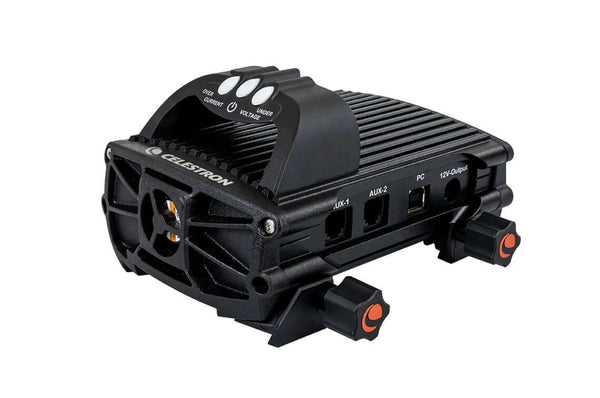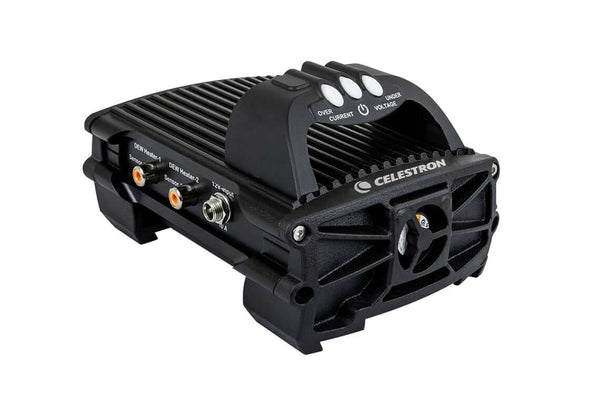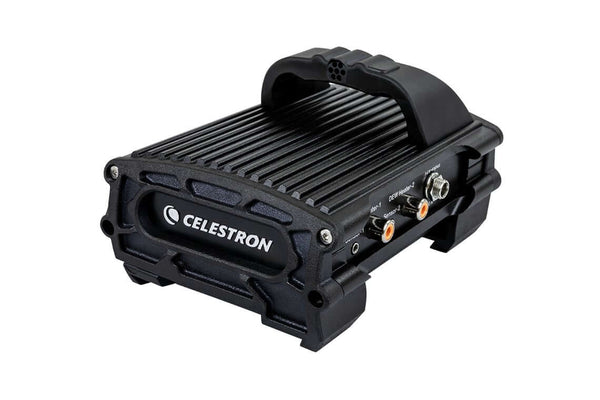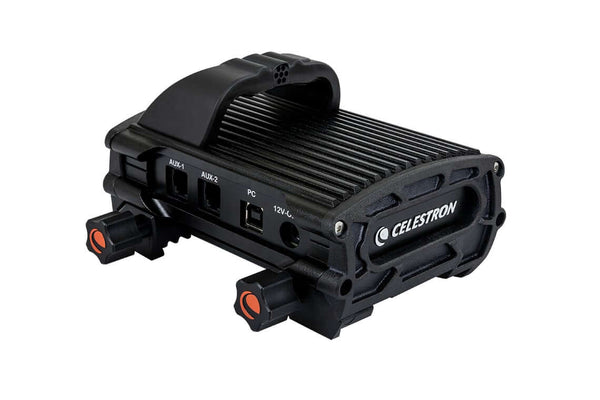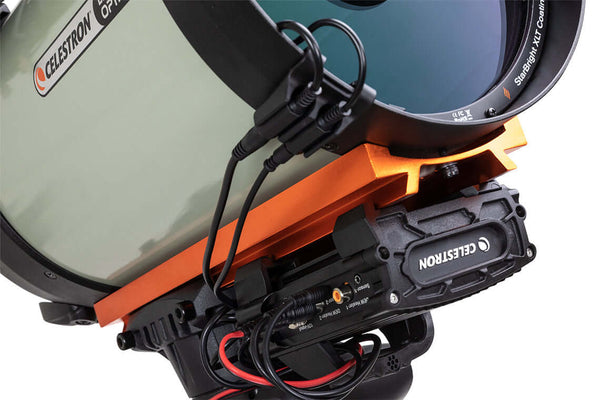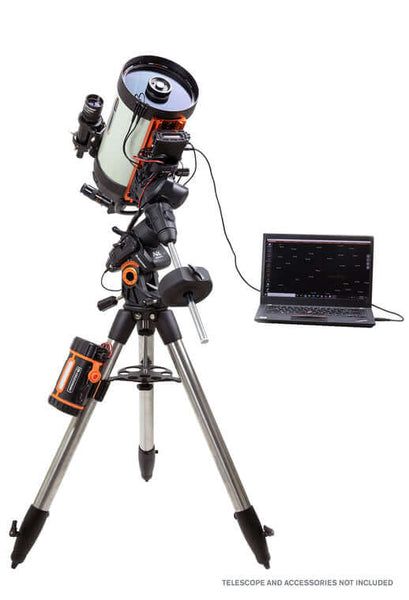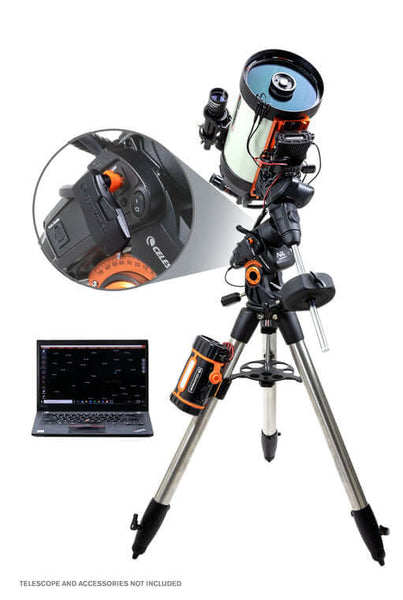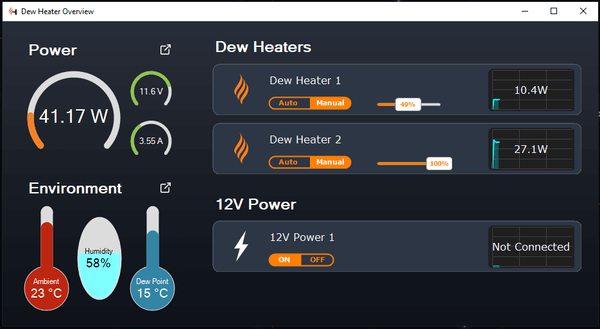 Free Expert Support
Why Purchase from All-Star Telescope?
Stress Free, Secure Shopping
Product Description
Work smarter, not harder, when it comes to combating dew. The Smart DewHeater and Controller 2x prolongs your battery life by optimizing power usage for up to two dew heaters. The controller gathers and analyzes information in real time to warm your optics just enough to prevent dew.
The Smart DewHeater and Controller comes with two ports to control two dew heaters at once. You can use one port to heat your optical tube while the other warms a second optical tube, a guide scope, an eyepiece, or another accessory. The controller also features an additional 12V DC output port so you can power another 12V DC device, such as your mount.
The Smart DewHeater and Controller works seamlessly with Celestron's Dew Heater Rings, which have a built-in thermistor to provide temperature readings of the corrector lens. Third-party dew heater bands or straps are also compatible; you simply need to add Celestron's Thermistor for Smart DewHeater Controllers (sold separately).
Smart Controls
At the heart of the controller is a powerful microprocessor that gathers information from the sensors, computes the data, and automatically adjusts your dew heaters. The controller monitors the ambient temperature and humidity using its integrated environmental sensor and monitors the heaters' temperatures using thermistors.
You can run the Smart DewHeater and Controller 2x as a standalone accessory. Or, if you want to view data from the controller and make manual adjustments, you can connect it to your Celestron telescope's hand control or your PC. The controller works with NexStar+ or StarSense hand controls running the latest firmware or Celestron CPWI telescope control software, included with every Celestron mount.
Power
The Smart DewHeater and Controller 2x runs on a 12V DC battery (like our PowerTank Lithium Pro or PowerTank 17) and can handle a maximum power of 120W (10A max current @ 12V DC). The controller also features a 12V DC output port. You can use this extra port to power another device, like your mount. This way, you can power your entire setup from a single source. Resettable electronic fuses prevent damage if input or output current draw becomes too high.
NOTE: If you are using two dew heaters in heavy dew conditions and powering a 12V DC device, the controller may be operating near its power limit. In this case, one PowerTank Lithium Pro or PowerTank 17Ah will not have enough capacity to run your setup all night; you'll need a larger capacity battery or multiple batteries.
Unique Industrial Design
The Smart DewHeater and Controller 2x features a heavy-duty metal housing. Inside, a cooling fan protects the controller's electronics.
The Bridge – On top of the controller, you will find the bridge, which is home to the device's status LEDs and environmental sensors. It also helps with cable management. We have positioned the temperature and humidity sensors here, away from the control box and other components that could generate heat. Unlike competitor products, our sensors do not require additional cables to obtain accurate readings.
The LED lights on the bridge indicate the device's current status. The LEDs provide warnings if the controller is drawing more current than your power source can supply or if the battery charge needs recharging. You can dim the lights if you are under dark skies.
Mounting – The Celestron Smart DewHeater and Controller 2x mounts on your CGE or CG-5 dovetail with the integrated dovetail clamps. If you prefer to mount the controller on your tripod leg, use the included strap.
Enhance Your Setup
We highly recommend pairing this controller with Celestron Dew Heater Rings. They fit seamlessly on your Schmidt corrector lens and will improve your observing or imaging year-round.
For the highest level of dew prevention, we also suggest adding a dew shield to your setup. While not required, a dew shield will cut down on the amount of power the controller needs to provide to the dew heater rings to keep your optics clear.
What's in the Box
Specifications
| | |
| --- | --- |
| Dew Heater Ports | 2x ports, RCA jack, compatible with Celestron Dew Heater Rings and other 3rd party vendor heating straps |
| Thermistor ports | 2x ports (one for each dew heater port), 2.5mm Audio jack, compatible with Celestron Dew Heater Rings and optional Celestron Thermistor |
| 12V DC power output port | 12V DC barrel connector jack (5.5mm/2.1mm), 7A max |
| AUX ports | 2x ports, allows connection to Celestron mounts for HC control, also allows connection of optional accessories |
| PC port | USB 2.0 Type B, allows connection to PC for control with CPWI |
| 12V DC power input port | Threaded barrel connector jack, 5.5mm/2.1mm, 10A max input |
| Included power cable | Cigarette lighter plug on one end, threaded barrel connector on other end (5.5mm/2.1mm) , 10 ft. long, 10A fuse protected |
| Environmental sensor | Measures ambient temperature and humidity, integrated into enclosure "bridge" to thermally isolate |
| Enclosure construction | Aluminum with integrated fan |
| Clamp: | Fits CG-5 and CGE dovetails (also can be strapped onto tripod leg) |
| Electronic protections | Fuse protected, reverse polarity protected, low voltage cut-off |
| Weight | 1.2lbs (544.3g) |
| Dimensions | 139.7mm x 114.3mm x 82.55mm (5.5" x 4.5" x 3.25") |
2x Celestron Dew Heater Controller
I am very happy with this item. Service, shipping and they stand behind their products. I own my own small business, and I really love purchasing my products from All Star. Amazing team!!
Works but a bit noisy
This controller in combination with a dew shield and a Celestron Dew Heater ring for my SCT completely solved any issues with dew and frost. The unit appears well built and integrates nicely with CPWI software. Unfortunately it has a noisy little fan that irritates me. One star deducted for the noisy fan.
Why Should You Trust All Star Telescope?
We've Made All The Mistakes
So You Don't Have To
Learn More